Ann Wilson Rocks The Ridgefield Playhouse!


by John A. Wilcox




Since I was 16 years old and heard the Dreamboat Annie album from Heart, I've been in love with the voice of Ann Wilson. I saw the band many, many times on tour and bought every record they recorded. A total, unabashed fanboy. Here we are in 2017. Ann Wilson is finishing up an extensive solo tour. Joining Wilson are Andy Stoller on bass; Daniel Walker on keyboards; Denny Fongheiser on drums; and my pal Craig Bartock on guitar. We caught up on the phone the other day and he filled me in on the vibe of the tour: Right now this band is just incredible. The way the musicians and Ann are all communicating with each other is very spectacular - as you'll see! Bartock continued: Every time we play the songs every night, it's different. They sort of morph into a thing of their own. It's kind of nice to be able to think out of the box and not have this thing be 4 times around. This thing be 8 times around. We can let a solo go for as long as somebody wants it to go. It doesn't get into Grateful Dead or Zappa territory, but it does give us a chance to stretch out as musicians. Ann sings unbelievable every night, and she sings different. We kinda never know what we're stepping into for every show. The band's really stepped up their game and it's pretty amazing!




It's a rare opportunity to see Ann Wilson in a more intimate venue. I asked Bartock if that effects how the band approach the show. Bartock: It does, and in a positive way. All the years of playing in big sheds and hockey arenas - the thrill of playing in front of 15-20,000 people is fine. But Ann in particular picked songs that have a real personal meaning to her lyrically. That give and take with somebody right in front of us - it's almost like it goes from a performance to performance art, where they're part of the actual evening. It's really spectacular. We are just enjoying it so much. The smaller venues are great!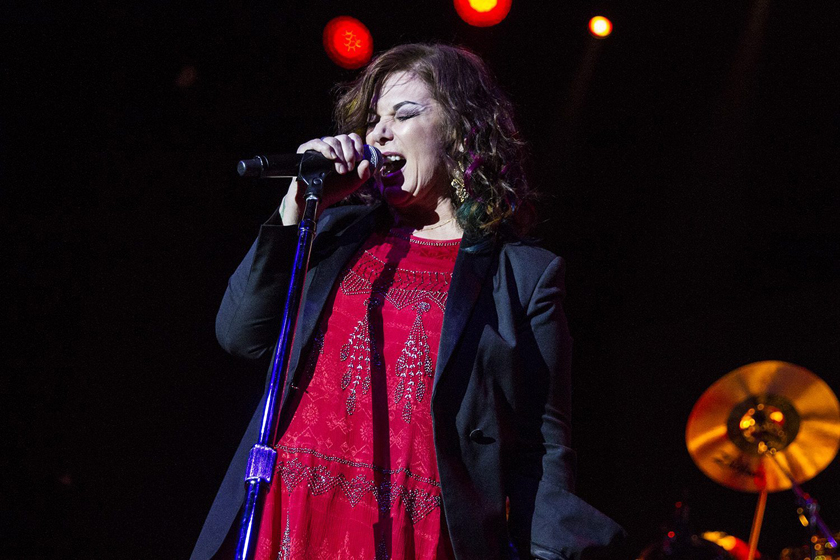 The set combines numbers from Wilson's 2 recent Ann Wilson Thing EPs, Heart classics, and surprising cover song choices. I wondered how Ann & the band handled the Heart material. Bartock filled me in: We're doing like 5 Heart songs but we reimagined them. We're doing a much more stripped down, unplugged, or just flipping something on its side and going that route with it. It's really cool. The only song we do that's like the record is Barracuda. Which is interesting because Heart over the years kind of started morphing away from the original recording of Barracuda. We kept slowing it down and down and down. In rehearsals we were like "well how can we reimagine Barracuda and still make it recognizable? Because it's such an iconic song. We actually ended up just speeding it way up and going to the original tempo of the record and putting that original energy back in. It made all the difference in the world. Bartock is crazy on Ann Wilson in 2017: These days Ann is on fire! She's a very happy person and I think it shows. It's a clean slate. As Ann likes to say - strip it all down, take the layers of paint off, and let's find that pearl. That's what we did. If you're an Ann Wilson fan, you're going to be very very pleased with the show because Ann really shines. She's probably the greatest female rock singer of our time! Amen to that!

Ann Wilson
Tuesday, August 22, 8 PM
The Ridgefield Playhouse
80 East Ridge
Ridgefield, CT 06877
203-438-5795
www.ridgefieldplayhouse.org



###







Table Of Contents

Contact