all reviews and photos by John A. Wilcox
Martin Barre - The Outer Space, Hamden, CT 12/20/15


Nice venue. Never been. Friendly & lots of wood. I like that. Opening for Martin Barre was Phoebe Legere. In case Legere is new to you - singer / songwriter / multi-instrumentalist / artist. Bottom line: great voice. Incredible player. Fun songs. Legere started on keys and immediately grabbed everyone's attention. She could most definitely play! Wrong Honky Tonk had a wry, engaging sense of humor about it that drew you in and kept you there. Legere switched to accordion and flew through OK Cupid. It was a hilarious piece about love on the internet. Truth served up with a grin. The crowd was loving it and so was I. Legere touched on her Native American roots with Blue Canoe Blues (not to mention some wicked good guitar!). Her too-short set finished with a sexy/funny observational song called Men From The Boys. Legere totally owned the stage every second she was on it. I need more & I need it as soon as possible!




Time for Martin Barre. Joining Barre were vocalist/guitarist Dan Crisp; bassist/vocalist Alan Thomson; drummer George Lindsay. This was a vicious band. A dangerous sonic piledriver of utter destruction. First up was To Cry You A Song. Killer. Minstrel In The Gallery. A fist to your head. Steal Your Heart Away. Fear-inducing. These were players on a mission. No modern concessions. This could've been a double bill with 1971-era Humble Pie. See the show, get home & recuperate. Next was the title cut of Barre's latest solo work: Back To Steel. A funny story served to introduce a rocking take of Eleanor Rigby. A section of Thick As A Brick showed me why Barre chose well when he gave Crisp the vocal slot. He fits the material, yet is his own man. He also pens a damned good song as Love Is Why You Came Here proved. The crowd was getting rowdier by the moment. Local news reported earthquakes, but it was really Lindsay on the drums.




Sweet Dream had that crunch riff we all love. 2 cool covers followed: Govt Mule's Thorazine Shuffle and Porcupine Tree's Blackest Eyes. Both well anchored by Thomson & Lindsay. I swear to you - this band just knocked me out! A story about cheese somehow took us to Moment Of Madness - oddly enough, it made sense. Bad Man was packed with evil guitar. This evening had some of Martin Barre's most inspired & ferocious playing ever. A Song For Jeffrey cracked the plaster & Barre pulled out an electric mandolin for the old blues standard Cross Road Blues.




A blazing Rock Me Baby was a standout. I cannot fail to mention that Crisp was a superb guitarist in his own right - often playing twin lead parts with Barre. Fantastic. Teacher and Fat Man led to a cracking set closer with A New Day Yesterday. Lindsay was absolutely unreal. Everyone was, as the Brits say, gobsmacked! I was so very pleased to get Still Loving You Tonight as the first encore. Crisp and Barre handled it on their own. Lindsay and Thomson rejoined them for a massive Locomotive Breath that took no prisoners. This wasn't just a show. This was a warning. Rock & rollers beware: Martin Barre & his band are coming to your town. Lock up the kids. Trouble's ahead!


Lez Zeppelin - The Warehouse, Fairfield, CT 12/12/15


Let's get right to it! Opening act time. 6 young men calling themselves Clueless. I believe the youngest player (the keyboardist) was 10 years old. Keyboards, bass, drums, 2 guitars, vocals. They launched straight into Gimme Some Lovin'. Crazy good! They immediately won over the crowd. Takin' It To The Streets was marked by an especially soulful vocal. Magic Carpet Ride was solid. as was the twin guitar assault of Bodhisattva. They surely meant business!




Some fine slide playing shone on One Way Out. The band took us all deeper into soul territory with Try A Little Tenderness. Very nice. Everyone had their moment to shine on Soul Sacrifice. The crowd was screaming for an encore. The band unleashed a corker of a take of the Joe Cocker arrangement of The Letter. These young players came up with the goods, much to the delight of all. I'm sure we'll hear much more from all 6 in the years to come!




I'm never 100% sure which singer I'll get in Lez Zeppelin. Thankfully, each one has been great! Shannon Conley is certainly no exception & she dovetailed perfectly with guitarist Steph Paynes, drummer Leesa Harrington-Squyres, and bassist / keyboardist Megan Thomas. The opening strains of Immigrant Song grabbed my ears and we were off and running! The acoustics of the Warehouse were perfectly suited to Zep. The volume on a piece like Rock And Roll hit hard but clear. Black Dog was murderous. Guitar piercing throb met by full voice. This was a request night and 10 of the numbers were evidently voted on by the audience. What Is And What Should Never Be led into what was the #1 pick for the night - Ramble On. 100% energy!




When The Levee Breaks had that groove that Paynes evoked perfectly on guitar. Misty Mountain Hop starred Thomas on keys. If Paynes is the heart of the band, Thomas is the spine. Her playing is as cool as her onstage demeanor. So solid. Dazed And Confused was an everything-but-the-kitchen-sink number with lots of solo experimentation. Most excellent to hear Ten Years Gone - even nicer to hear the rarity For Your Life (from Presence) given a live airing!




Communication Breakdown was an aural compression hammer punching wildly through the air. Everything came way, way down to Moodyville during No Quarter. Still very much a favorite of mine and another highlight for Thomas. Harrington-Squyres drove home the set-closing Whole Lotta Love like a train off the rails. This quartet just savage the room with sonic magic. Encore 1 was Kashmir with that Middle Eastern pulse and those chords drawing upward. Magnificent. Encore 2 was the ever-present Stairway To Heaven. A bit loose in delivery, it was no less powerful and really added the perfect exclamation point to a celebration of the beast that is rock. A light in the dark.


Wintercon - Resorts World Casino, Jamaica, NY 12/5/14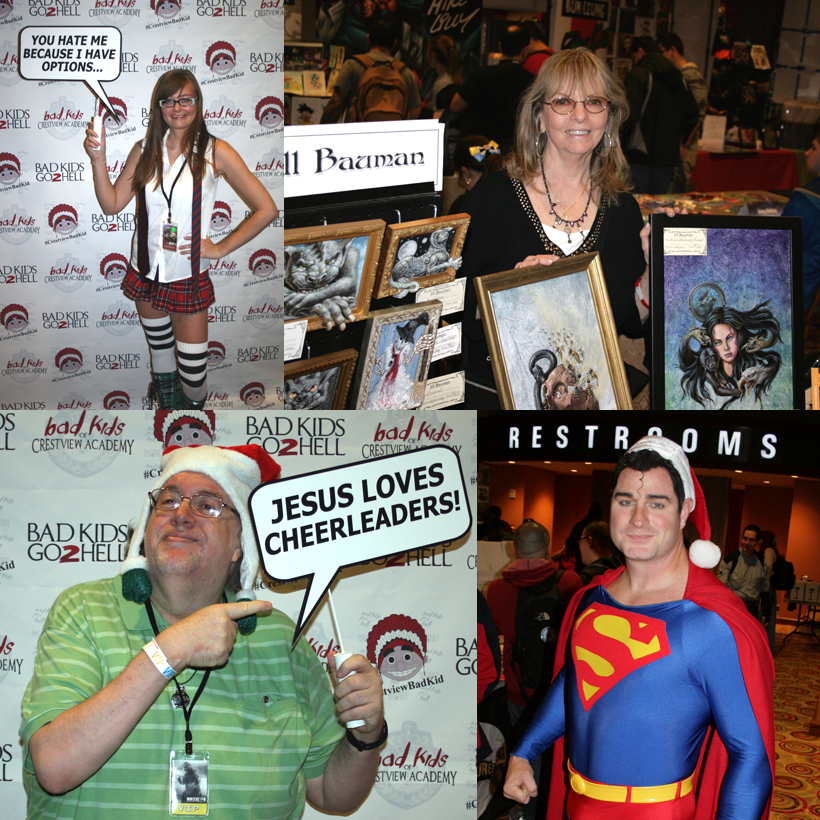 Year 2 for Wintercon for me. Same place, slightly different vibe. Very heavy Star Wars vibe going on. Lots more people. Still nice & friendly, I'm happy to say. Ivy Supersonic gave me my laminate & VIP wristband so I was good to go. I made my initial rounds of the room. Lots to see.




Friends galore. Michelle Witchipoo, Shawn Atkinson, Rich Buckler, Rodney Ramos, Don McGregor, Phillicia Deanell, Jill Bauman. Talented new friends like Kristy Garcia (and her awesome Pokeball dress), Monique Young, as well as the cool folks behind Bad Kids Go 2 Hell. Artists, writers, vendors, and celebs galore - Mick Foley & I chatted at length about Jethro Tull. Brief but nice talk with Steve Guttenberg. Saw King Kong Bundy, Tito Santana, Nichelle Nichols, and the 2 gents wore portrayed Godzilla & Jet Jaguar in the original Japanese classics.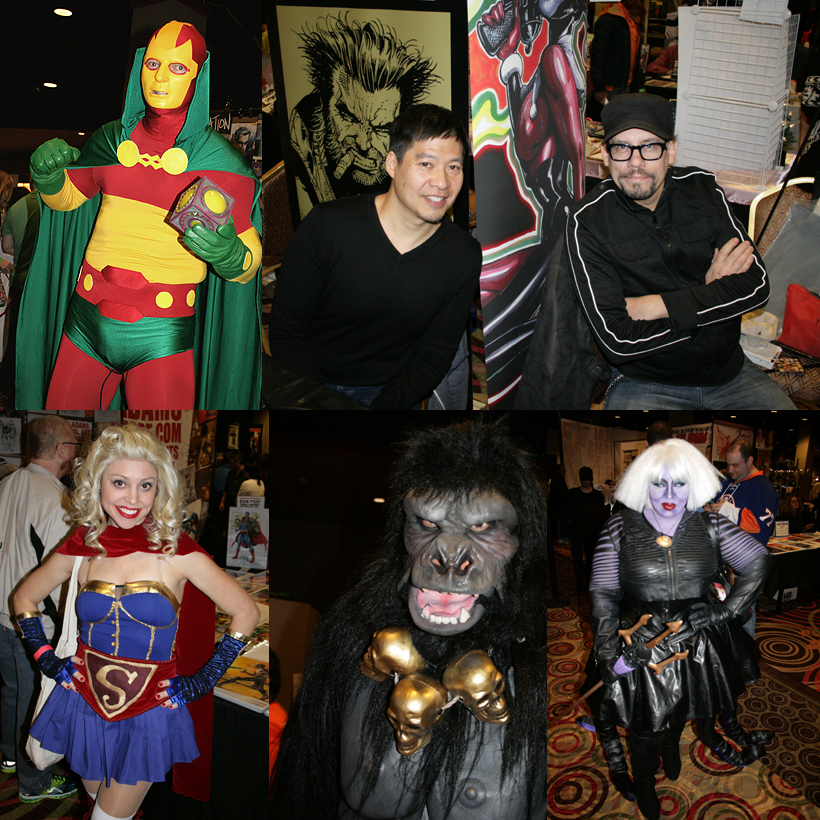 Lots of amazing cosplay. Plastic Man, Zatanna, Son Goku The Monkey King, Mister Miracle, Velma Dinkley, Usagi Yojimbo, Black Cat, Ursula, Super Mario, and many, many Harley Quinns. Oddly enough, I was particularly fond of folks that just made up their own characters. I'm a sucker for imaginations running wild! Cosplayers Kira Scarlett, YaYa Han, and GeishaVi were quite eye catching!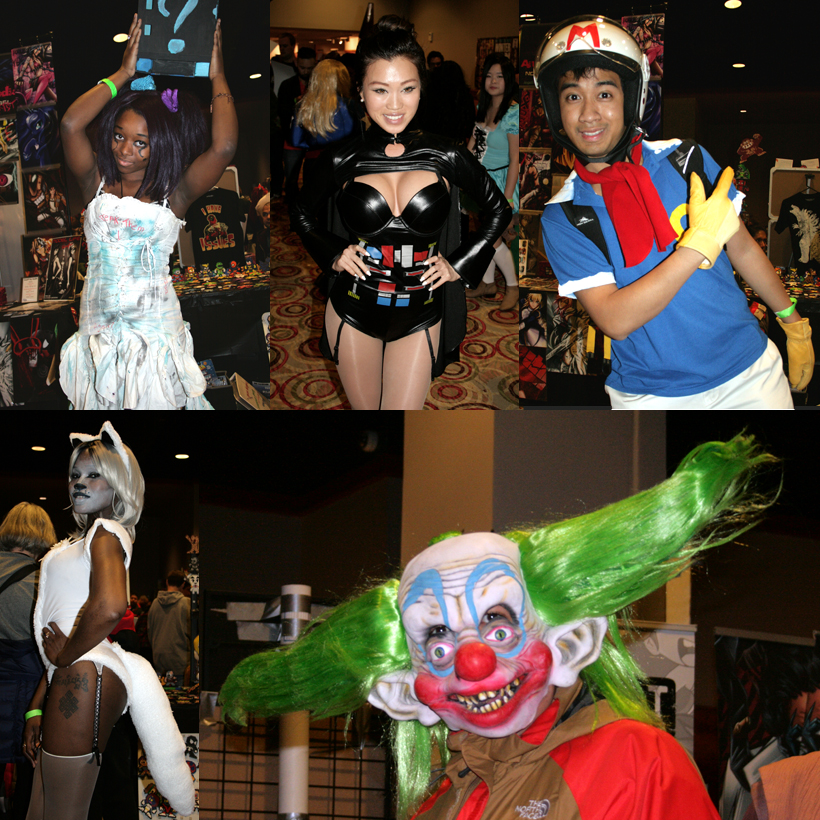 My day was packed with great people and fun stories. I think a con is whatever you choose to focus on. My focus was fans. I loved yakking about what brought them to the show. More smiles than I could count. Little kids awestruck by it all. Adults allowing themselves to relax and enjoy the day. Cosplayers expressing their love for comics, film, TV, anime, manga, and innate creativity. Wintercon was a terrific experience for all involved!


Steve Hackett - The Warehouse, Fairfield, CT 11/22/15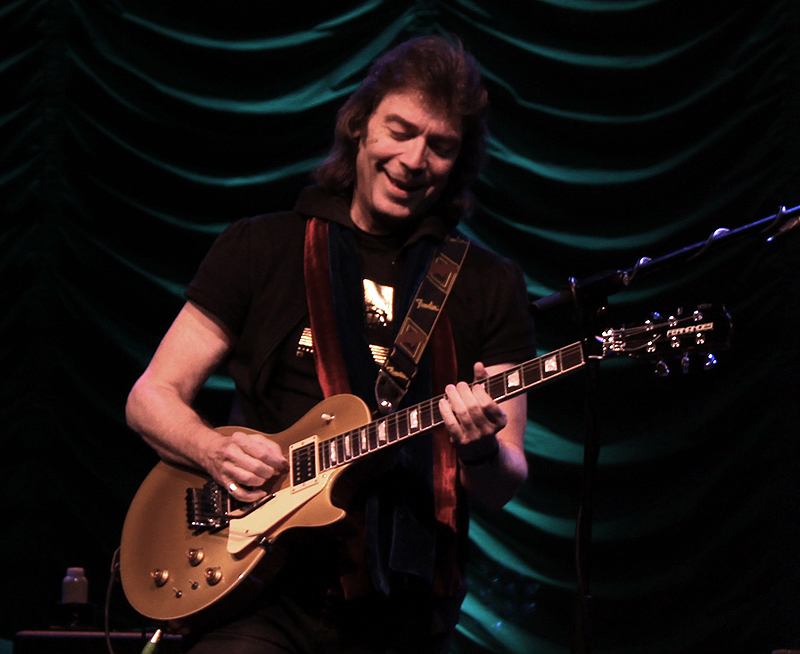 A new venue: The Warehouse, Adjacent to StageOne in Fairfield. Awesome place. Comfy seats, great sound, great staff! I even chatted with Wishbone Ash guitarist Andy Powell, who was a guest of Hackett's. Positive vibes all around. Just past 8 the lights came down and it was time for the show! Steve Hackett, keyboardist Roger King, and drummer Gary O'Toole launched into a soul-affirming Spectral Mornings to begin the first set, which focused on Hackett's solo years. They were soon joined by Rob Townsend on winds, keys, and percussion, and Flower Kings mastermind Roine Stolt on bass and guitars. 2 moody pieces from Hackett's latest album, Wolflight - Out Of The Body and the title track. Dark, powerful, deep.




Steve Hackett introduced the next one as "a song about drugs" then went straight into the classic Every Day. The closing solo gave me chills. 2 more Wolflight excursions: the darkly beautiful Love Song To A Vampire and the exotic The Wheel's Turning. The pieces flowed from strength to strength to strength.




Hackett dedicated Loving Sea to his wife Jo. Lots of acoustic guitars and killer sweet vocal harmonies by Hackett, O'Toole, and Stolt. After a story about the great Richie Havens, the band was joined by vocalist Nad Sylvan for Icarus Ascending. I was near tears from the emotion of it. I've always had a soft spot in my heart for that song. To follow that with Star Of Sirius? Really? Were they trying to hit my emotional overload button? Again renewed by the vessels of Isis - you're ready to fly. Again - flawless harmonies. Every player tight and propulsive. Pure ecstasy!




The exploration of the Voyage Of The Acolyte album continued. The energy of Ace Of Wands was off the charts and out of the building. Townsend, King, & Hackett were dazzling. Insane darkness personified. That was A Tower Struck Down. I never thought I'd get to hear that number live, yet there it was, blowing my mind and setting me up for the final piece of the solo years set: Shadow Of The Hierophant. Gary O'Toole was a madman - turning the beat over, about, and sideways as it built to its climax. In-friggin-credible!




The Genesis set began with Foxtrot's Get 'Em Out By Friday. I was pleased to see Hackett handle the It is my sad duty to inform you... line. Truly a perfect fit! Next came a spot on Can-Utility And The Coastliners with Roine Stolt alternating between guitar and bass to remarkable effect. Expressive vocal by Sylvan drove the number home. Next came a song Genesis never performed live: After The Ordeal. Wonderful classical guitar by Hackett with stately piano by Roger King. Such a grand piece that also featured Hackett and Stolt on twin leads while Townsend intoned inspired melodies on his winds.




I always cherished the Genesis collection called Rock Theatre - the title spoke of something grand. The Cinema Show was the personification of rock theatre. Dramatic, romantic, compellingly expressive. A gorgeous ensemble rendition here with plenty of business for every member. Because Steve Hackett loves us, he actually included the coda: Aisle Of Plenty. The result was immeasurably satisfying. Roger King made the crowd roar with the intro to The Lamb Lies Down On Broadway. I had an observation: Hackett is a truly generous musician. This tune is not a hugely guitar-driven one. It was another "band" song, if you will. Beautiful vocal from Sylvan. Great bass from Stolt. An injection of high energy.




Could there be a more appropriate closer than The Musical Box? Still grim, creepy, gothic, and wonderful as the first time you ever played your Nursery Cryme album. The crowd were berserk. We were all transported to another time and place and we needed more music! We didn't have long to wait. The first encore was Clocks - The Angel Of Mons off the Spectral Mornings album. A showcase for the percussive mastery of Gary O'Toole with eerie underpinnings courtesy of Hackett and King. Firth Of Fifth was the other encore. King's note perfect intro. Sylvan's unforgettable vocals (and fun outfit!). Stolt and O'Toole's impeccable rhythm work. Uplifting solo from Townsend. Hackett's trademark solo played to sheer perfection. I was emotionally drained. So many happy moments. A living dream.


Ian Anderson - Capitol Theatre, Port Chester, NY 11/10/15


I arrived in Port Chester on a raw, rainy Tuesday night with my dear friend Marcie. Going in, I knew this would not be something I'd seen before. This was something new. To call it a multimedia event doesn't do justice to the show I saw. Let me try to lay out the basics. Ian Anderson was joined on stage by Florian Opahle on guitar; John O'Hara on keys; Scott Hammond on drums; Greig Robinson on bass. Appearing as "virtual" guests on screen, but performing with the band nonetheless were David Goodier, Ryan O'Donnell, and a remarkable newcomer to me: Unnur Birna Bjornsdottir. Lights, sound, and images on a huge screen were ever in motion. Musical recitatives were played and sung between numbers. It was a non-stop barrage to the senses telling the story of the real life Jethro Tull - plucked from the 1700s to our near future courtesy of Anderson's imagination! The set opened with a grand version of Heavy Horses with a strong performance by virtual guest Bjornsdottir on vocals and violin. Between the band cooking away, the screen filled with all sorts of moving and still images, wildly dramatic lighting, and all sorts of bits and bobs, my senses needed to adjust to the activities that were to come! I started to acclimate during the ever- challenging Wind-Up. Hey! Aqualung was the 3rd song of the show, not the closer! Yay! It dovetailed perfectly in the set as well as the story of futuristic agriculturist Tull!




As far back as I can recall, I've been in love with the melody to With You There To Help Me and this evening was no exception. It was interesting to see where & how it fit in context of the storyline of the show. It refocused me after Aqualung. I smiled all the way through Back To The Family with the clever visuals and virtual guests. A great example of an old piece finding a new life. Farm On The Freeway was one of the highlights of the show. The vocal interplay between Anderson and O'Donnell was crisp and emotionally fitting. I loved O'Donnell's weary, bitter reactions on screen. Scott Hammond's drumming was incredibly effective.




More than just the title of a new song, there really is a Prosperous Pasture and it was owned by the real Jethro Tull. Art imitates life imitates art. I loved all 5 new songs, but Fruits Of Frankenfield was chock full of wackiness. A great lyric & insane images to accompany it. Bonkers! Set 1 closed with a wonderfully retooled Songs From The Wood. That flute still hits me where I live! Time to absorb everything I just saw and heard!




New number And The World Feeds Me set part 2 in motion. I was quite fond of the vocals on this and it gently eased us all back into the story. Cheers for the folk jazz of Living In The Past which really delivered the feel of the original recording & truly evocative flute playing. While it was a fine fit, I truly need no contextual reason to enjoy Jack-In-The-Green. It's just a magic tune and one of Anderson's best vocals of the evening.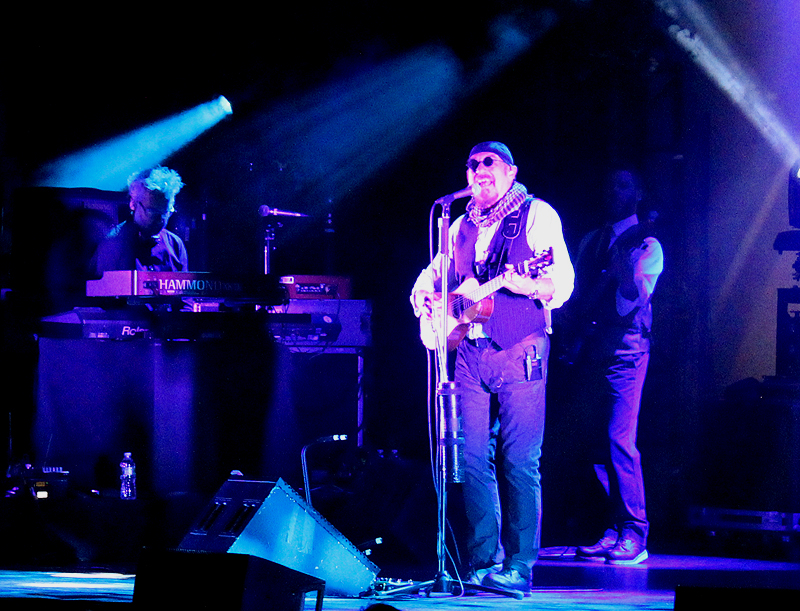 Unnur Birna Bjornsdottir was the star of The Witch's Promise both vocally and visually. Her trade-offs with Anderson were inspiring. Weathercock brought a smile to my face. I just love that piece & it was performed splendidly. Serious but fun & energetic is how I'd describe another new piece called Stick, Twist, Bust. Really enjoyed Robinson and Opahle on this. Ian Anderson captured the hearts of the old diehards with a timeless rendition of Cheap Day Return. Simple. Effective. Another highlight.




I used to hear it called a "lunch wrapper" back in the day. Anderson blew a mean harmonica on A New Day Yesterday as Opahle was nothing short of blistering on guitar. Anderson and Opahle also were pretty damned dangerous on the final new piece - The Turnstile Gate. Wicked riffage! Sly old John O'Hara teased us through the opening strains of Locomotive Breath, joined by naughty boy Opahle. Hammond and Robinson kicked the number in to high gear so Anderson could take it over the top. The crowd were pumped. The videos were exciting and a bit dark, moodwise. Palpable energy filled the theatre. A brilliantly performed set closer! Encore time. To the best of my recollection, I've never heard Requiem performed live. It was worth the wait. So beautiful and stately. It went into a fugue that morphed into Bouree to bring the curtain on an evening that challenged my senses. I want to see this again!


Stamford Symphony Orchestra - Palace Theatre, Stamford, CT 10/25/15


Even though Autumn is in full swing, it was a lovely day in Stamford. It had rained early in the day, but the clouds parted, the sun was shining, and it was pleasantly warm. A nice atmosphere for some classical music. A new season with lots of familiar players and a new face or two. All under the baton of Maestro Eckart Preu. After a salutary Star Spangled Banner, I got my first symphony repeat: Jennifer Higdon's radiant Blue Cathedral. I was ecstatic to hear this piece again. It had the feeling of traveling outward and upward. Strings and winds and bells and people playing glass rims. As the cliche aptly states: a feast for the senses. I'll take this piece as many times as the symphony cares to play it! Otherworldly.




The guest soloist was pianist Andreas Boyde. Astounding player. Animated and passionate. He brought a verve to Dvorak's Piano Concerto In G Minor, Op.33. The movements brought us mighty waves of strings carrying sweetness and comfort. Quiet serenity mixed with an aching feel. Finally building to a massive almost Middle Eastern feeling climax. Quite a knockout number to take us all into the break.




Our dear young Tchaikovsky wrote us a lovely number to conclude the day. Symphony No. 2 In C Minor, Op. 17 - known as Little Russian. It was full of audio delights. Ascending violins and a sense of bobbing up and down marked the first movement. Tympani took us into the second movement. It had a sly feel with a 1-2-1-2-1-2-1-2 clockwork sense to it. The 3rd Scherzo movement carried a jaunty feel and spots and a melody that reminded me of the theme song to Captain Kangaroo. Heehee. The 4th movement was packed with big, grand sweeps. It alternated between frenzied builds and contrasting lush breaks before speeding up to a frenetic conclusion! Incredible!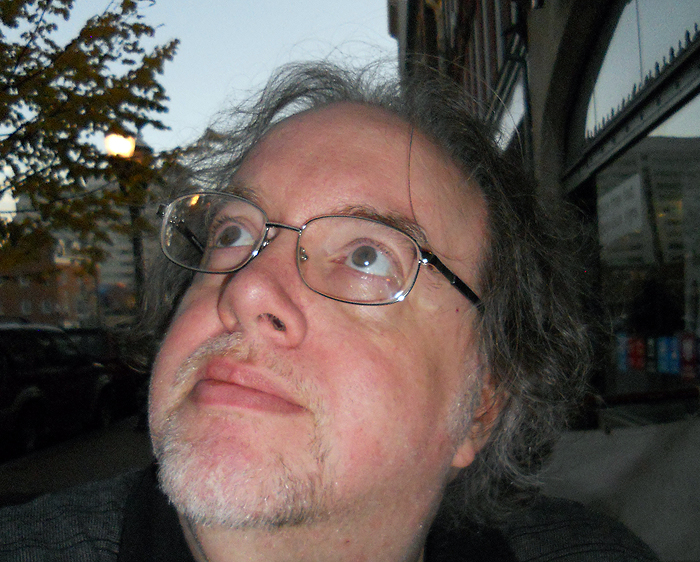 Loreena McKennitt - Ridgefield Playhouse, Ridgefield, CT 10/21/15


A challenging photoshoot, but a dream gig! Joining the wonderful Loreena McKennitt for this gig were Brian Hughes on guitars and bouzouki and Caroline Lavelle on cello, recorder, and accordion. The crowd were awesome - attentive, appreciative, and no glowing phone screens! Wow! McKennitt started out on harp, opening with Samain Nights. Her voice was strong, her playing superb. She switched to piano for All Souls Night. She'd move back and forth between the instruments all night. A long story served as introduction to Annachie Gordon. This is a good place to mention the spot-on tightness of this trio. Hughes often provided textures enforced and enhanced by Lavelle, with McKennitt over the top of them. The engaging Between The Shadows and Bonny Portmore followed, much to the delight of all.




The next set of songs were united by McKennitt reading diary entries about Irish emigrants in the late 19th/early 20th century. Errol Fischer guested on violin for The Wind That Shakes The Barley. The narration was compelling as it took us on a journey punctuated by Down By The Sally Garden, The Emigration Tunes, and the set closing The Lark In The Clean Air. It had the feel of a unified suite despite being comprised of tunes from different albums, different vintages. The result was fairly mind blowing, so the intermission was a good chance to get my feet back on the ground!




Bright May Morning was a great way to start the 2nd set. A hilarious story led to a more serious one, bringing us all to The Stolen Child. Fine harp playing and a particularly evocative vocal. A melancholy tale introduced the beautiful Penelope's Song. A moment here to give a nod to the lighting. Dark but effective. I was impressed not just by the color choices, but with the rich saturation. It added a dramatic element to the evening and elevated the entire event. Next - a set highlight: a mesmerizing reading of The Bonny Swans.




Familiar tunes took us to the close. The Lady Of Shalott brought massive smiles. The Old Ways fit the evening like a comfortable pair of sneakers. How appropriate to end on the beautiful Dante's Prayer. The roaring crowd got Never Ending Road as a parting gift. A superb evening. A sonic embrace gentling into the night air.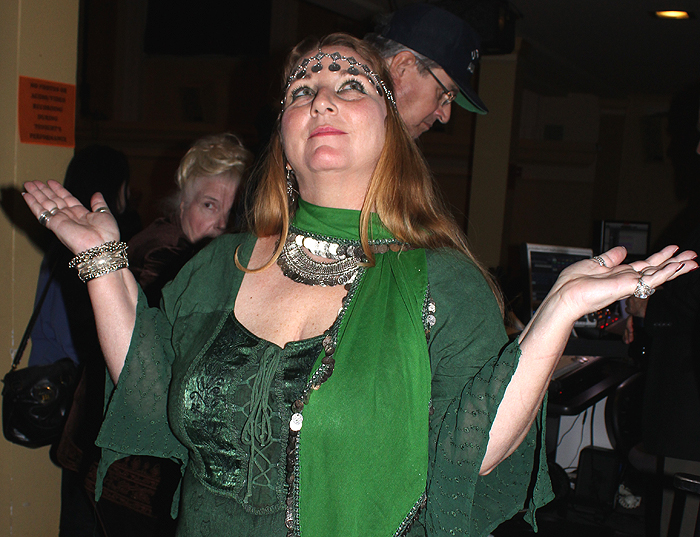 Renaissance - StageOne, Fairfield, CT 10/15/15


Let's handle the basics first. Current Renaissance line-up: Annie Haslam - vocals & percussion; Rave Tesar - keys; Tom Brislin - keys & vocals; Frank Pagano - drums & vocals; Leo Traversa - bass & vocals; Mark Lambert - guitar & vocals. Monster, killer band. The show started with Prologue. Lambert's strong voice meshed organically with Haslam's. The crowd went nuts. This audience was a united front of vocal appreciation. It genuinely touched the band. Carpet Of The Sun followed. It sounded so fresh and ended far too soon as always!




For the first time ever, I heard the band play Immortal Beloved. This was such a strong live number. The vocal harmonies were key here. A funny, engaging story from Haslam took us in to Grandine Il Vento. Haslam was emotive, and soared beautifully. Next was the lush Symphony Of Light. Tesar and Brislin were the stars here. The rest of the band were strong support, but the keyboards working under Haslam's vocal were gloriously progressive. A much needed break followed, allowing us all to absorb everything we'd just heard.




Tesar's delicate piano under the superb vocal harmonies under Sounds Of The Sea added up to audio Heaven. I was near tears. It's wonderful when music delves deep into your heart. The mournful Mother Russia never fails to satisfy. It's such a solid ensemble piece. This is a perfect example of what continues to make Renaissance so special and timeless. The crowd agreed and gave a much deserved standing O.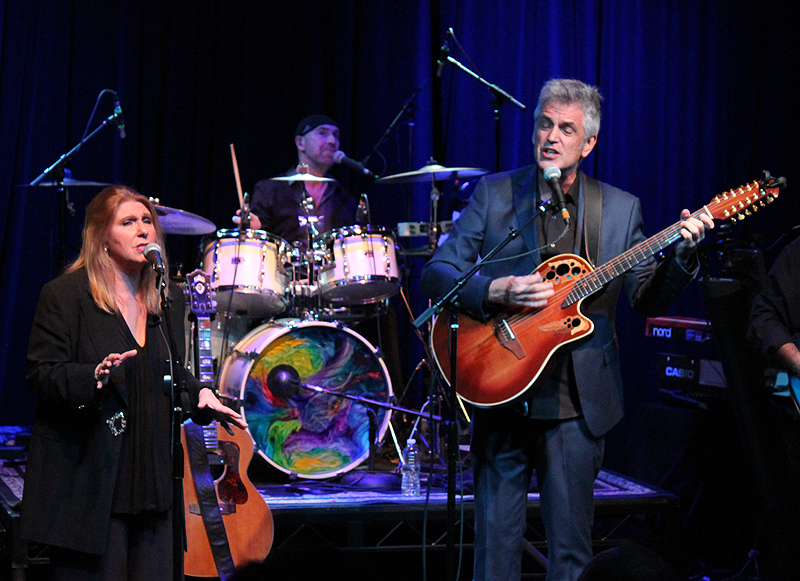 Lambert's backing vocals and Traversa's fluid bass were the secret spices on Northern Lights. So nice to have this back in the set! The 2nd set closed big with A Song For All Seasons. Haslam's vocal was gorgeous. So much goes on in this piece. Pagano and Traversa locked in beautifully, supported by Lambert's acoustic. Tesar and Brislin nailed it. Such a complex piece brought to my brain in Cinemascope! I was absolutely transported and filled with awe.




Our encore was Ashes Are Burning. A moment here to talk about Tesar & Brislin. Here we have Tesar on piano - a mix of classical and jazz. His bold solo made my eyes bug. He played impossibly. Humans cannot do that. Even though I saw and heard it, it still was a dream. Brislin played a progressive synth solo that came from beyond. It was crazy. A huge emotional release. A triumph. In between, Traversa delivered a bass solo that showed why he is the only bass player for this band. How many times can your jaw drop? Pagano & Lambert were as generous as they were solid. They were the base that the others flew from. Add Haslam to the formula. Caressing the vocal. Moving the song forward. Emotion, precision, power. This evening simply floored me. It kissed my cynical heart with a purity of beauty. Unbelievable.


The Connecticut Renaissance Faire - North Haven, CT 10/11/15


Progsheet reaches over 70,000 fine folks every month. Great people, interested in exciting, often out-of-the-norm, entertainment. I thank each and every visitor to this site - you make everything I do worthwhile. To those who ran this ren faire - not so much. I was told that they were only interested in accommodating television, radio and print press. Websites were not welcome. You readers of this site do not matter to them. Despite this incredibly insulting dismissal, I decided to cover the event on my own dime, which is why you'll not see the exact location, faire website, or schedule. You can evidently find all of that info on the massively extensive television, radio, and print coverage of the event. :)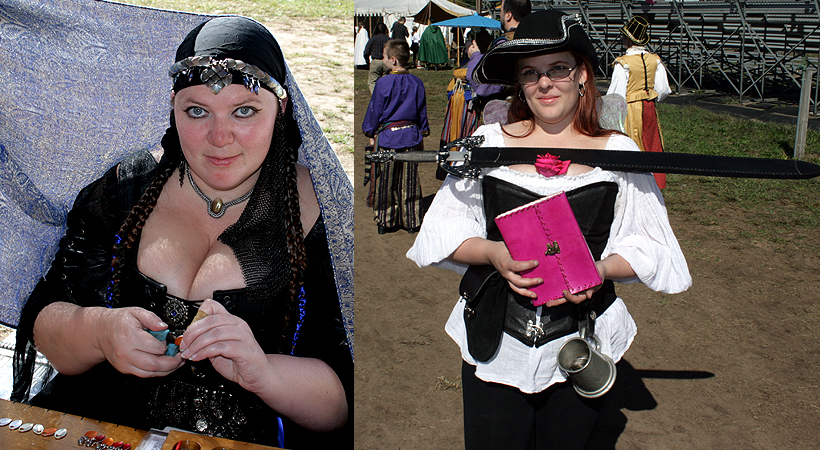 Nice layout. Lots of fine merchants - Rose Star Emporium, Adventure Tomes, Anja Jasmin Originals, Cornerstone Creations, Dragon's Nest Designs, Horns By Lew, and Dragon's Paradox were just a few of the inspiring artisans displaying their wares.




Good eats were plentiful as well - many folks chowing on giant turkey legs and imbibing on everything from smoothies to brew. Lots of areas to sit and relax well spaced throughout the faire. It was good to rest my bones on & off before they got weary. I wish every outdoor event were as well organized as this one!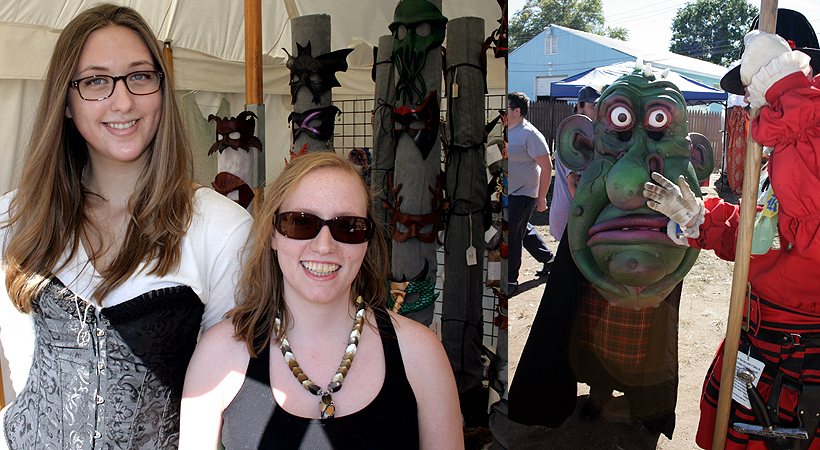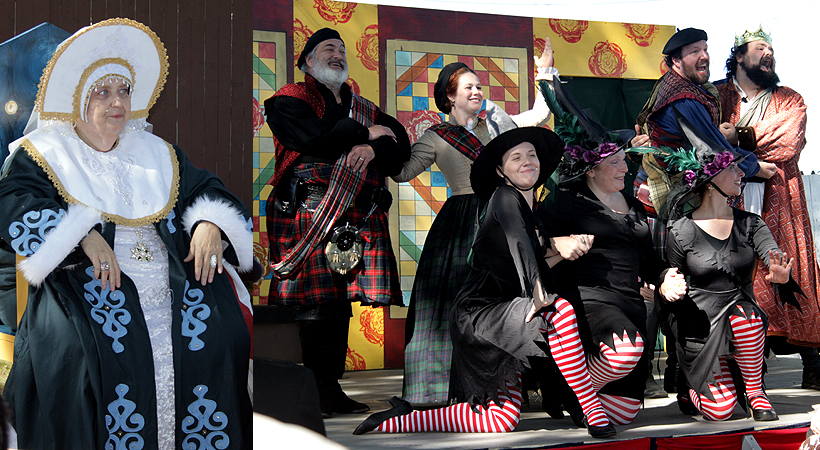 A highlight of the faire was most definitely their hilarious musical version of Macbeth. It featured a humorously corrupted storyline and lots of crazy song parodies. When Lady Macbeth sang Stand By Your Clan the crowd could not stop laughing. Kudos to the incredible cast!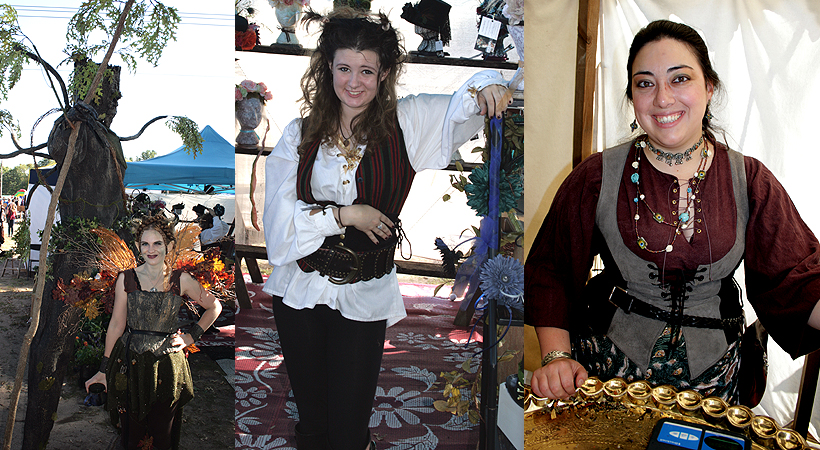 Fun, adventure, gorgeous maidens, brave knights, and a Queen or two all added up to a splendid time for all. Huzzah!


Intensity - Tuxedo Junction, Danbury, CT 10/2/15


It was a cold, wet, chill-you-to-the-bone night in Danbury. I hadn't been to Tuxedo Junction in far too many years. I couldn't resist the bait: an EDM paint party headlined by a DJ named ZAXX and featuring folks from Bass Placer Events. That meant fun music, gorgeous women, and getting covered in paint. Count me in! I'm old but I still can hobble & wobble!




They made us wait out in the cold for over a half hour. Not a great start. Once I got inside, things got much better! A nice vibe. Different but good. Very different crowd. Less costumes & wild clothing. More...college, I guess I'd say. College-meets-wasted. That's a fair call.




It didn't take long for the energy to build. Chatted with a few folks I knew. Started to feel the vibe the DJs were setting. Exceptionally good beats. Variety of moods, but always moving forward. The crowd got more and more into it and the paint started to flow early, courtesy of Mary & Abbie from BPE.




Undulating on the stage, the BPE Hype girls rocked shiny green outfits as they playfully manned the paint guns. By the end of the night I was a human Jackson Pollock painting, as were most of the crowd.




It was liberating to see everyone just let go and surrender to the paint. We were all a mass of tone and texture, pulsing to the music. By the time ZAXX hit the stage, the crowd was primed to be taken higher & he obliged. His set delivered all sorts of energies and moods. Very much in the moment.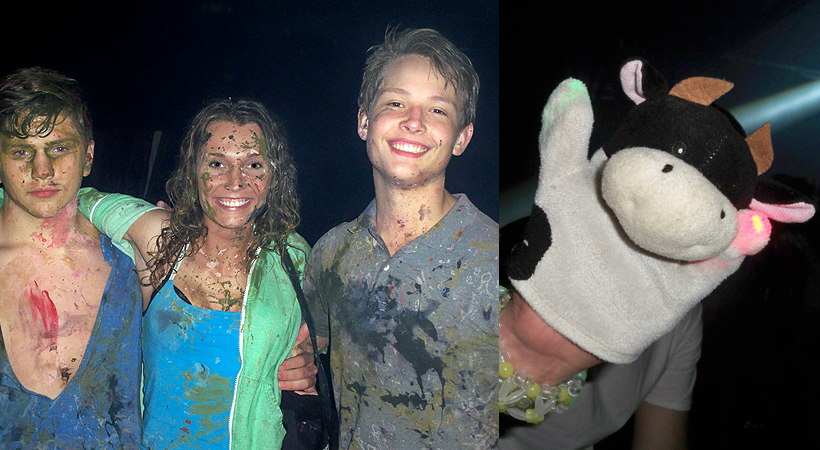 As the night pulled me in, the cold and damp was forgotten. Smiles, laughs, frenzied folks, a human canvas surged through the club. It was a sort of entity unto itself, stained in red, black, and green. Tattooed by the event. Soon to be showered off, but never to be forgotten!


Wishbone Ash - StageOne, Fairfield, CT 9/22/15


Let me set the stage: I'm a Wishbone Ash fan since 1974/75, yet never got to see them live. They announced a gig less than 15 minutes from my home. Result: Wilcox is there! Now, before the impending dual guitar assault, there was an opening act. The Jack Semple Band. Semple's a blues/rock guitarist with some jazz chops to boot. He was joined by bassist Dave Chabot and drummer Martin Blondski. Okay, this might not be too painful to endure. Endure? Within the first 43 seconds of Hard Times, I was won over for life! A ferocious rhythm section backing a dazzling fretburner! Next up was a song called Workin' or Wankin' - I'm not sure which. No matter; another fretfest. Then came Shake. Semple was giving us all a master class on blues, rock, pop, bop, and some jazz phrasing. When My Baby Comes Back was equally impressive.




The crowd was honestly in disbelief. Who were these players? Why hadn't we heard them before? Rainy Night In Georgia brought the mood down a notch. Great vocal, more ultra-confident solos. Chabot and Blondski were straight up murderous on Cryin' Fa Ya. Chabot turned out to be quite the vocal acrobat on Night Life. The set closed with Domino. These boys from Canada had everyone in the venue smiling and talking. Future headline act here for anyone who's smart enough to book them!




About 9, Wishbone Ash hit the stage. Guitarists Andy Powell and Muddy Manninen; bassist Bob Skeat; drummer Joe Crabtree. They launched right into The Power. I was immediately struck by how impossibly tight they were. Vocals as well. Harmonies crisp and spot on. Deep Blues followed. I have to say, this newer material is every bit as strong as the classic pieces. Powell and friends still have lots to say. Another recent piece called Blue Horizon was guitar Heaven.




Next up was a 3 song visit to the Argus via The King Will Come, Warrior, and Throw Down The Sword. The vocals were extraordinary. The playing was simply flawless. These songs have inhabited my life since the mid-1970s, so it was very emotional to hear them live. The crowd seem to feel much the same. Gorgeous. Wishbone Ash were so vital, so locked in.




Timing is everything. After the sheer weight of those heavy classics, Powell introduced a song about seeking warm weather in the Winter titled Way Down South. A breezier number with lots of great guitar work! Speaking of timing, next came The Pilgrim with all those tricky rhythmic stops and starts. Musical karate. It sounded vibrant and fresh. The band then tore through Front Page News. I'd forgotten just how good this hot little number was! Skeat and Crabtree were a well-oiled piston on it.




Heavy Weather took things in a smoky, moody direction. Very exotic and a fine bit of spice to the evening. I must make mention of how fierce Powell and Manninen are in tandem. Baby What You Want Me To Do was a great example. Those guitars just wail together. Each man takes a solo, then harmonize. It's unique and breathtaking. The set closed with Open Road - a number with plenty of stretching room for all 4 players. For the encore, I yelled "Blowin' Free!" and Andy Powell said "You've got it!" Such a perfect exclamation point on an evening full of guitars, madness, and joy. There's no place like home!


Bright Night 23 - Toad's Place, New Haven, CT 8/22/15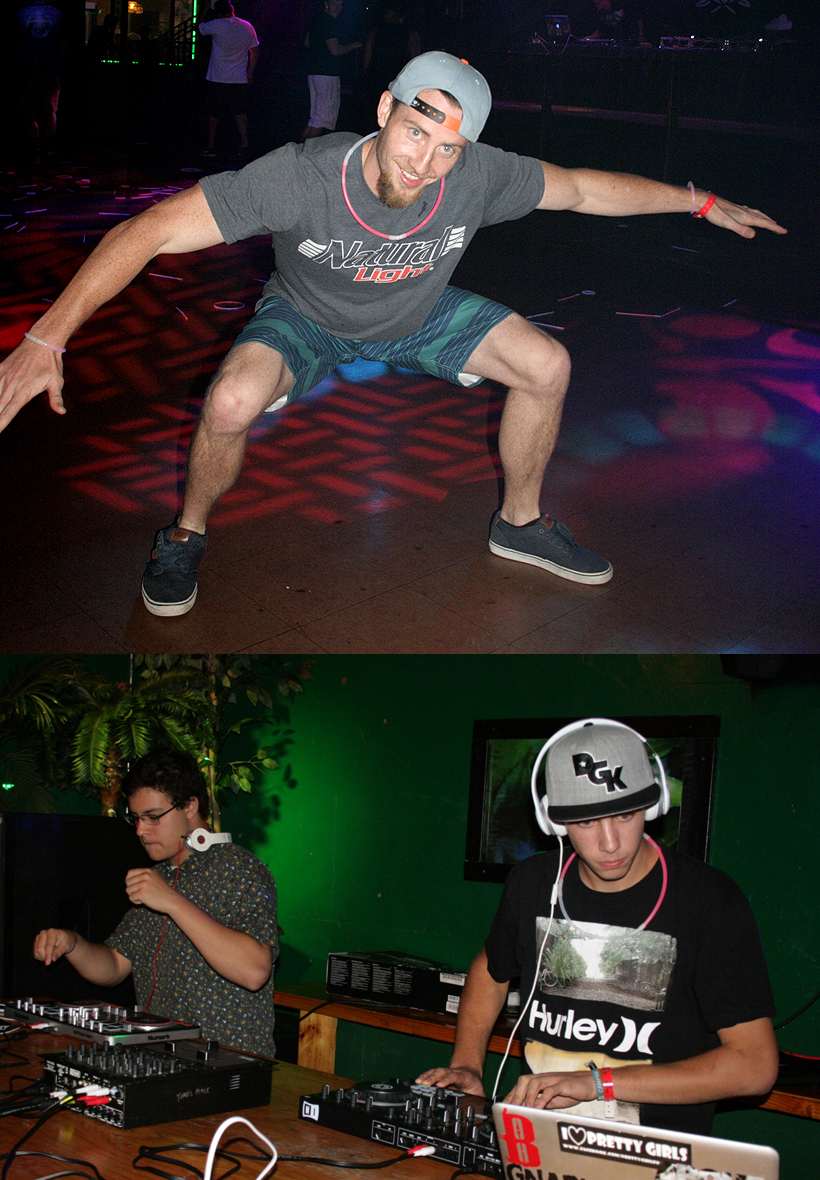 It was a beautiful August night. Warm & a bit humid, but not overly so. As I set up in Toad's, it was a bit slow, but I knew the crowds would come.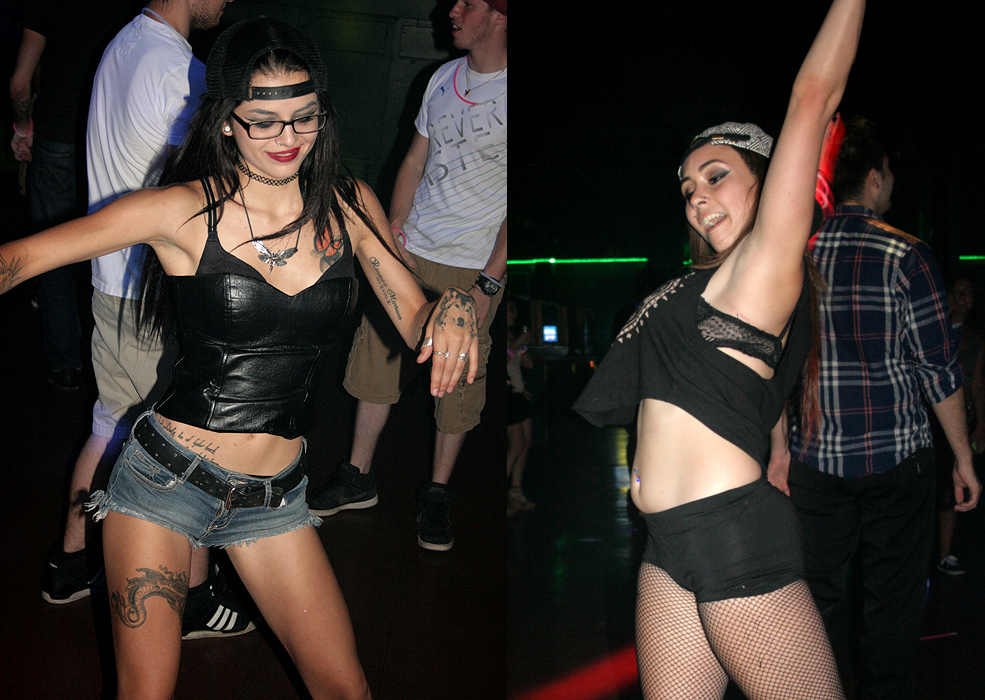 Capital Music Group were a series of very solid DJs. I liked the beats & the sounds were fresh and interesting. Pretty damned fine, truthfully!




Amusing turned to annoying in terms of this substance-enhanced bald dude. He got a bit too hands-on with several women and eventually got escorted out the door.




Once again RAGEPAK dominated the evening with a image-filled set. Tons of emotion.




The girls were living liquid rhythm on the stage. Motion and seemingly rubber skeletons were the order of the day.




The crowd were at frenzy-pitch. It was getting sweaty. Heat on the stage and off!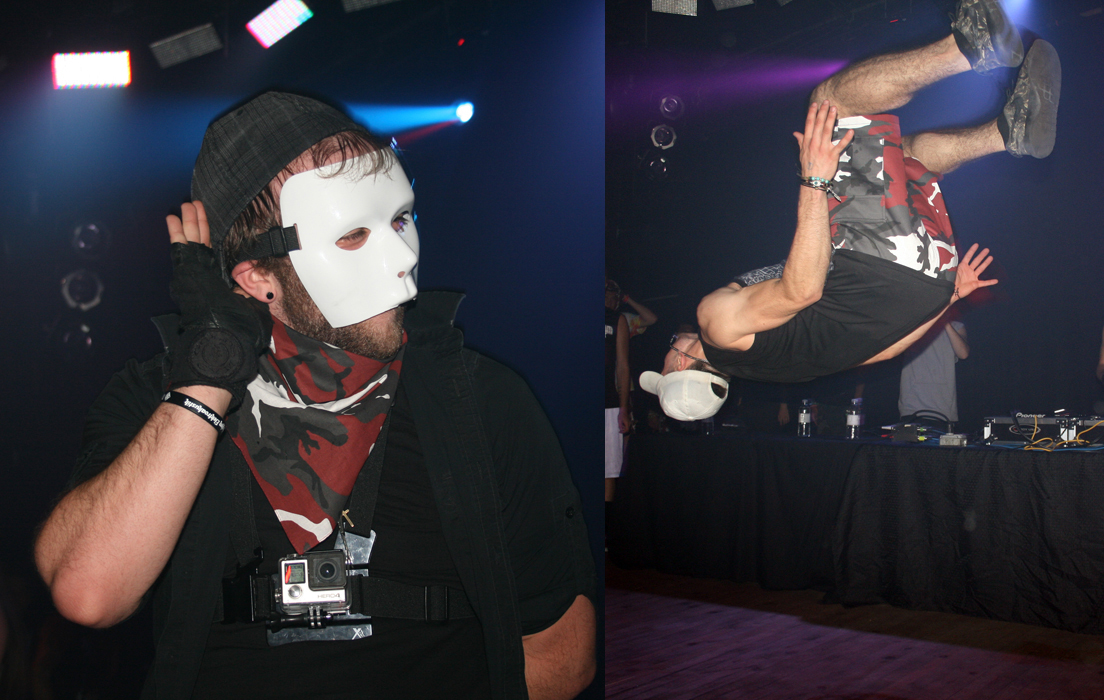 Our man on the mic called out the freaks. Everyone yelled their replies. It was madness. Even the 2 jerks trying to push me out of my spot were irrelevant. The energy was King! Good friends, lots of love, butts galore, sweat, lasers, CO2, and a throbthrobthrob.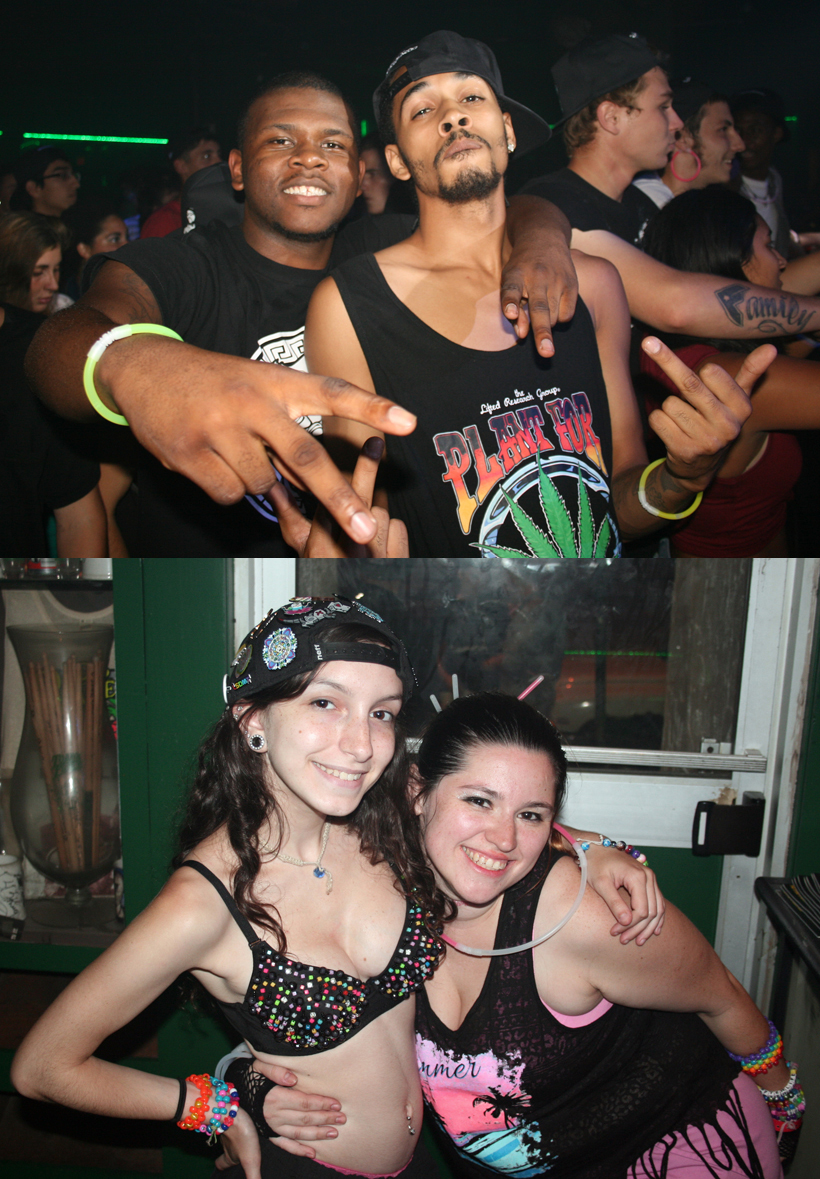 Brass City Comic Con - Naugatuck Valley Community College, Waterbury, CT 7/26/15


I'd never been to this con before, but I'm always a fan of Waterbury. I saw my first concert there and used to haunt Brass City Records for several decades. It was a simple set up on 2 floors, and I found myself with free table space. Throughout the day, I did free drawings for kids and occasionally took time out to survey the vendors and talent.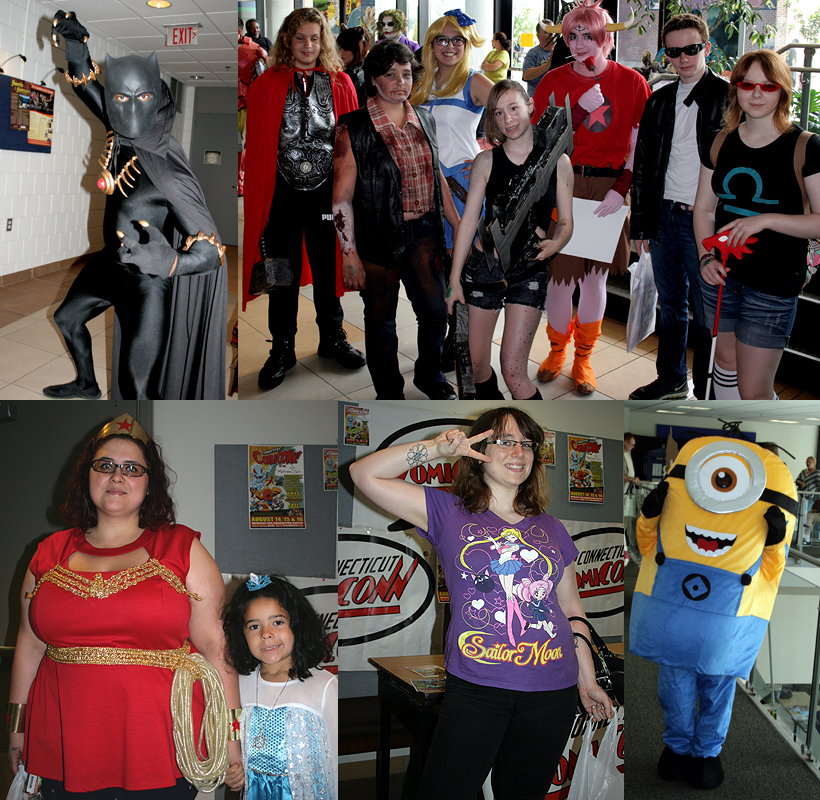 Lots of talent in attendance: Frank McLaughlin, Ty Ford, Paul Kupperberg, Stephen Murphy, Alex Simmons, Jim Taylor, Paris Cullins and lots more! Nice to catch up and swap stories. Several old friends and just as many new ones!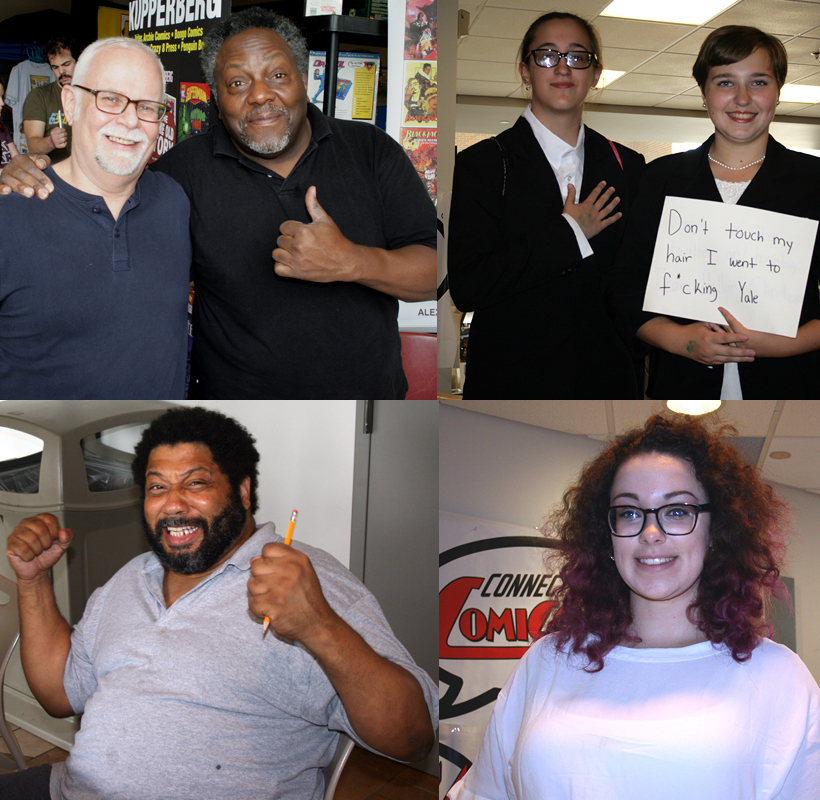 Waterbury brought out some fine cosplayers including an outstanding Black Panther, a cool Batman/Predator mash-up, a coterie of Dr Who characters, and a lovely Harley Quinn. Imaginative & fun! Speaking of fun - the con also featured wacky artist battles where the artists had to draw things like a Bigfoot Hello Kitty and the Hulk in a ballet outfit! The crowd ate it up!




I had a lovely chat with a woman who was overseeing a table full of domestic abuse information and resources. It did the heart good to see such an important issue well represented there. This was a small local con that was big on heart and had a friendly vibe. A reminder of how conventions used to be - by the fans, for the fans. Did I mention that it was only 99 cents to get in the door? Brass City Comic Con was a truly outstanding event!


Bright Night 21 - Toad's Place, New Haven, CT 7/18/15


Hello, Toad's Place. I crave entertainment on this muggy night. I felt relieved as I walked in. It was just after 9:30 and the opening DJs in both rooms were emitting interesting beats from their devices. I settled in and started absorbing the energies.




The early DJs were excellent but a bit...draggy after a time. The 10 o'clock set on the main stage got caught mostly in the same mood, same vibe. Nice stuff, but I had the itch for more variety and started glancing at my watch.




I noticed that this particular crowd had a greater ratio of active dancing dudes. The women were more on the passive side. Until...




A curtain closed our view of the stage. After a 10-15 minute wait, RAGEPAK hit the stage. The dancers wore matching bondage cop/military outfits that were dangerously hot! This was a show!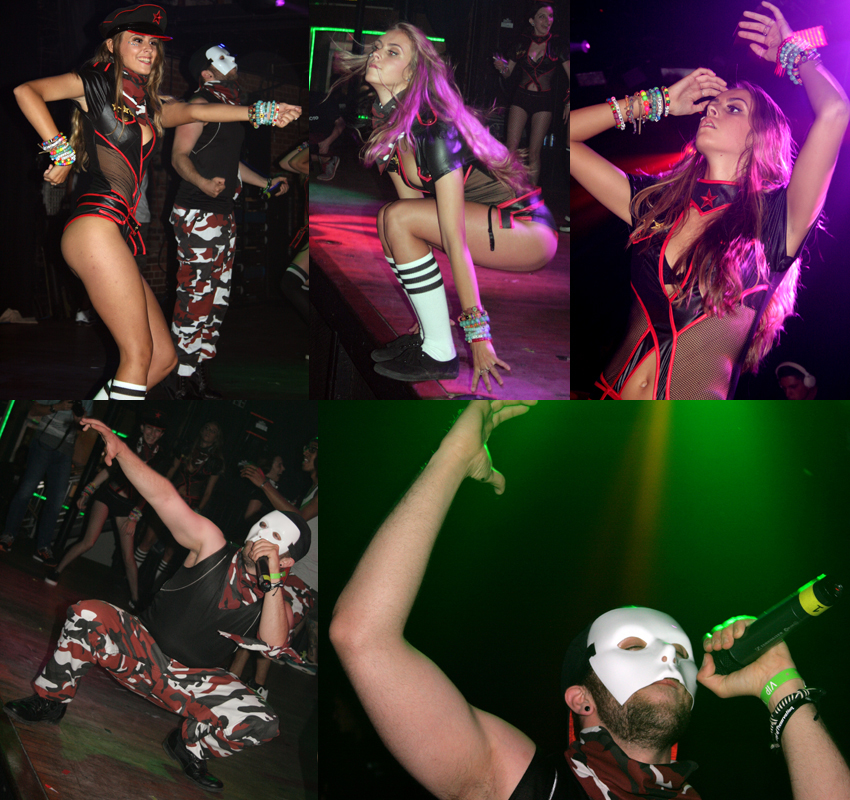 Music+drama+theatrics=unforgettable. I hope the other DJs draw inspiration from RAGEPAK. Don't just stand there and twitch. Bring it! If I gush over this act, the results bear me out - people go nuts. It's this whole other level of celebration. It brings you into the show. Amazing.




A humid Summer night surrendering to the beats. Friendly freaks and freaky friends. And glowing stuff. And fun. Lots of fun.


Melanie - The Palace Theatre, Danbury, CT 7/16/15


I must say at the outset - I love this venue! Nice vibe, friendly & helpful staff, fine acoustics. Nestled in the heart of Danbury, you must see a show in this venue! Melanie's opening act was a band called EVA. Liz Simmons on vocals, guitar, and percussion. Nicole Zuraitis on vocals and piano. Kath Buckell on vocals, guitar, and percussion. Flynn Cohen on bass. Opening with the traditional I Know You Rider I saw their charm immediately: tight harmonies and crisp musicianship. Originals Down By The River, Deepest Water, and For The Lonely danced on the border of American folk and European folk. The result was pleasingly unique. Simmons made me chuckle with her story that led into Silver Dagger, and their set closed strong with Running Out Of Time. Cohen's bass was spot on for the entire set, adding a concrete foundation for the ladies to soar off of. I left their set wanting to see a full show from this captivating band!




I don't quite know what I expected Melanie to begin her set with, but it surely wasn't a spoken word piece! Yet there it was - donning glasses and reading from a book of hers, she related the tale of The 41st Dover Sole - a true story about dining alone and a series of frustratingly hilarious mishaps. It really set the tone for the evening: a no-holds-barred, honest look at the woman behind all the songs. Son Beau-Jarred joined her for the set, playing any number of instruments. Beautiful People was the first song. Just wonderful. A Miley Cyrus tale took us into Yaw Baby (Break My Heart). Of course we all sang along with What Have They Done To My Song, Ma. How could anyone possibly resist? Even in Korean & German! We all sang Happy Birthday to German fan Maryanna in the front row, then Melanie told the sweet story of the song Angel Watching Over You from her Ever Since You Never Heard Of Me album.




More insight into her daily life brought us to I Tried To Die Young. As engaging a storyteller as Melanie is, I cannot neglect to mention that she still absolutely rocks as a vocalist! Another Miley Cyrus tidbit led to an incredible Chet Atkins-style crosspicking instrumental take of Wrecking Ball by Beau-Jarred. His showcase continued with a breathtaking Fantasia On Malaguena as his mom watched with obvious pride. Another singalong - You Can Find Anything Here led us to 2 new pieces: the first called Imma Gonna Be Alrighty, the second called Orion. I hope they end up on an album as they were both pretty damned awesome!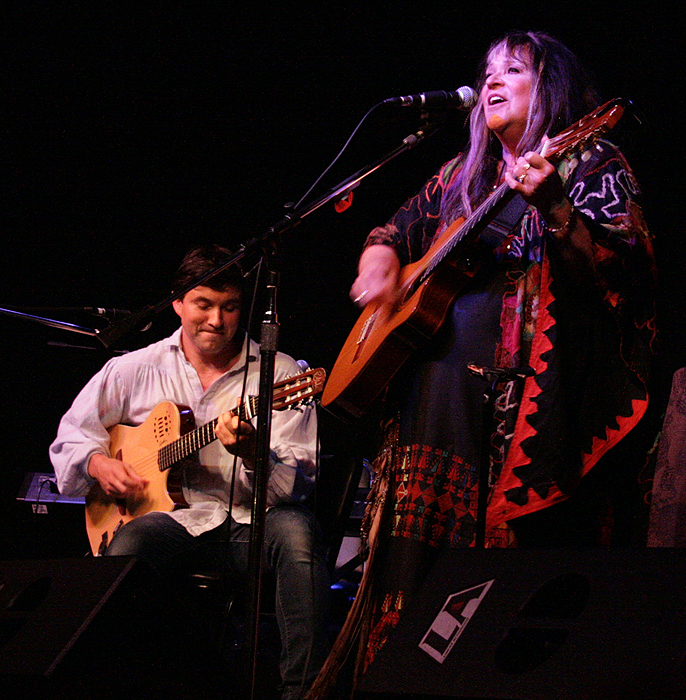 Someday I'll Be A Farmer had us all singing once more. Such a fun number! The 3 women from EVA then returned to the stage to serve as backing vocalists for the rest of the show. A nice addition! Melanie taught us all the chorus to Smile, and I must say that the audience sounded massive as well as in key! A beautiful new number followed called Longing Sung. It's all well and good to come see the show because we love Melanie for decades, but I have to say her new material has power and passion and relevance. It will blow you away. Brand New Key will always be a bit of irresistible fun and this night was no exception. I was pretty floored to get Peace Will Come (According To Plan). There's something comforting about it even more in my mid-fifties than in my younger days. Beau-Jarred played tin whistle to open Lay Down (Candles In The Rain). Craig Harris joined on percussion & Melanie's gorgeous granddaughter on backing vocals. Much of the crowd held small electric candles. We all stood, swayed, sang. A moment of unity, I'd say. Pretty multi-generational both onstage and in the house. Rather appropriately including the chorus of Give Peace A Chance as she did in the show I saw last December. Words cannot do justice to this evening. It was beautiful on so many levels. I'll just leave it at that.


ConnectiCon - Connecticut Convention Center, Hartford, CT 7/11/15


ConnectiCon has become my favorite convention to attend. This day was a perfect example of why I love it so. First: No huge obtrusive booths from megacompanies. Lots of eclectic guests and merchants. Lots of stuff to spark the imagination.




Easy on the wallet. I bought a nephew a cool Star Wars shirt for 5 bucks. A Tardis button for my great niece who's a big Dr Who fan was a buck. Lots & lots of merch was under 10 bucks. Can't beat that!




Super-friendly guests. I had a wonderful long conversation with Rika Muranaka, composer of music for videogames like Konami's Silent Hill. A gracious, wonderful lady. Also chatted briefly with Nichelle Nichols - still elegant and down to Earth. Lots of other folks interacting with fans. The was zero cattle call atmosphere. Those running the convention made the attendees feel as special as the guests.




A moment about the staff. I found them to be helpful, kind, and efficient. Problem solvers with a smile. This is more important than I can possibly express. A make or break element of any convention. ConnectiCon treated everyone with care. The told me this was a class operation. Very kid- friendly as well.




Excellent layout. Wide aisles. Lots of places to sit & rest. Let me repeat that: Lots of places to sit & rest. A blessing for fat & disabled folks like me. I was always comfortable.




Fans & cosplayers. They were the convention! Imaginative choices. A crew that dressed as mash-ups of Batman villains & McDonald's characters. Not 1, but 3 women dressed as Kiki from Hayao Miyazake's Kiki's Delivery Service. Spider-Gwen, Loki, so very many more. Sadly, I could not include all 227 photos I shot. Every one captured a piece of magic!




I did a very smart thing at this con. I asked cosplayers about their outfits. I heard fascinating stories about the work and love into each outfit. I heard passion and I heard pride. Love for the character. Effort to put their own stamp on it. I found it to be both humbling and inspiring. See you next year! Do not miss!


Midsummer Fantasy Renaissance Faire - Warsaw Park, Ansonia, CT 6/20/15


I had such a great time at this faire last year, I just had to return! I'm so glad that I did!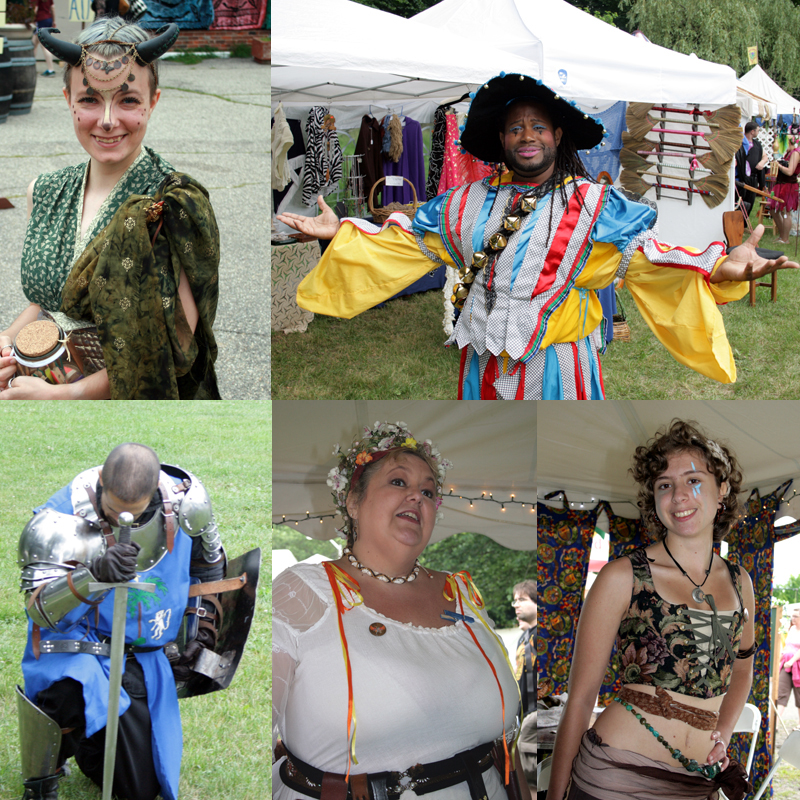 Again, it exuded a friendly vibe. The people running it are a sort of family & you are immediately embraced as a member. Once more, I spent lots of time at Momma's Place. Shady enough to beat the heat, breezy enough to beat the growing humidity.




I caught some swordplay. I heard Granny Gruesome sing funny songs about zombies. I laughed at a whip cracking comic who said jokes I cannot repeat! I checked out many of the fine vendors as well.




There were lots of families attending. Lots of teens with hair every color of the rainbow. Everyone was having all sorts of fun. Lots of excitement & smiles!




People of all sizes & builds had the opportunity to be beautiful & handsome. Dashing knights and imposing creatures. For my part, I had a great day in good company. New & old friends everywhere I looked. I cannot wait to return!


Stratospheerius - Ray Kelly's, Bridgeport, CT 6/19/15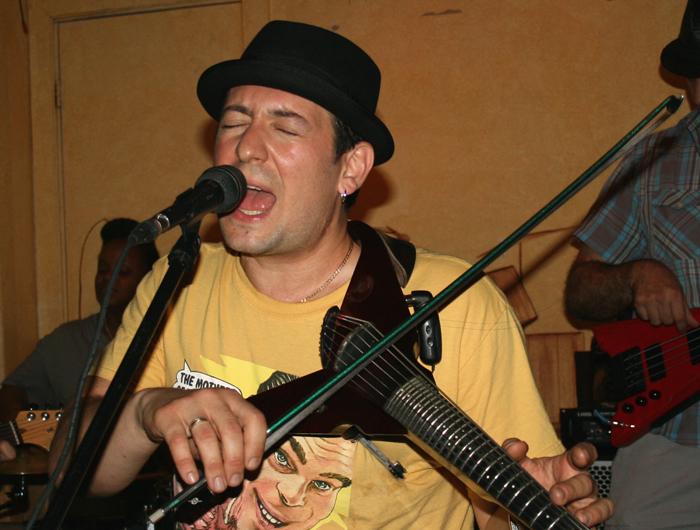 There I was back at Ray Kelly's in the Black Rock area of the Fairfield / Bridgeport line. The area skirts the spectrum of artsy and rough. Thankfully the venue's friendly even though the parking is...challenging. Stratospheerius were back in Connecticut for the 2nd time in just under a month! It was the same line-up I saw at Sully's Pub: Joe Deninzon on violin, vocals, and mandolin. Paul Ranieri on bass and backing vocals. Lucianna Padmore on drums. Michelangelo Quirenale on guitar. Set 1 started with 2 classic Stratospheerius pieces I'd heard on many occasions: The Release, and Old Ghosts. Solid numbers to get the juices flowing. I loved the Hey! Hey! Hey! singalong aspect of Guilty Of Innocence. Padmore's Affluenza kept the energy building.




In the middle of Climbing, Deninzon took his violin outside the venue & played out in the street. Hysterical! An absolutely furious cover of the Police's Driven To Tears was dedicated to the tragic shootings in South Carolina. Totally apropos. Scott from Prog On The Sound was speechless over the muscular musicality of the players. Set 1 ended with the energetic Take Your Medicine, and we all took a small break!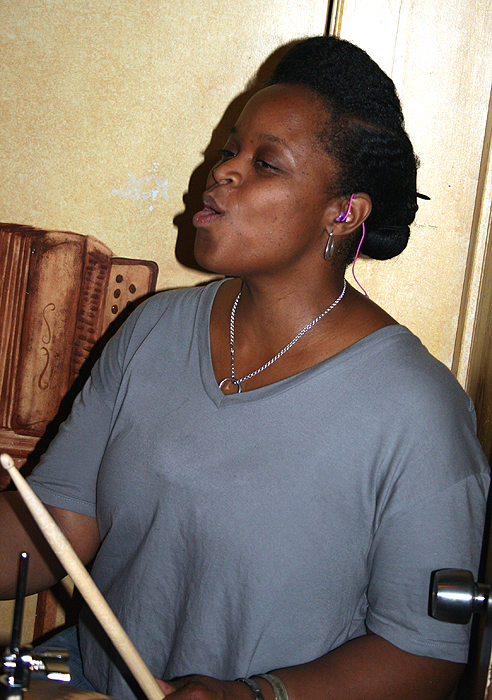 Refreshed by my diet Coke & bathroom break, the band headed straight into Long Road. Vicious solos from Deninzon & Quirenale. The whole band, really. Set 2 was even more amped up than the first with new numbers like Behind The Curtain and Face full of energy and ridiculous chops. The mandolin came out on Parallel Reality to good effect. A very friendly feeling song. Full of Middle Eastern rhythms, Heavy Shtettle ended set 2. There was lots of room for all the players to shine & stretch out. A musical beast!




Set 3 started after midnight but lost no energy whatsoever. The instrumental Shock Therapy bludgeoned the senses. So much information. Gods rocked exotically. Next up was a bit of a surprise: a cover of Muse's Hysteria. It fit organically in the set while totally respecting the source. Excellent choice! One Foot In The Next World followed with more violin/guitar/bass/drum magic. The locked-in aspect of the players at times brought to mind the Mahavishnu Orchestra or perhaps the Dregs with the added aspect of good-natured camaraderie and humor. The evening closed with a confident take of The Prism. What a fantastic show! Stratospheerius have never disappointed. They always push forward. Every night offers more as they bring you along on their adventures into new sonic lands!


Bright Night 18 - Toad's Place, New Haven, CT 5/30/15


Warm night at the tail end of Spring. Relaxed mood for me and a relaxed atmosphere in Toad's.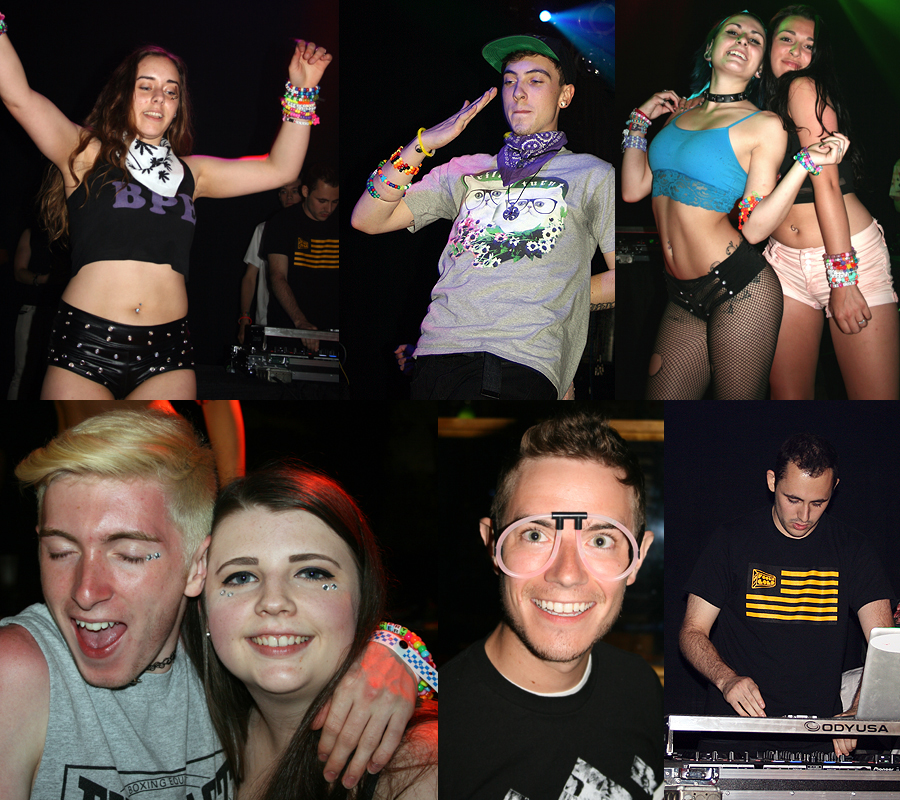 I saw some of the usual suspects and said my hellos. After a slow half hour, the club filled up fast. For all of the energy present, it still felt like a laid back crowd. Not in a bad way, mind you.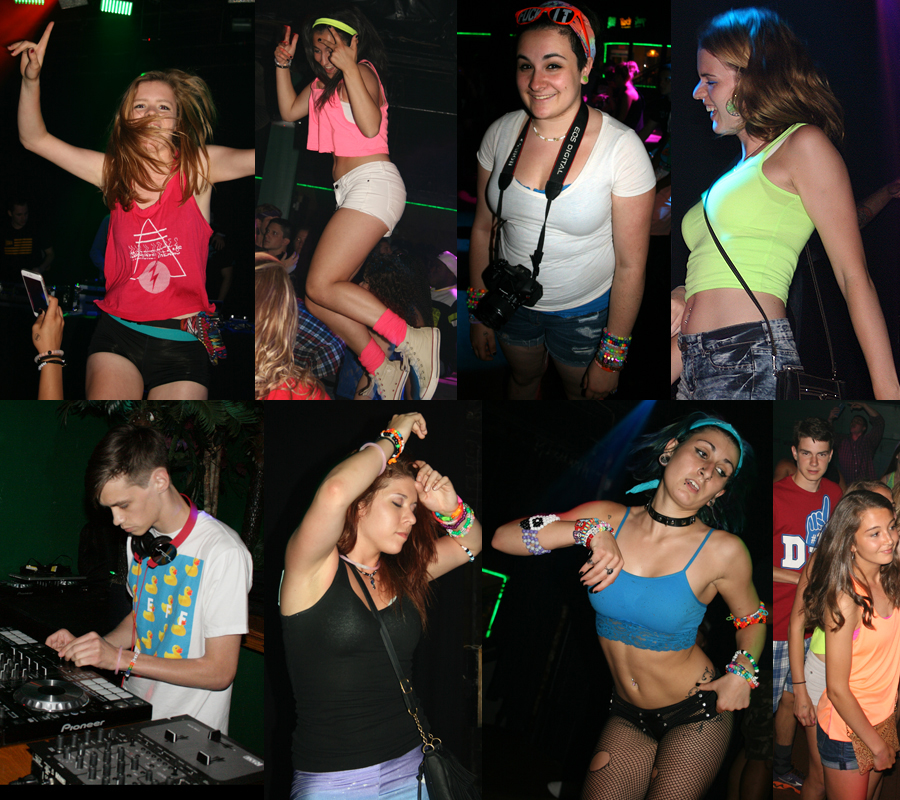 The DJs in both rooms were smooth with their movements. The beats were fine & the vibe was very positive. Things jumped up 253 levels when RAGEPAK hit the stage.



They brought the emotion. They set a fire then fed it through their entire set. The stage was packed with dancers. The crowd woke up. I was grinning ear-to-ear. This was why I go to these events. DJs, Stage, crowd blended into a single entity. Just amazing!



Good vibes, good friends, new friends, blue friends. Another Bright Night full of adventure, energy & the occasional flying person!


Sonic Voyage Fest - Sully's Pub, Hartford, CT 5/22/15


A new venue for me - Sully's Pub up in Hartford. Great space, great vibe! This was Sonic Voyage Fest - a traveling festival with 3 prog bands: Circuline, Shadow Eden, and Stratospheerius. Circuline took the stage first. Their sound was classic symphonic prog: interesting rhythms, fine guitar, lush keys, and a male / female vocal punch. The set opened with Soleil Noir - a fine showcase for the instrumentalists and a statement - This is our sound! Excellent opener. Vocalists Billy Spillane and Natalie Brown came to the fore on Return and Stereotypes. Vocals were splendid and Spillane had a naturally theatric bent to his presentation. This was some exciting prog! Andrew Colyer's fine keys took us into Nebulae then another full ensemble number called One Wish that was one of my favorites in the set.




The moody Imperfect led to the more exotic Fallout Shelter. Fine guitar from Bill Shannon was very well supported by drummer Darin Brannon and bassist Paul Ranieri. Before I forget - Ranieri pulled triple duty this evening, playing bass for all 3 acts! Stratospheerius' Joe Deninzon added awesome violin to Silence Revealed - another standout number! Circuline's set ended with a fun cover of Brain Damage / Eclipse. I was truly impressed. I want to see more! A double bill of Circuline & IZZ would make mighty waves in the prog community. Make it happen!




Led by maniac guitarist David Mercado, Shadow Eden were next. The sound was blazing, muscular instrumental metal/jazz/fusion/rock/prog. Imagine Beck/Bogert/Appice on steroids and you get an inkling. Shadow Eden hit the ground running with Tenets Of Time. Bassist Paul Ranieri just ran wild with drummer Kenny Lane all night. Third Man was molten steel. Perpetual Motion was a crazy fretfest. This stuff was madness! Poached Antelope and Book Of Mirrors were energy personified with Mercado's fingers seemingly made of liquid mercury. Lane jokingly yelled "This one will fuck you up!" between each number. They weren't lying!




Event Horizon kept the crowd in a state of shock and awe. Ranieri wrote Scorpio Rising with some brutal licks going on. A fun rocker called Diablo Cody took us to a set-closing cover of Frankenstein. Shadow Eden were an in-your-face unit with muscle and melody. 873,421 notes per minute, and not a single wasted one! Again, see this band, book this band. 100% satisfaction guaranteed.




I hadn't seen Stratospheerius in far too long. I love this band. Prog/rock/jam/jazz/funk/punk love for your ears. Violinist / vocalist Joe Deninzon was our guide. Joining him were,of course, Paul Ranieri on bass, Lucianna Padmore on drums, and Michelangelo Quirenale on guitar. They were confident and almost eel-like as they slithered around the melodies of Guilty Of Innocence. Padmore & Ranieri added a tribal crack to Take Your Medicine, with a great vocal from Deninzon. A new number by Padmore called Affluenza grabbed me immediately. Behind The Curtain was about the trappings of fame & politics. Deninzon's vocal was spot on & his violin was producing wild, almost human sounds!




A new, unreleased number called Face was funkatocious. Deninzon and Quirenale were magic together and Ranieri was the perfect conduit between them and Padmore. I just stood in awe. Gods from the In The Next World album was just killer. Whatever they feed Quirenale - give me some! Loved One Foot In The Next World. A great vocal piece with hot instrumental moments. The final piece of the evening was The Prism. Power, melody, and invention. Stratospheerius took me on a journey full of adventure, humor, elegance, and energy - like traveling through a power line. Sonic Voyage Fest was like General Tso's chicken: spicy, filling, and I already want more!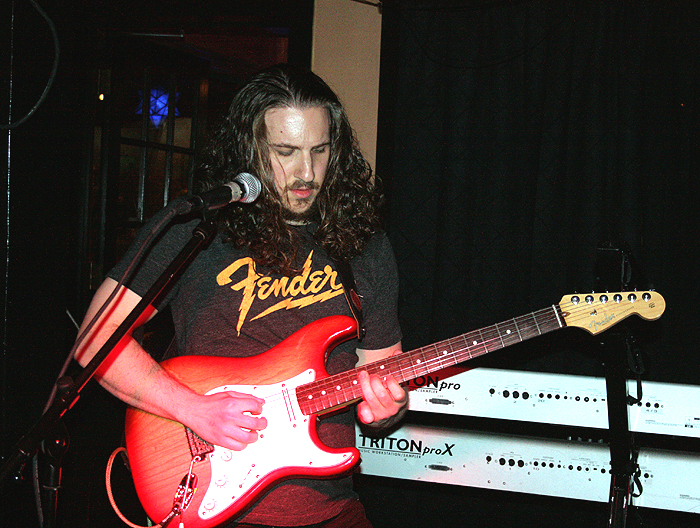 Bright Night 16 - Toad's Place, New Haven, CT 3/27/15

Massive. Crowded. Claustrophobic. Hot. Sweaty. Powerful. An incredibly large crowd for the good ol' dub on this Phreaky Phriday.


As the evening progressed, more and more bodies came in the door onto the floor. We were packed like sardines, but no one minded at all!


The DJs in both rooms were spinning hot goods and biting beats. RAGEPAK set the tone of the night with aggressive throbbing and passionate shouts to the heavens. Brilliant!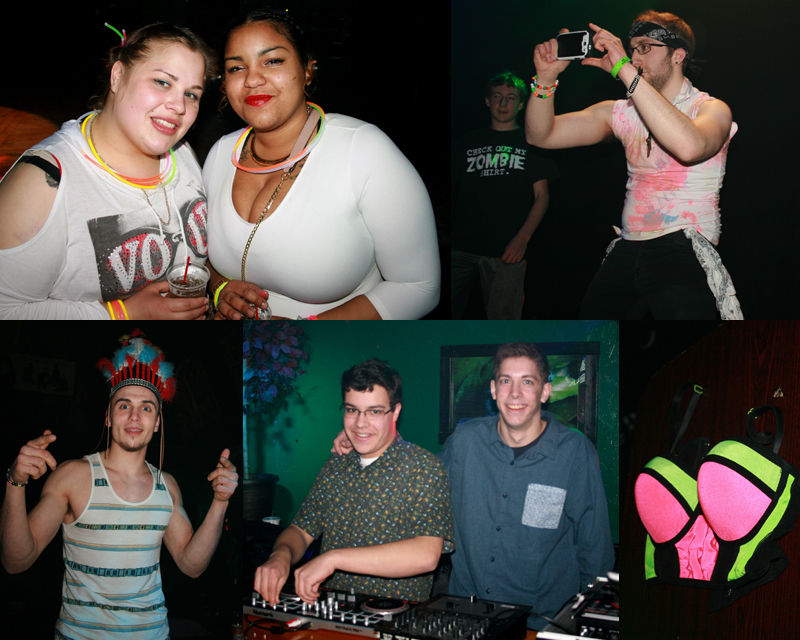 Less outrageous clothing and accessories than other nights, but people used what they had to great effect. The girl with the bracelets gave me one as well as a hug. Rose was there. Jackie was there. I was there. You should have been there. Why weren't you?


Bright Night 16 was an all ages melting pot of people and ideals. Perhaps idealogies as well. Pot in the air & at times too much SFX smoke - the bane of cameras! Nonetheless I soldiered on!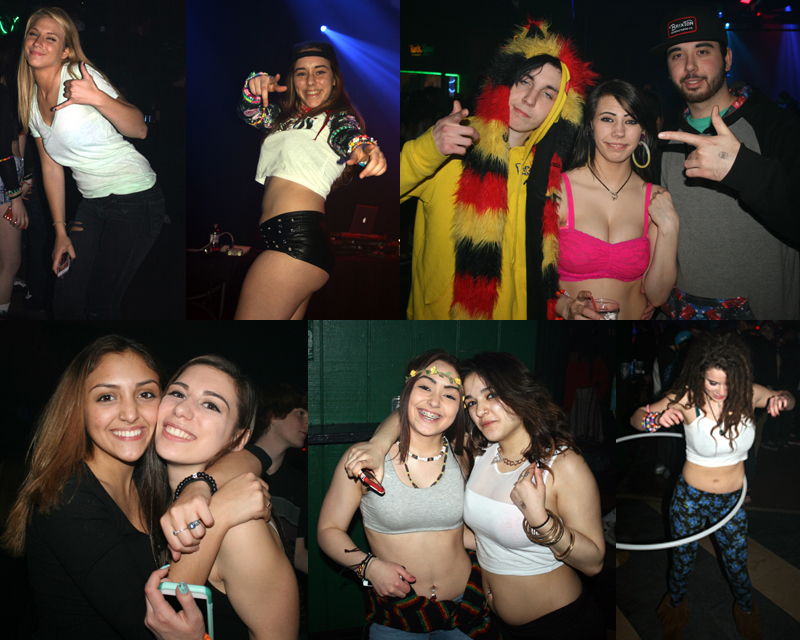 For a crowd packed mostly with people I didn't know, it was an awesomely friendly vibe. I'm telling you straight - the world could learn well from nights like this. Dance. Laugh. Smile. Hug. Sweat. Give in to the rhythm. Rhythm is life. Life is good!

Mike + The Mechanics - Infinity Hall, Hartford, CT 3/8/15


This was my first time in the new Infinity Hall. I'd been to the one in far off Norfolk, Connecticut, but never to this one in Hartford. Lovely building. Great layout. Stellar sound. I'm happy to say that the first musician I got to see & hear on the stage was Daryl Stuermer. He started the set with a slithering, oily, wonderful take of Peter Gabriel's Shock The Monkey. Stuermer was accompanied by backing tracks he constructed and played on an Air Mac, I believe. Next was a lovely piece of his own called Wherever You Are. His guitar work was effortlessly fluid and expressive.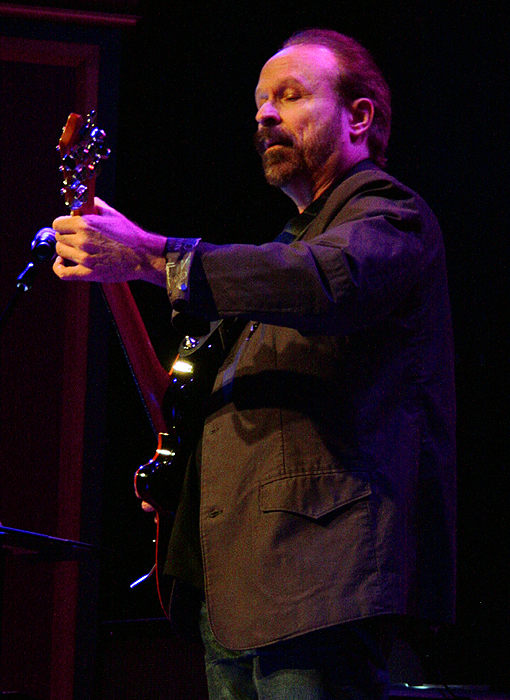 I was blissed out to hear Striker from Stuermer's Go album - chock full of insane soloing! The tender Heavy Heart followed. The set ended with a searing cover of Jeff Beck's Freeway Jam that would've had Beck applauding! I'd love to see a full show of Daryl Stuermer (hint hint)! Tasty stuff.




While I'd seen Mike Rutherford on many occasions with Genesis, I'd never seen a live Mike + The Mechanics gig. They did not disappoint. The tuneful Beggar On A Beach Of Gold opened the show. The band was locked in tight, the sound was exceptional. The upbeat Get Up showcased the pipes of Roachford. That man can sing! The moody Silent Running was anchored well by Gary Wallis on drums and Anthony Drennan (of Clannad fame) on bass. By the way, the bass slot would revolve through the evening between Drennan, Rutherford, and keyboardist Luke Juby. Another Cup Of Coffee featured a fine vocal from the energetic Tim Howar. Howar's boundless energy was absolutely infectious and the secret weapon of this ensemble.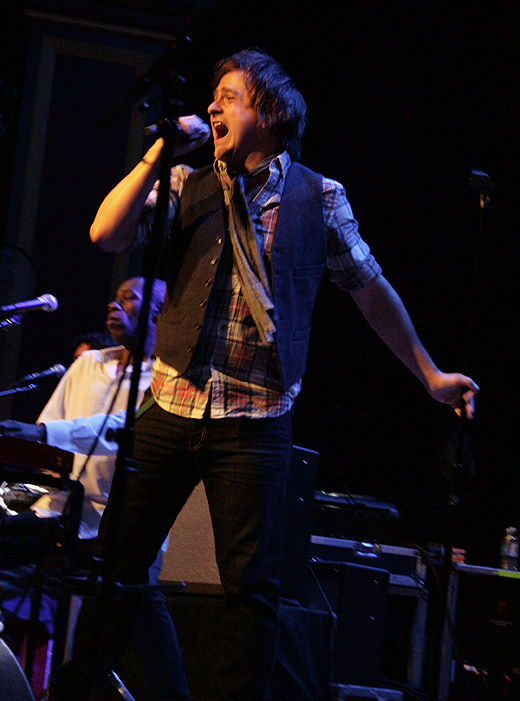 Rutherford told the bittersweet story of Seeing Is Believing. A song about war and love. A fine piece of social commentary to leaven an otherwise sunshiny set. The mood picked up with Try To Save Me, and the crowd got orgasmic for a nod to Rutherford's Genesis pedigree courtesy of Turn It On Again. Faithful in spirit and another great Howar vocal.




Time for an acoustic tune. The Road saw Rutherford & Drennan on acoustic guitars, Juby on bass, Roachford on keys and lead vocals, Wallis & Howar on percussion and BVs. Warm & wonderful. Juby, still on bass, gave us a whistling solo on the Wilcox fave Over My Shoulder. Such an impossibly catchy song! Another crowd fave, Nobody's Perfect, kept the buzz going.




The band got all funked up for a Roachford number: Cuddly Toy. Roachford owned that stage with an unforgettable vocal in front of a ridiculously tight band. Breathtaking. Another Genesis cover - the tongue-in-cheek I Can't Dance - sizzled with Howar's impish charm. The Living Years had the entire building singing the chorus and more than a few misty eyes.




The set closed with the high energy All I Need Is A Miracle with people dancing in the aisles and singing, waving, and clapping. All of which continued and ratcheted up several notches during Word Of Mouth. Howar was anywhere and everywhere - singing, running, interacting with the crowd. It was exhilarating to be amidst all that energy. The band jammed on throwing in bits of Stevie Wonder's Superstition and the Jimi Hendrix classic Purple Haze. A dizzying finale to a night I will cherish. I want to see this band every week for the rest of my life! Make it happen!!


Bright Night 13 - Toad's Place, New Haven, CT 2/19/15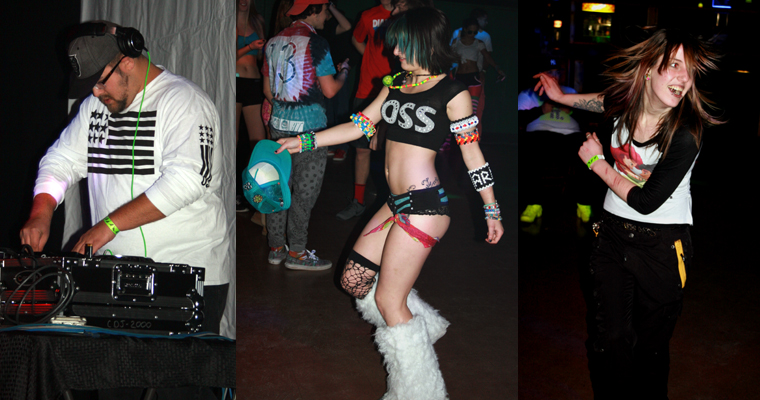 What is a term for beyond cold? Whatever that word might be, it does not do justice to how frigid it was outside on this Thursday evening in New Haven!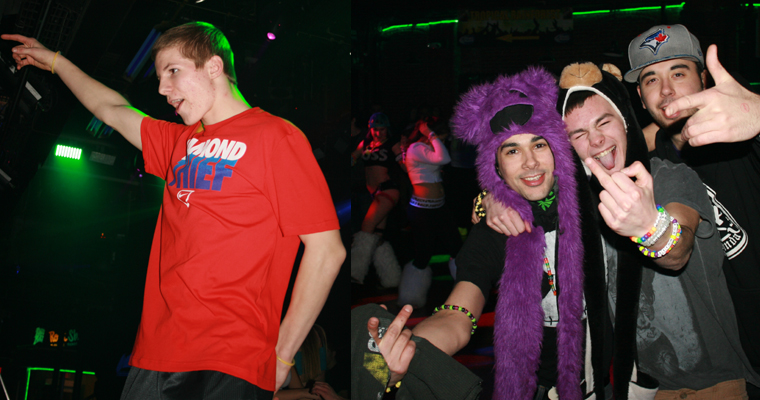 Thankfully the beats were plenty hot inside. Special props to DJ SpLitLip who turned in one of the best sets I've heard in ages. Absolutely solid! The guys that had the misfortune of following him ended up driving the crowd to the rainforest room where the DJs were spinning much tastier stuff.




With 2 of my favorite dancers in the building, I knew things would stay interesting & they did not disappoint - keeping the floor and the stage entertaining. Awesome!




Much to my amazement, a brunette clad only in a Corona beer bikini braved the elements. She was a great & uninhibited dancer that exuded pure playful fun. Very sweet as well. Another bonus was a DJ who was accompanied by a guitarist. His playing was hot and added a welcome dynamic to the evening! My night ended all to soon as I headed back to reality with hopes of returning very soon!


The Musical Box - Ridgefield Playhouse, Ridgefield, CT 2/8/15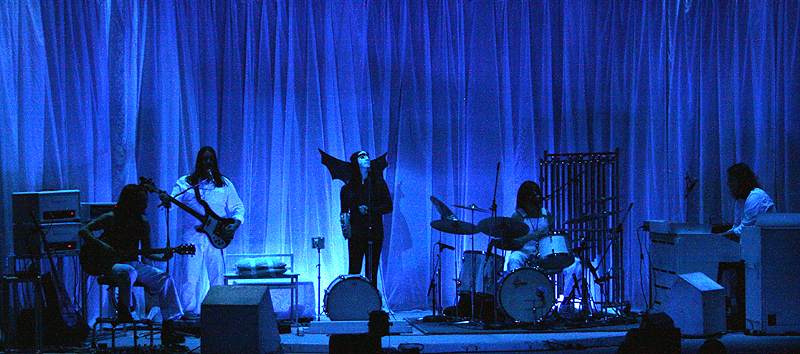 Back to a simpler time. The Musical Box were performing a Foxtrot show with simpler staging, less costumes. At this point in history, Genesis were growing day by day in terms of ability and confidence. The show very clearly reflected that. Watcher Of The Skies sees the band mostly lit in blue and the singer in bat wings and black light sensitive eye makeup. Simple but powerful. How can you not tremble at those opening chords? The opener of all openers. What followed was a visually stripped-down take of The Musical Box. No old man mask here. It didn't matter. The piece had as much impact as ever. Awesome ensemble playing. And the Ridgefield crowd roared!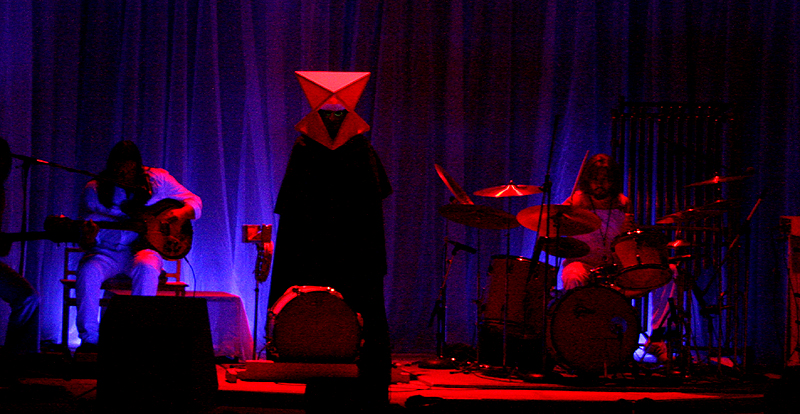 Amazing to think that this was the only tour to feature Get 'Em Out By Friday. The science fiction tale of genetic engineering is a wonderful live number full of melodrama and mood. The old Michael story led us into Supper's Ready. A massive, thrilling version. Every element of it was perfectly nailed. I still get major chills at the end & a lump in my throat.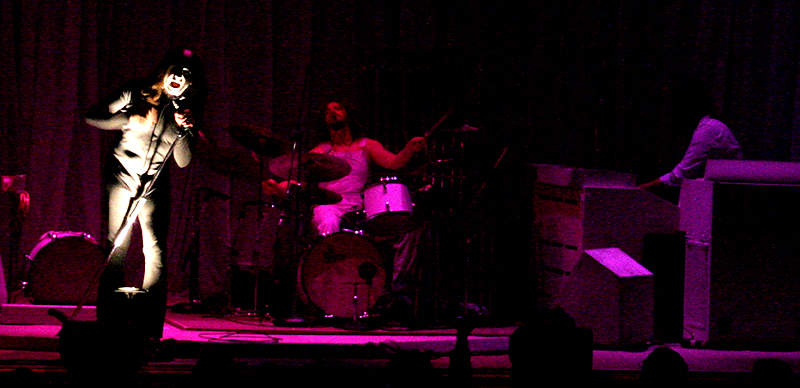 A huge beast was unleashed in the form of The Return Of The Giant Hogweed. The power of the number is unimaginable. Guitars & keyboards run wild over this number. A superb set closer. Again the crowd roared! Keeping the energy level up, encore #1 was The Knife. Bass and flute mesmerize. The band pulverize. Everyone was satisfied, but we all wanted more!




Well, say no more, say no more! 2 more encores starting with a dizzying reading of The Fountain Of Salmacis. Spry yet dark, truly a highlight of the era. We knew the night would finish on a big note, and there is was : Can-Utility And The Coastliners in all its glory. The scattered pages of a book by the sea.... Those acoustic guitars. That bass riff. Mellotron madness. Magic magic magic. A reminder that The Musical Box never fail to return us to days of thrills and inspiration. Their musicality, craft, and attention to detail is always mind blowing. We are blessed to have them on the stage.




Bright Night 10 - Toad's Place, New Haven, CT 1/10/15

8 days later and I came back! So glad that I did. An even crazier vibe than last Friday.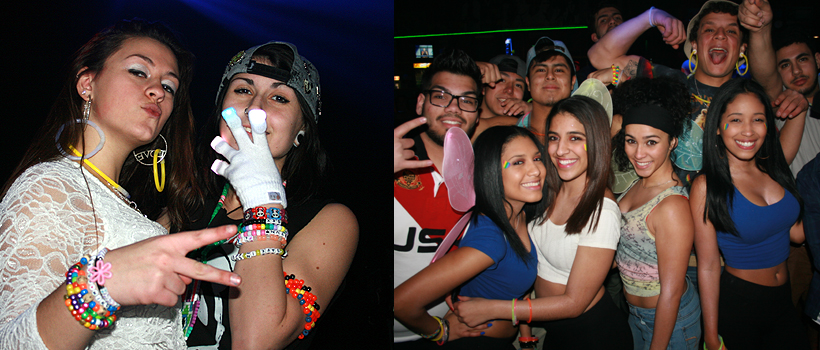 A DJ & an MC that I knew both brought it! The crowd was insane. Why, a few even had fairy wings! I loved it!




I saw not 1 but 2 spankings up on stage that I chose to not photograph. Hilarious! Lots of friendly folks as well!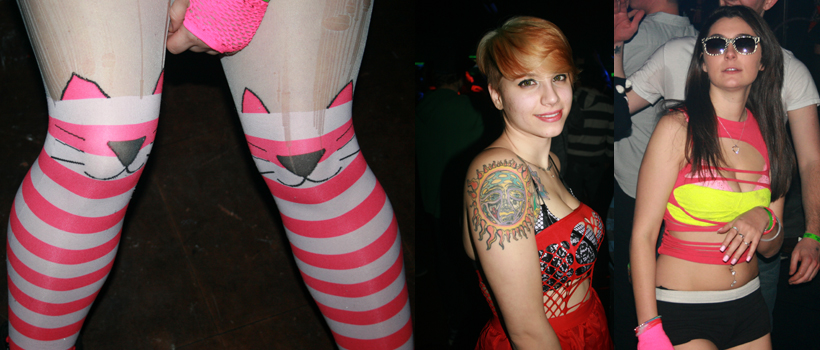 A huge surprise was seeing former CT Rollergirl Pam Terror absolutely rocking the floor with her hoop skills! In fact, I was happy to see lots of familiar faces & get plenty o hugs. :)




Capes and contortionists and lots of glowing stuff in both rooms. Good times, great vibes and a Hulkamaniac. Hot, loud beats and shmokin' hot kitties. Oh, and some guy shouting "SQUAD!!" all night. Indeed, I'll be back for more!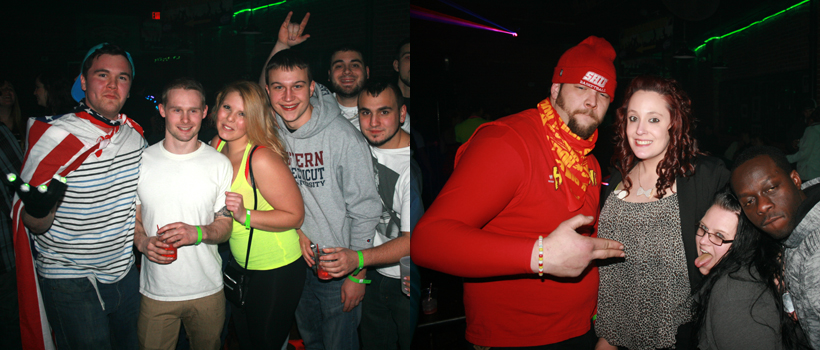 Bright Night 9 - Toad's Place, New Haven, CT 1/2/15

A new year! 2015! Lots of oonz-oonz-oonz-oonz beats and glowing stuff and butts and furry beasts to start the year off right. Packed club, too. Fun!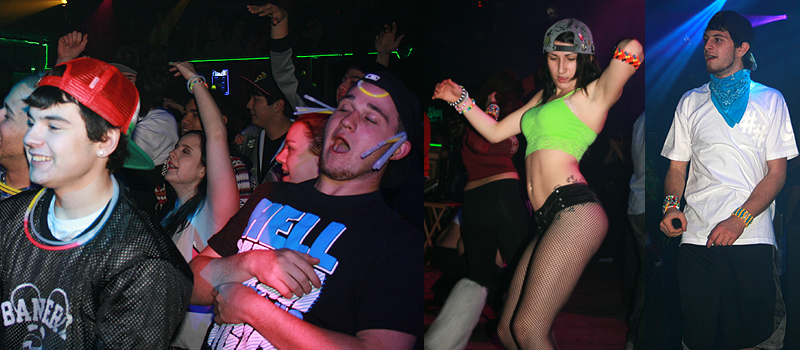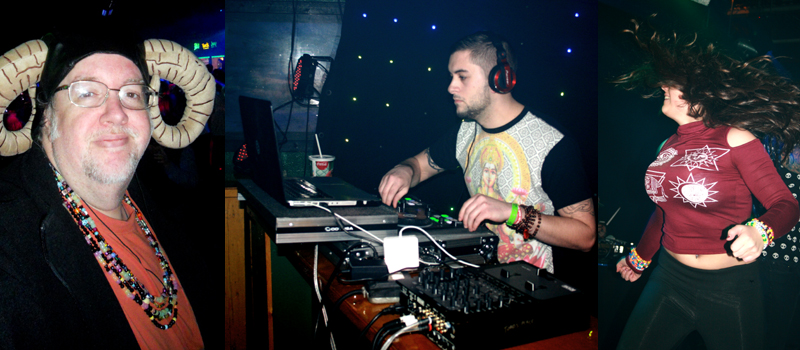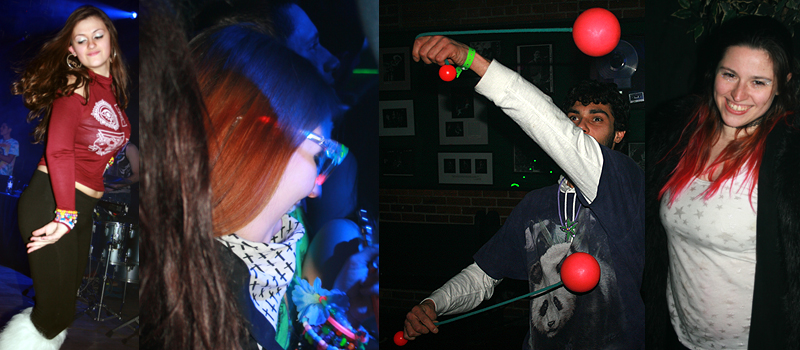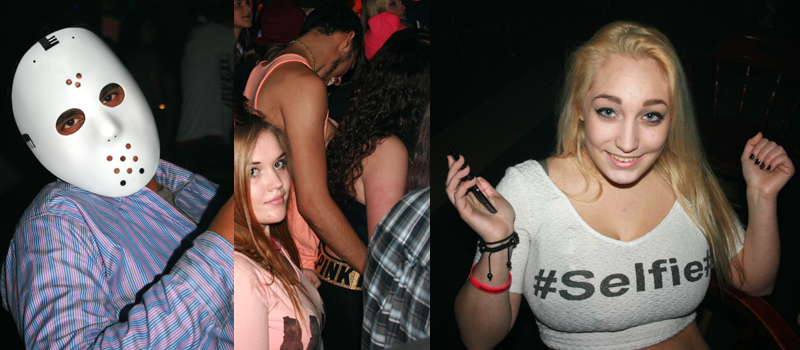 Matisyahu - Ridgefield Playhouse, Ridgefield, CT 12/28/14


Yes, another Orthodox Jewish reggae rap artist. OK, maybe he's the first I've ever heard. The Ridgefield Playhouse was filled to bursting for Matisyahu. Standing room only & an all age crowd as well. Joined by guitarist Aaron Dugan, young Matisyahu launched right into it with I Will Be Light from his Light album. The crowd went wild. Sipping a tea, Matisyahu gave us a song from his latest, Akeda, called Surrender with fine guitar from Dugan. Back to his debut album - Shake Off The Dust...Arise for King Without A Crown with some interesting vocal beatboxing.




Next up, we got a guest player for the rest of the show. His name was Rafael and he played treated guitar - sometimes with a bow, others without. They started with a very world music sounding improv. The dimension Rafael added was massive. Fripp meets Bill Nelson meets David Torn all in 1 player. I was quite fond of the lyrics to another Akeda number called Broken Car. A surprise cover followed with the Grateful Dead song Morning Dew. Quite a strong reaction to that one. Same with Champion which took the energy of the crowd up a notch.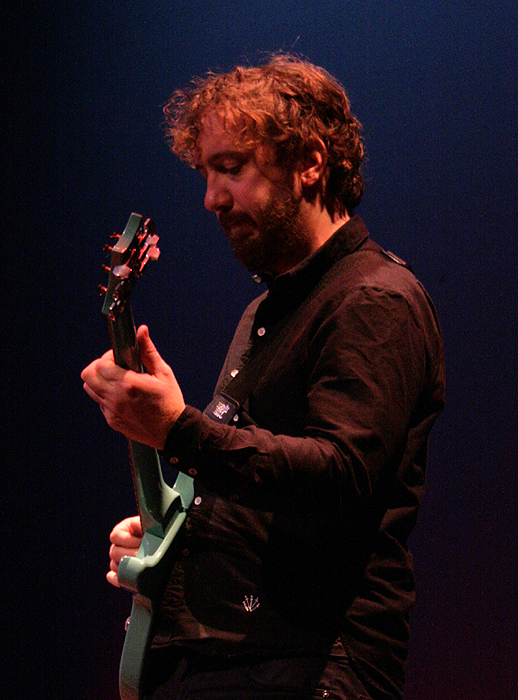 Lord Raise Me Up had another fine lyric. Rafael & Dugan were charting some wild aural territory. Hard Way brought us to the very strong Crossroads - an emotion packed piece. Sick For So Long took us to the set closing One Day. It had the crowd singing until a goodbye from Matisyahu. The lights came up and the crowd started toward the exits.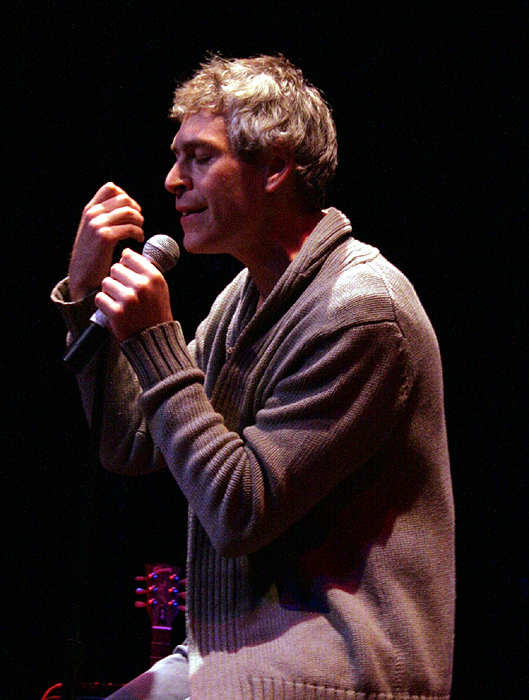 Not so fast! The lights went back down and the players returned to the stage. A power packed Jerusalem which included a snippet of Matthew Wilder's Break My Stride. The evening concluded with Reservoir. As the crowd trickled out, I made my way to the stage & chatted briefly with all 3 musicians before making my way into the cold night. Quite an impressive show!


Lez Zeppelin - StageOne, Fairfield, CT 12/19/14


Things got off to a hot start with the opener. Rob Janos, from New Jersey's Asphalt Green, delivered great tunes like Let It Go, Listen Closely, and Most Anything. His songs struck me as Steve Forbert meets the Del Lords. Urgent but intelligent. 2 interesting cover choices: Amy Winehouse's Back To Black and Hank Williams' Tennessee Border. A strong voice and engaging manner made his set end far too soon for me. Janos had a lot to say & I hope I get to hear more in the future!




I last saw Lez Zeppelin in May of 2013. Once again it was Steph Paynes on guitar, Megan X Thomas on bass and keys, and Leesa Harrington- Squyres on drums. For this gig, Dana Athens handled vocals and was fantastic. Athens added a theatrical dimension, posing, prancing, and preening her way around the stage to great effect. This set was taken from Zep's 1973 shows that were captured in the film The Song Remains The Same. A sharp Rock And Roll set things in motion, transitioning immediately into Celebration Day. Black Dog kept the energy levels high. Paynes' guitar drove Over The Hills And Far Away. I was struck here with how much I enjoyed the interplay between Paynes and Athens. They clicked incredibly well from the get go.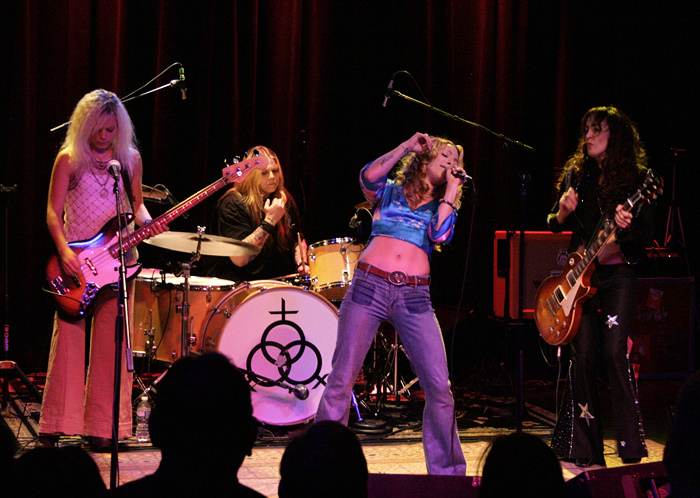 Thomas moved over to keyboards, so I deduced it was time for the breezy Misty Mountain Hop. You never can miss with that energy. Harrington-Squyres was tight and bright here. The mood came down and got bluesy on Since I've Been Loving You. Paynes was exceptional here, just blazing away. A Wilcox fave, No Quarter, closed out the 1st set. Great interplay between Thomas and Harrington -Squyres. The winds of Thor were indeed blowing cold!




The Song Remains The Same shook the building to open set 2. Loved hearing that doubleneck guitar. The Rain Song with all that moody beauty was a highlight of the show. Lez Zeppelin showed just how powerful they could be on Dazed And Confused. Everyone had their moment here. None perhaps more so than Paynes' pyrotechnic spot. If playing Stairway To Heaven is a bit cliche after so many decades, I certainly didn't mind one bit, It was gorgeous to my ears and brought a huge smile to my face.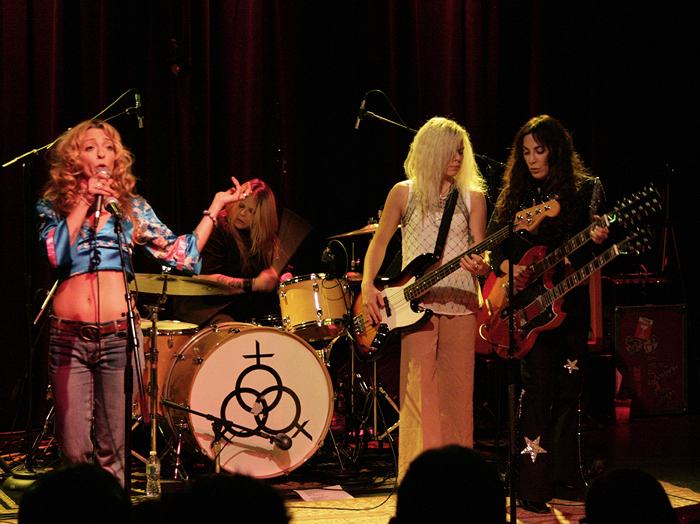 It was Moby Dick time and Leesa Harrington-Squyres did not disappoint. Her drum solo captured that Bonham spirit well. Such a fun moment! A sort of palate cleanser came in the form of Heartbreaker - which the band just flew through. The set closed with Whole Lotta Love. Everything I love about this band was right here. Musicianship, character, spirit. Paynes on the theremin was inspiring and Athens came up to the challenge vocally. I felt transported. I was emotionally exhausted. The Ocean was the perfect encore, bringing my energy back up. Lez Zeppelin performed a powerhouse set that thrilled my heart and rocked my ass off!
A footnote: Yuppies - if you're going to bring your spawn, control them. Some ass in the front row on the side not only put his feet up on the stage, but showed zero concern when one of his brats spilled a beverage all over Thomas' rather expensive bass pedals. What shameful behavior by yet another self-important CT jerk.


Melanie - StageOne, Fairfield, CT 12/6/14


This was my first concert after the death of my Dad. A much needed good time. I certainly picked the perfect show - Melanie. The intimate StageOne was a mere 15 minutes from my house, so it was nice and close. The icing on the cake was great seats! Joined by her multi- instrumentalist son Beau-Jarred and friend Craig Harris on percussion, Melanie launched right into Try (To Break My Heart). After my last 2 weeks, the line Taking the bad news for good really hit home. Melanie brought us a classic of the Christmas season with her take of Good King Wenceslas. Melanie brought a fresh dimension to the piece, drawing me in closer.




The show was being brought to us in 432. Most musicians know we commonly tune our instruments to 440. It's the current universal norm. 432 is the frequency of past generations of musicians such as Mozart. 432 is also thought to be more in tune with our inner beings, a sort of frequency for the human race and all around us. Fascinating. So nice to hear Beautiful People next. It's a number that sounds fresh as today. An interesting story involving sampling and Australia took us into People In The Front Row. I should not neglect to mention that Melanie was in fine voice & her playing was wonderful! We all sang the Hump. Ha Ha! backing vocal to the set closing Brand New Key. As many times as I've heard it, I heard the song with new ears and still loved every second of it.




Beau-Jarred opened the second set with a blazing solo spot of classical improv, burning up the frets. Quite a player and a showman in his own right. Melanie rejoined him for Make It Work For Me and Smile - a piece inspired by 9/11. Powerful. Equally powerful was a touching story about her husband that led into Angel Watching Over You from her Ever Since You Never Heard Of Me album. Another Christmas themed piece - Tonight's The Kind Of Night - took us back to Australia for the lovely Hushabye that included a bit from Waltzing Matilda.




I love the couplet in Love Doesn't Have To Hurt that goes Stories will be told. Dance around the fire. Songs of melted gold. Soar the spark inspire. So redolent with images. The clever I Tried To Die Young brought us to hilarious stories about What Have They Done To My Song Ma. We all even sang in French! The set ended with the glorious Lay Down (Candles In The Rain). Still massively emotional. Melanie threw in the choruses of Give Peace A Chance at the end for good measure. The encore was I Do It For Love from her upcoming Melanie And The Bruizers 1984 live album. The entire evening was the single most personal concert I've ever attended. 3 hours in the life of Melanie. I'll never be quite the same. 2 girls flew in to the gig all the way from Australia, and I totally understood why. If Melanie happens to come anywhere near you, consider it a "must see" concert.


Wintercon - Resorts World Casino, Jamaica, NY 12/6/14


A last minute convention for me, and my first time in the Resorts World Casino in Queens. Nice venue once you found it. Absolutely no signs indicating a convention was even occurring there. Thankfully that was the only flaw of this wonderful convention. Great to see Joe Rubinstein (who told me a story about the Beatles I'd never heard in my life!), Jim Salicrup, and Danny Fingeroth. I had a lovely conversation about the comic biz with the great Rich Buckler. His passion & quiet humor were inspiring, I must say. Also cool to catch up with Rodney Ramos - I colored a Devil Slayer series he did for Marvel Comics Presents back in the day!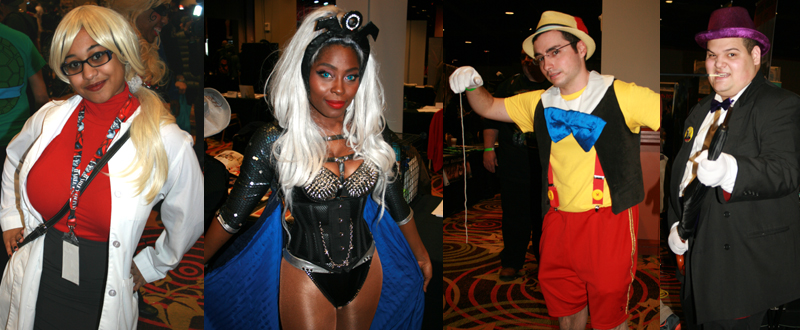 I got to spend time through the day with my pal Ray Felix who is the force behind the Bronx Heroes Con. I met both Amy Reeder and Jill Bauman for the first time - 2 incredibly talented women. Bauman's fantasy & horror paintings were off the charts! I last saw the stunning Marissa Jade at ConnectiCONN several months ago. Still radiant and heavenly!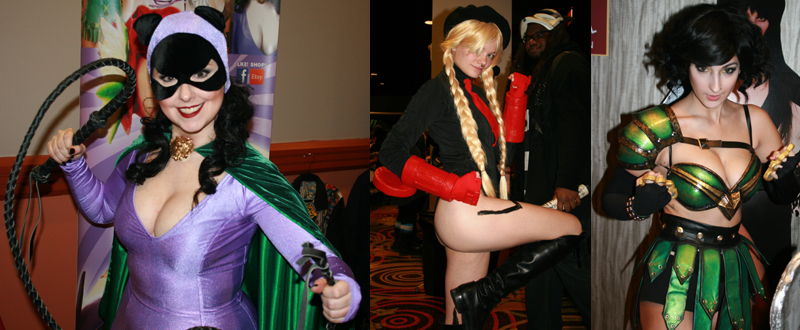 Dressed as the best cosplay Storm I've ever seen, the beautiful Phillicia Deanell was the star of the convention for me. A very talented up-and- coming artist with a sweet heart and a killer laugh, we traded stories and thoughts over the course of the day. Young cosplayer Rachel Red rocked her outfit. Jennifer Rose as Catwoman and Syfy channel's Yaya Han as Batgirl were impressive as was Ruby Rinekso as Solomon Grundy. So many high caliber cosplayers I was knocked out! There was even a guy dressed as the Monkey King!




I was graciously given table space next to webcomic Damn Heroes imprint Wayward Raven. Alex Sapountzis, Mark Frankel, and Joshua Jones represented the company well. Talented and funny guys. Around the corner were the adopt a robot folks from ezerdland.com and their adorable paintings. If I wasn't so very broke, I'd have bought one! I hung out a bit with the Star Trek: New Voyages /Star Trek: Phase II folks. Great product full of ideas. If you like Trek as I do, Google them! I was also honored to meet Chief Grandmaster Rico Guy - a 10th degree red belt!!!




Wintercon had a terrific balance of talent, cosplayers, vendors, pros, and fans. Everyone was smiling. Kids were having tons of fun as were their parents. If every convention was as great as this one, I'd attend them all. Many thanks to Mike Carbonaro and the good Captain Z for allowing me to be a part of it!


Steve Hackett - Ridgefield Playhouse, Ridgefield, CT 11/13/14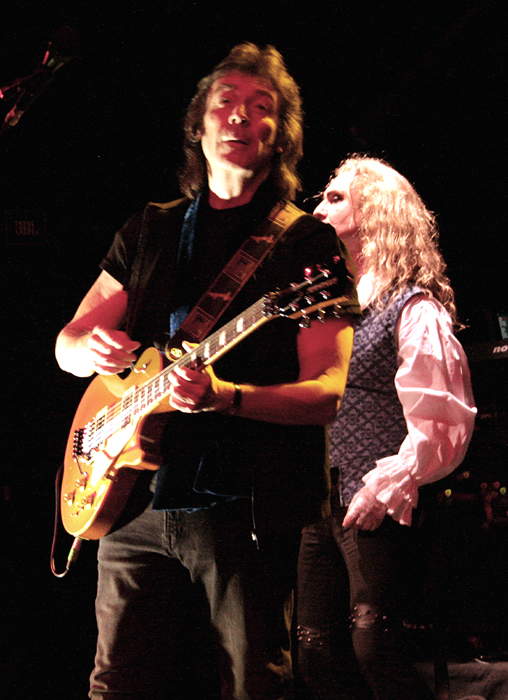 A cold evening in Ridgefield. Raw as my Mom often said. I needed warming up. Steve Hackett was the solution as he brought his band to town to bring us some Genesis classics one more time. A raging Dance On A Volcano opened the set. Furious. Nasty. The lava was the lover who licked our boots away. Roger King's keyboards were a vital element here. Up came Squonk with Nick Beggs keeping that bass pulse solid. The confidence of this band was absolutely off the charts. 7 states away, other bands were weakly cringing with every note. Next was Dancing With The Moonlit Knight delicate, beautiful, then wildly energetic. Did I mention those solos? WHAT?!?!? Hackett and King just flew!




Hey! It's time for drummer Gary O'Toole's lead vocal spot on Fly On A Windshield / Broadway Melody Of 1974. Awesome vocal. Awesome instrumentation. So muscular. A slap in the face, cold & hard. But you like it. No. You love it! Speaking of vocalists, let's talk about Nad Sylvan. Here we have Return Of The Giant Hogweed. A very angry song. Pissed off science fiction. A sort of Day Of The Triffids. Within the anger, Sylvan brought subtlety. Adding further dimension to the number, as he did to every song in the set. Heroic, I'd say. Superstar, really. Owning ever inch of the stage he trod.




The trilogy of Nursery Cryme pieces continued with the ever-inspiring The Fountain Of Salmacis. Beggs and O'Toole were the stars here. So much love for Rob Townsend's flute on The Musical Box as well as Beggs' 12 string playing. A staggering performance. I was in a trance. Townsend shone again on a flaky, goofy I Know What I Like (In Your Wardrobe) - a sort of breath mint after the serious fare that preceded it.




Nylon guitar. Did that just make you tingle like I did. Steve Hackett + nylon guitar = heaven. Limbering up for Horizons, Hackett ran through little bits of various pieces from his solo career before easing into the piece we all know and adore. King's piano took us into Firth Of Fifth with that immaculate, signature guitar solo. Every member of the band worked as a well-oiled ensemble here. The mood darkened with the always eerie Lilywhite Lilith. Sylvan's vocal here was goose bump inducing.




Anger joined the darkness on The Knife. It was a shout, a scream for change, still powerful decades later. Supper's Ready, time for me to cry. It never fails, really. Every second of this epic was emotional to me as I quietly sang along. We will rock you, rock you little snake. We will keep you snug and warm. A promise broken by the war, death, confusion, realization to come. The apocalyptic resolution still clutches my heart. Set over. A few moments to recover.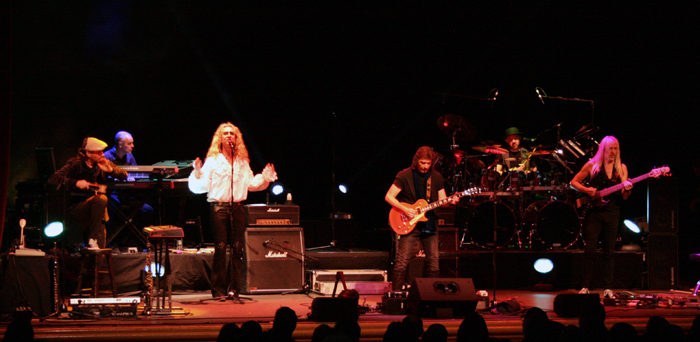 Is there a more perfect encore than Watcher Of The Skies? Those chords. That rhythm. That vocal. You all know exactly what I mean. No world of his own. Teases of Myopia and Imaginings took us into Los Endos with Slogans thrown into the middle. There's an angel standing in the sun. Free to get back home. Emotionally exhausted, I walked out into the snowy Ridgefield night and headed back home full of memories & hope. Hackett and his band reminded me that music can still do magic. Music is magic.


Adrian Belew Power Trio - Ridgefield Playhouse, Ridgefield, CT 10/26/14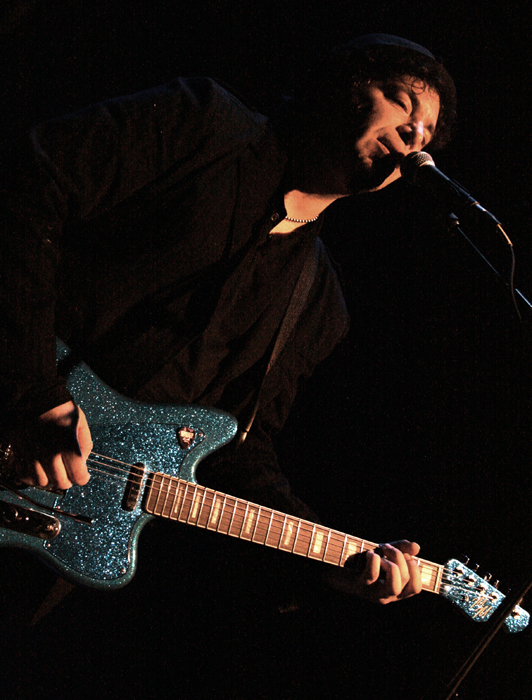 My 3-shows-in-4-days run at the Ridgefield Playhouse concluded on a chilly Sunday evening with the Adrian Belew Power Trio. Opening for Belew was Saul Zonana. Zonana's a most excellent singer / songwriter / guitarist who did a 1-man-band set. songs like What I'm Looking For, Isn't There Someone, and Boogyman saw Zonana set up guitar loops and effects and trigger drums & stuff to accompany his guitar and voice. I found his material to be fresh and friendly - moments of pieces like Chasin' It, Sometimes A Friend, or Sooner Or Later had moments that would've sat well with XTC or Crowded House. Very melodic, very strong. His set concluded with an as yet unreleased piece called I Got To Go. An engaging act that I'd welcome on the stage any day of the week!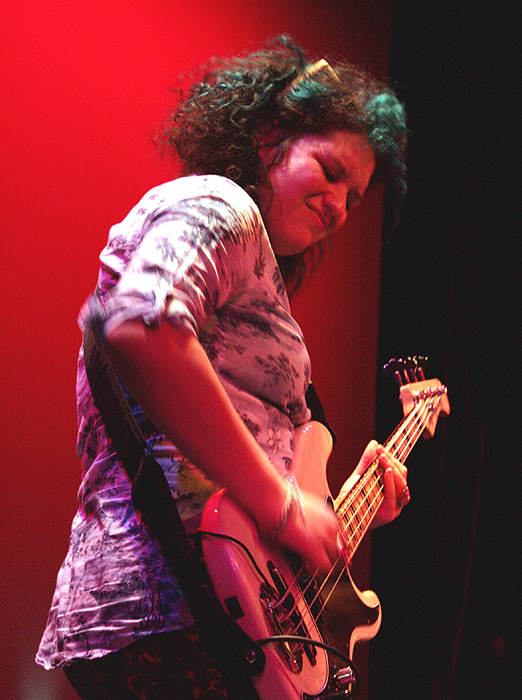 Around 9, the Adrian Belew Power Trio hit the stage. Joining Belew was Julie Slick on bass & Tobias Ralph on drums. A deadly rhythm section. They immediately launched into a Wilcox fave - The Momur. About halfway in, it segued a bit jarringly into Big Electric Cat, then into Men In Helicopters, then The Lone Rhinoceros. Relentless & no doubt difficult for the players. It was great to hear some of my faves, but I was wishing for a complete song by this point to be honest. Belew was in great voice and all 3 players were at the top of their game. Half of Dinosaur went into a bit of Pretty Pink Rose and some of This Is What I Believe In. One Time led in to b. I was getting the concept. A sort of cut-paste-shuffle reinvention of highlights from Belew's catalogue. An intriguing idea.




The non-stop medley kept running at breakneck speed: Never Enough / I Remember How To Forget / Young Lions / Heartbeat / Frame By Frame. Then it stopped. The 1st set ended with a complete Beat Box Guitar. Wildly good. Slick and Ralph were stunning with their supercrack playing. Belew was flying idea after idea into the air. It was breathtaking! Highlight of the night to that point.




Three Of A Perfect Pair / Neurotica / Walking On Air / Ampersand led to highlight #2: a transformative reinvention of Futurevision. Beautiful as well as powerful. I just could not stop smiling.




Writing On The Wall / Inner Revolution / Twang Bar King / Of Bow And Drum / Elephant Talk had the most organic flow of the night and made lots of sense together. The set finale was a crazy take of Indiscipline totally owned by Tobias Ralph. A flurry of fury, he was a human highlight reel. I was stunned! That was highlight #3 & #4 immediately followed. The sole encore of e was equally amazing. A great piece that let all 3 players shine. A bold experiment in terms of format by Belew, but definitely in character! Much love here.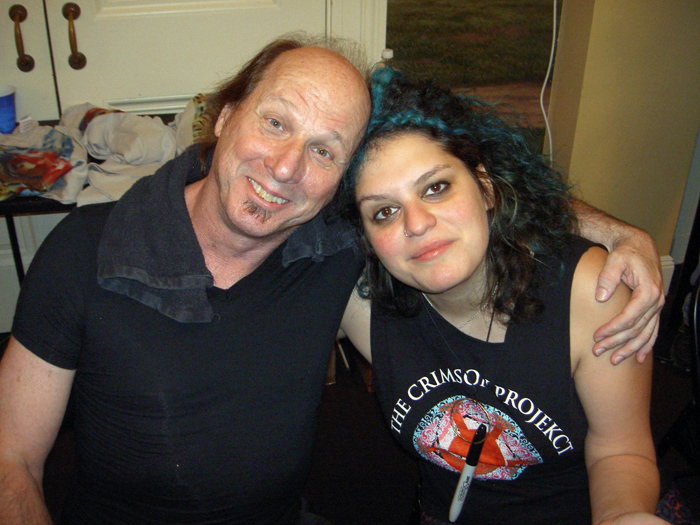 Robin Trower - Ridgefield Playhouse, Ridgefield, CT 10/25/14


Some shows are a lock, a guarantee. Robin Trower is a guarantee. Hot band, hot guitar. No matter who he has on bass & drums, they'll be hot & he'll play that guitar like a master. But I'm getting ahead of myself. Opening up was a duo out of Fresno called Strange Vine. Tony Cordova was on guitar and vocals. Ian Blesse played drums and Fender Rhodes simultaneously as well as sharing vocal duties. Roots-based numbers with a slight psychedelic tinge and some wildly distorted guitar, the crowd ate these guys up! You can see why they've played with lots of top tier talent. Well done!




New players with Trower since I last saw him in 2011. Chris Taggart on drums and Richard Watts on bass & vocals. Young players full of energy & tight as can be. Somebody Calling was electrifying right off the bat. Trower was on fire. Rise Up Like The Sun had Watts impress me on vocals while I was pleasantly surprised to see Trower take lead vocals on See My Life. Nice! Daydream and Lady Love kept the good vibes going. Just solid turbo-charged rock here!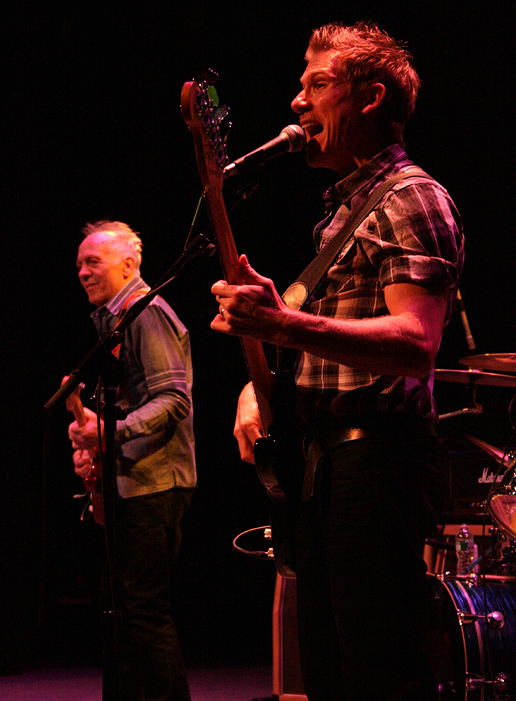 Next was Snakes & Ladders taking us into the frenzy-inspiring Day Of The Eagle and Bridge Of Sighs. The crowd could barely contain their energy at this point. A wild, vocal bunch. A bluesy, swinging cover of That's Alright Mama was a great surprise. The always welcome Confessing Midnight was paired well with Little Red Rooster.




A personal highlight was The Turning and Not Inside Outside. The trio were just so incredibly locked together and Trower took his guitar off the plane of Earthly existence. Little Bit Of Sympathy closed the set. The screaming, stomping, raging crowd truly earned the encores - Too Rolling Stoned and For Earth Below. A night of hard hitting guitar hijinx courtesy of Robin Trower.


Renaissance - Ridgefield Playhouse, Ridgefield, CT 10/23/14


1st show of a new tour. Different material. I had to be there! This was my first post - Michael Dunford show, so emotions were high. The set got off to a great start with Prologue. Band was tight. Annie Haslam was in strong voice. The arrangement was played around with to good effect. Carpet Of The Sun followed. Beautiful rendition very close to the album version. Nicely done. We all have our favorite songs, and 2 of mine were next. Opening Out and Day Of The Dreamer. The dual keyboards by Rave Tesar and Tom Brislin were extraordinary. Guitarist Ryche Chlanda was superb on acoustic guitar. Quite faithful to Dunford's parts with a bit more percussive snap to his playing. Haslam nailed every note & every nuance with power. I had chills. Pure heaven.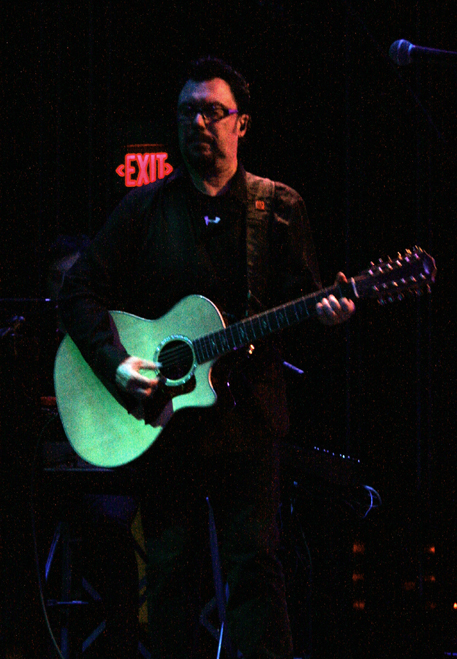 Time for more recent material. Waterfall was a sweet, relatively simple number. The melody was captivating and David J Keyes on bass and Frank Pagano on percussion were laid back, but solid. A strong addition to the set. A very funny story from Annie Haslam took us into the complex, grand Grandine Il Vento. I loved it. The first set closed with a massive Running Hard. Pagano really shone here. Break time!




The title track of Symphony Of Light was next. A long piece about Leonardo Da Vinci, it was beautiful and moody with lots of intertwining bits that kept my ears fascinated. Much simpler, but no less effective was Porcelain with a plaintive Haslam vocal and a hysterical post- song story that had me in stitches. A renaissance signature piece came next. Does it get more majestic than Mother Russia? Again, Tesar and Brislin were murderous. Such tone! Scarily good. Set 2 ended with The Mystic And The Muse. I love the bass on this one. Quite a satisfying number full of color and drama.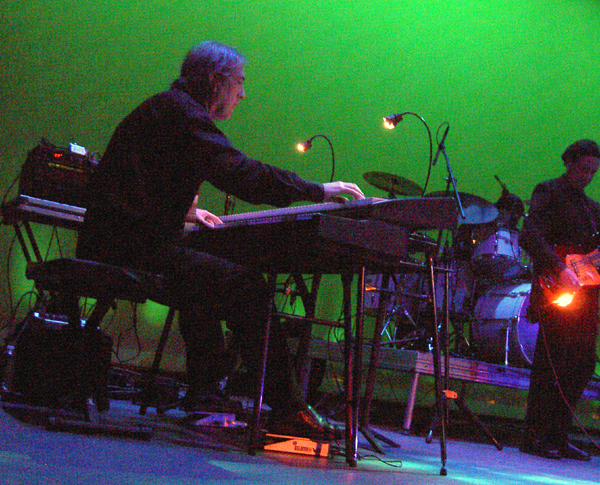 For our first encore, we got I Think Of You, as beautiful as a Summer afternoon. The final piece of the evening was Ashes Are Burning. In my 30+ years of seeing Renaissance & Annie Haslam, this was far and away the best performance I have ever heard. I was just floored. Tom Brislin turned in a blockbuster solo. Keyes' bass solo was an entity of its own - growling and stately. Haslam hit her notes with a muscle and control that knocked us all out. It was this huge beast of a number unfurling in front of us. Terrifyingly beautiful. Utterly compelling. Michael Dunford smiled from above knowing that the music is in good hands. A haunting, emotional evening. A blessing.




Stamford Symphony Orchestra - Palace Theatre, Stamford, CT 10/19/14

New season, new seats. I found myself 3 rows closer this season, and all the chairs were brand new. Wider - which I loved. Lower - which I did not love. As a surprise, Stamford Mayor David Martin took the baton and conducted The Star Spangled Banner to introduce the afternoon.




The 1st piece of the new season was a modern piece by Andrew Norman called The Great Swiftness. Norman was inspired by a Alexander Calder sculpture called La Grande Vitesse. The piece was Norman's attempt to bring the sculpture to life via music. At times I found this piece to sound like diamonds glistening. At others, like herds of elephants bathing. Quite an avant garde piece. A bit playful and very satisfying. I loved it.




Our guest soloist was cellist Zuill Bailey. His emotionally connected playing was graceful, fluid, dynamic. You could feel his connection to both the instrument and the music. The piece was Dvorak's Cello Concerto In B Minor, OP. 104 and Bailey's passion truly captured the hearts of the rapt audience. The concerto covered a broad range of moods from brooding, dark passages to shimmering, laconic, pastoral moments, to urgent, triumphant moments. Bailey's cello backed by lovely moments filled with violas and violins, took us all to a glorious plateau.




It was up to Brahms, under the baton of Maestro Eckart Preu, to transport us all to a refreshing Summer in the German forests. Symphony No. 2 in D Major, Op.73 was the piece in question. Stalking his podium like a lithe leopard, Maestro Preu led the journey.Warm strings joined layers of brass and winds. Instruments gently calling, searching, reaching out. Visions of soothing cool streams and impossibly tall trees. Free spirited lines in the 3rd movement so light and airy brought us to flowers proudly bursting with bright blooms, sun streaming through redolent clouds - an audio forest alive in late afternoon courtesy of the final Allegro Con Spirito movement. Bravo. Bravo.

New York Comic Con - Jacob Javits Center, NY, NY 10/12/14




I swore that after my experience at last year's NYCC, it was my last. I was pretty firm about that. However, I was asked to speak about my dear departed friend Stan Goldberg at a tribute panel, so I went in. As per the last few years, it was packed like sardines and very very poorly run. Nothing new, nothing changed in that regard.




Before I go any further - a few words about the panel. Nancy Silberkleit moderated it and I was joined by Jim Salicrup, Danny Fingeroth, Al Milgrom, Barbara Slate, and one of Stan Goldberg's sons. We all shared memories and several funny stories about Stan. It was a wonderful tribute that would've brought a smile to Stan's face. So good to see his wife Pauline in the audience. I felt honored to be a part of it!




I chatted briefly with Adventure Time and The Regular Show artist Travis Hill. A very nice guy! My dear friend Suzanne LeGrand was at a table with the folks who do the book Renegade that Suz colors and letters. The indie comic Curves & Bullets was very well represented by artist Rolo Ledesma and smoking hot models Alie Cat & Katrina Chiovon. Funky stuff in a great way! It wouldn't be NYCC if I didn't visit my gorgeous pal Paigey adding glamour and talent to the proceedings!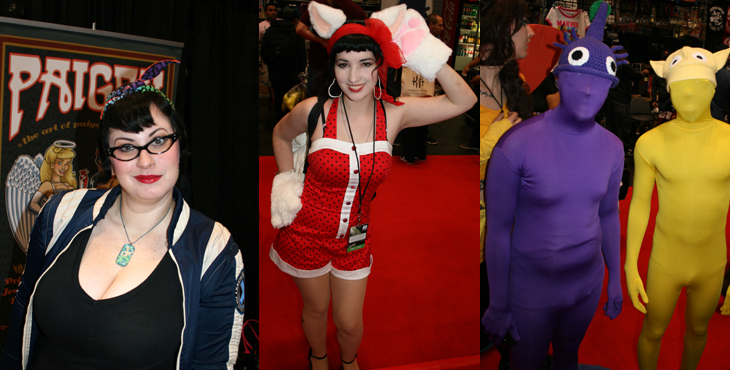 On to the cosplayers. Without exception, every cosplayer I photographed and/or talked to was truly gracious. They represented the cosplay community most excellently. Doc Ock, Supergirls, Wonder Women, many versions of Harley Quinn, Zatanna, Power Rangers, Mr T, even a Kiki from Kiki's Delivery Service! Anyone you can think of and many you never dreamt of!




A woman named Kate, cosplaying as Mary Jane in a wedding dress, was telling me eye-opening stories of discrimination in her youth by comic shop employees. For over 30 years, I've worked in the industry as a creator. We create comic books for everyone. Hearing about any sort of discrimination against anyone looking to enjoy the work we all do is disturbing as well as intolerable. More brave souls like Kate need to come forth to effect change & stamp out such behavior. Thankfully her love of comics remains undiminished. That conversation made the downsides of the day worthwhile.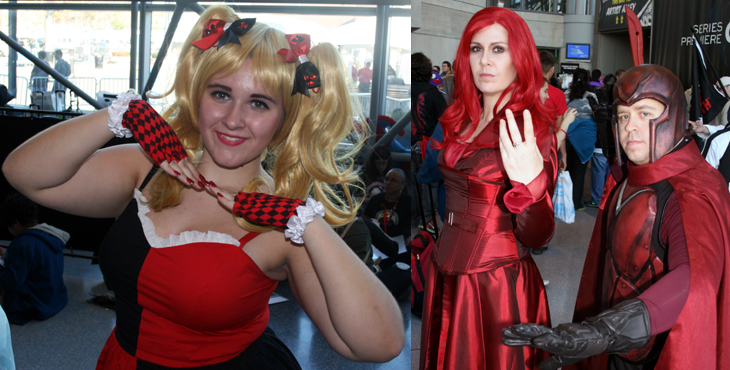 What downsides? Once again, NYCC is utterly unconcerned about disabled & handicapped folks. The goons from Citadel Security were openly rude to me when I sought assistance. The venue redshirts literally laughed. Their sole concern at the con was to check for fake badges. My bags were never checked even once. The exhibitor floor was jammed dangerously past fire code limits. It took me 18 minutes to walk 250 feet. Imagine a gunman in that scenario! Or a nut buying a razor sharp katana, sword, dagger, or knife from the unsupervised vendors selling scores of them. Or a fire. A tragedy waiting to happen. Truly. NYCC needs to have goals past their greed and make this a safer experience for all.




My parting words: Wonderful fans. Wonderful cosplayers. Lots of talent. Too much greed. Too little caring from staff. A mixed bag. My love to all who brightened the day!

Bright Night 7 - Toad's Place, New Haven, CT 10/10/14

If there was a theme, it was panda night. Oh, and spatter night. Glow sticks were broken open and the glowing liquid spattered all over folks to good effect. Furious beats, winding, twisting fun. Humid. Lots of folks on the floor. Loud crowd. Here's a taste of it: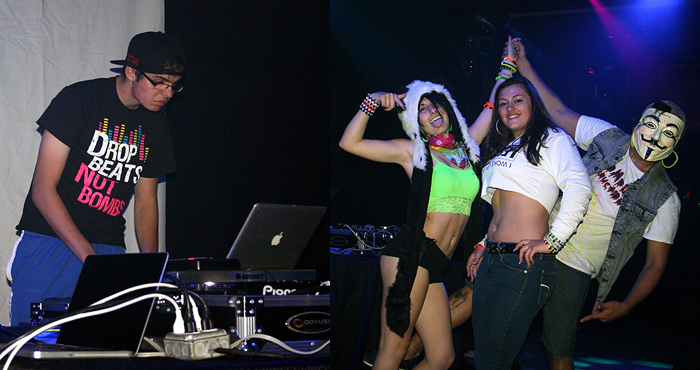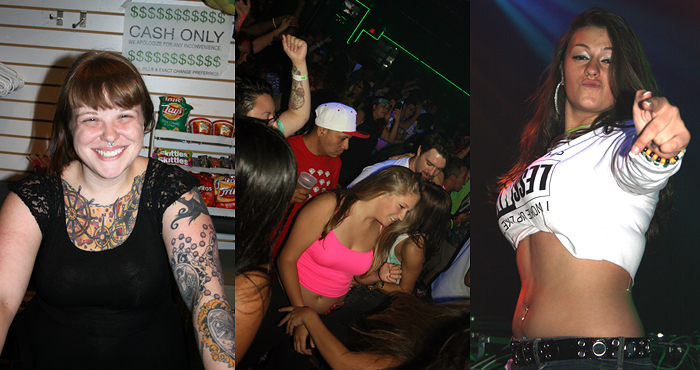 Back to reality til next time!

Bright Night 6 - Toad's Place, New Haven, CT 9/18/14

Geeks, Phreaks, Uniques. Boys, Girls, Ladies, Gentlemen. Hoops, Gloves, Butts, Lasers, Fur. Chris Farrell testifying on the mic! Sweet beats assaulting my ears. Here's what my camera had to say about it all: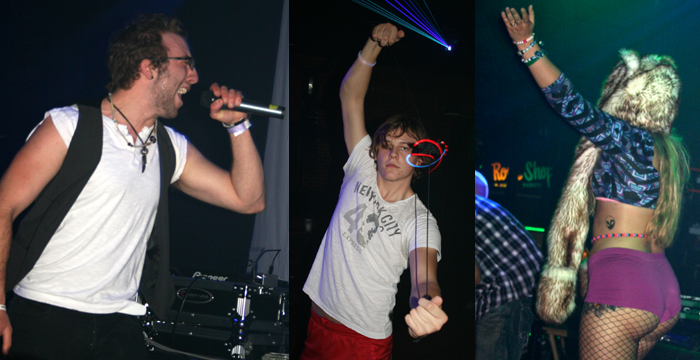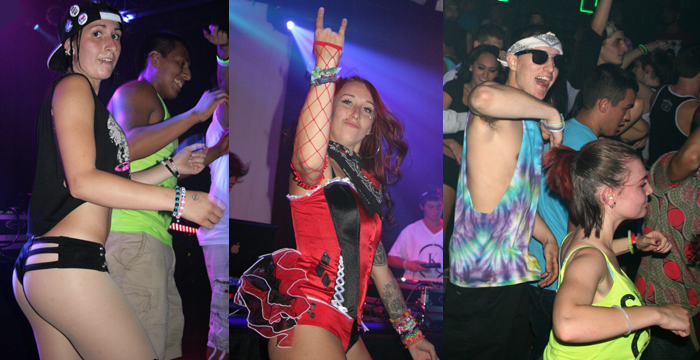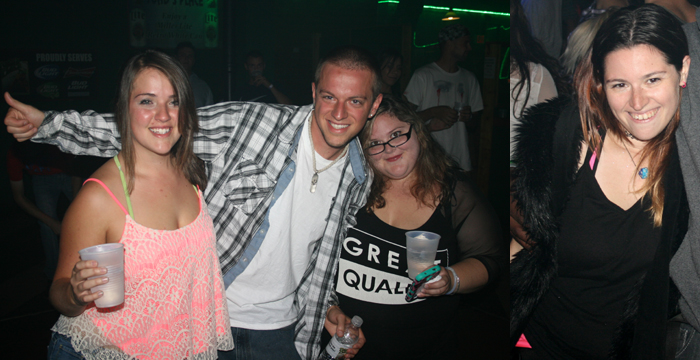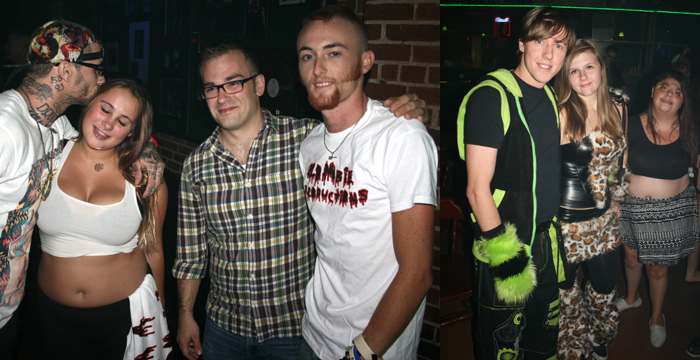 Next time I want to see you there!

Amy Grant - Palace Theatre, Stamford, CT 9/12/14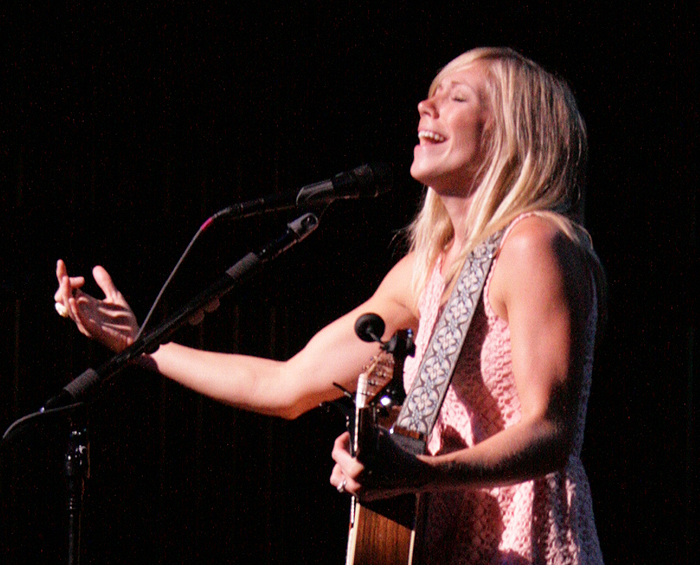 Quite a last minute gig, but I was very happy to be there. Amy Grant always puts on a good show. This evening, her opening act was Ellie Holcomb. A pretty blonde with a healthy, raspy voice, it was just her and her acoustic guitar. And really strong songs. Numbers like The Broken Beautiful and As Sure As The Sun had a solid Christian / folk feel with earnest themes and catchy choruses. I loved the sweet story Holcomb used to introduce Hung The Moon. Somewhere along the way, we discovered that Holcomb is the daughter of long time Amy Grant producer Brown Bannister. It was also her 32nd birthday. After The Valley and the touching May The Words, the entire audience sang happy birthday, bringing Holcomb to tears. Her set ended with I Want To Be Free, which she termed a prayer for freedom. An inspiring opening salvo. I really enjoyed Holcomb & I hope to hear more from her in the future!




Amy Grant took the stage a little before 9:00. Backing her were Greg Morrow on drums; Tony Harrell on keys; Gene Miller on guitar; and Mike Brignardello on bass (Brignardello first played with Grant back in 1982). Opening with the hymn Anywhere With Jesus, Grant was relaxed and in fine voice. The band was tight and laid back. Morrow had a small kit and focused more on percussion while Miller stuck with various acoustic guitars. As a result, there was more space for Grant's vocal. A wonderful Curious Thing followed. I loved how the vocal wound around the instrumentation. It was well paired with the breezy Takes A Little Time. After shooting the first 3 songs, it was back to my seat in time for the lovely Come Be With Me.




Let me take a moment here to touch on a seldom mentioned fact: Amy Grant is a my-t-fine guitarist in her own right. This was evident on House Of Love and a cover of Joni Mitchell's Big Yellow Taxi. Her guitar provided a fine bed for Miller's leads. Our Time Is Now took us to a personal fave: Saved By Love. A fantastic take of the latter had me singing with a smile on my face.




If I Could See (What The Angels See) prefaced the evocative Nobody Home with that cinematic lyric. Next up was a fine reading of Better Than A Hallelujah. Everyone was ultra excited to hear El Shaddai. It was a delicate, caressing take of the song. Very emotional. Out of the blue, someone in the audience requested Thy Word and Grant obliged. The crowd sang along loudly & in key, so Amy Grant gave us an entire verse to sing before rejoining. Quite a powerful moment musically, as well as truly breaking down the audience/performer wall. Unforgettable!




Back to our program with Oh How The Years. I loved the vocal on this. Grant brought back Ellie Holcomb to do 2 of her numbers with the full band: My Portion And My Strength and Marvelous Light with Grant singing backing vocals. Holcomb returned the favor singing the high backing vocal on an incredible 1974.




Hope Set High led to a re-invented version of Love Of Another Kind. It was less driving, more of a "storytellers" vibe. As was Baby Baby, which sounded all the better for it. I Will Remember You closed the set to frantic applause. the sole encore was the pleading Say Once More. I left the theatre fairly glowing. A friendly night of songs and stories with a family feel to it. Holcomb & Grant are welcome to occupy my ears, eyes & heart any day of the week!




Bright Night 4 - Toad's Place, New Haven, CT 8/16/14

After a lousy comic book convention earlier in the day, it was great to hit a wonderful dubstep night! The DJs were slammin'! The women were gorgeous! The vibe was friendly! I'll let the photos say the rest!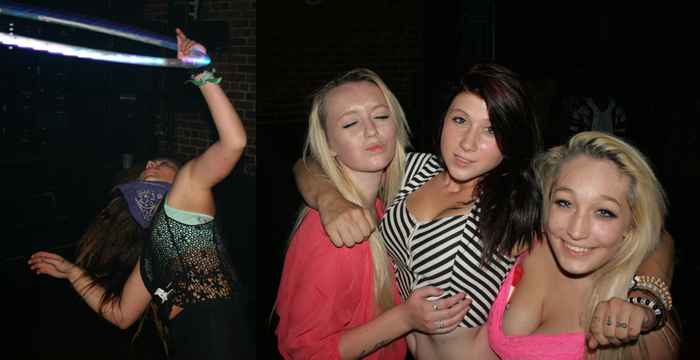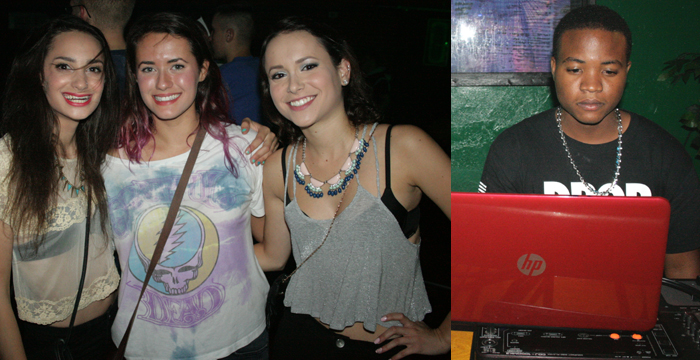 Love to all my friends there!

ComiCONN - Webster Bank Arena, Bridgeport, CT 8/16/14




I loved ComiCONN last year. Intimate and friendly. The way cons used to be. This year it moved to the Webster Bank Arena. Uh oh. This could be bad. It was. A preface here. Since my stroke last year, I need to use a cane to walk for any distances. I got my press pass & asked where the press entrance was. They pointed out a door to me and I made my way. Seemed easy. Wrong. The person at that door said I needed to go allllll the way around the entire arena to the back. Really? The was an entrance about midway so I asked security if I could please go in there. I told him I am disabled & he looked at my can and laughed. My back already started to hurt as I finally found the entrance. A bad beginning.




As I made my way in, I found it to be cramped and stuffed with families pushing strollers at a snail's pace or more often than not, not moving at all. Just standing and blocking aisles as they gazed around. This was the indoor ring around the arena where the concessions are. Artists and vendors were jammed between pretzels and beverages. Every usable inch was taken. Nowhere to sit unless you were a guest. Great.




On the good side, I saw a bunch of friends, some of whom I'd not seen in over a decade. Cliff Galbraith, Frank McLaughlin, Bob Wiacek, Joe Rubinstein, Jerry Ordway, Billy Tucci, Danny Fingeroth. Fine folks all - wonderful to see them!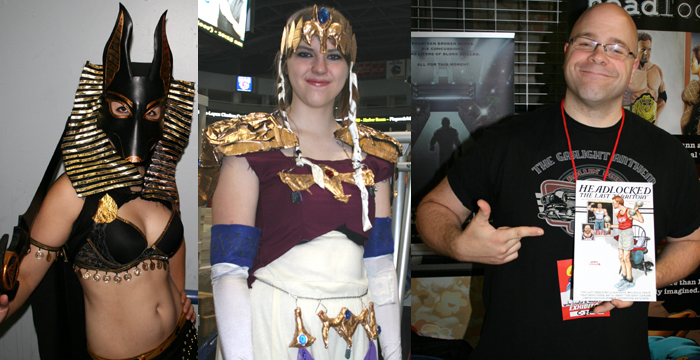 I met several fascinating indie folks. Michael Kingston told me all about the Wrestling comic Headlocked. Wrestlers Christopher Daniels & Kazarian even popped by the table during the course of the day! I saw adult model Marissa Jade wearing the most clothing I've ever seen her in, promoting Destiny. Sick Puppy Studios' Brett E. Swanson was there as well.




The main floor was a total clusterjob so I quickly dipped back out to the outer ring where it was only insanely dense with rude people and unhelpful staff. Cool to see several full-sized Tardis'. Also met the CT Jedi. I never knew that we had Jedi here in the nutmeg state, but they were awesome & classy. As I think of it, isn't that exactly what Jedi are supposed to be?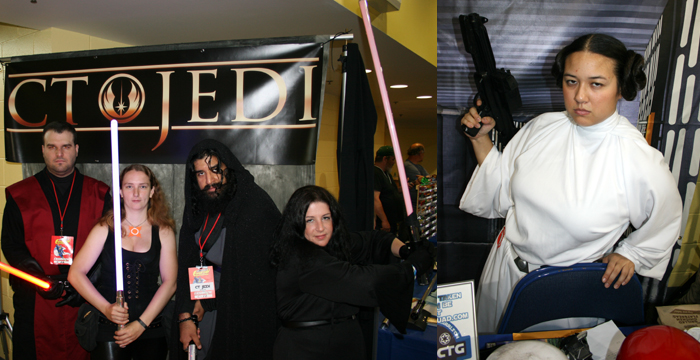 Great conversation with the beautiful, talented, and engaging horror artist Nikkol Jelenic. Always good to see upcoming talent. To that end, nice to see gorgeous Samantha Kent & her pal at a table for her itty bitty sheip books and merch.




There was a bunch of stuff I wanted to see, like the 60s Batmobile, but could not find. Mind you, I also could not find staff for the most part. Not 1 helpful person in the building, I'm sad to report. I did see the Bat Tumbler and a white truck with a gun on it. Oh, and a NASCAR vehicle.




Not as many cosplayers as one would expect, but some quality outfits nonetheless. A fabulous Black Widow. A great Phoenix. A sultry Black Canary. Pro cosplayers brought it up a notch with the wonderful Jennifer Rose all mermaided out and Jaycee Cosplay as a scorchingly hot Capt. America!




In the long run, it was certainly a well intentioned convention. Perhaps it was adjusting to a new venue. Great people were there amongst the mostly rude crowd. I wish I had a better experience & was not treated so shabbily. Lots of potential. I hope the bugs get fixed in time for next year. Mitch, make this bunt a home run!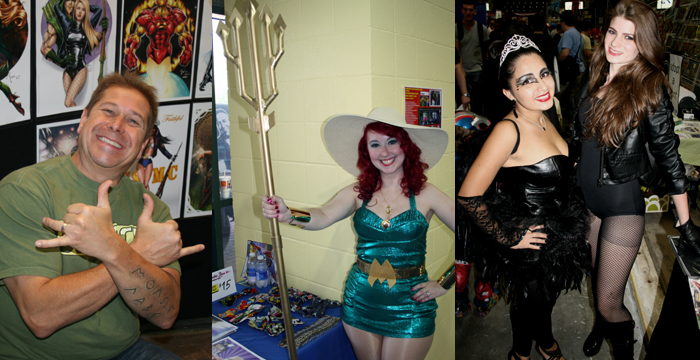 Micky Dolenz - Ridgefield Playhouse, Ridgefield, CT 8/1/14


Micky Dolenz at the Ridgefield Playhouse. That meant pretty women and rabid Monkee fans. The evening delivered both! Let's knuckle down to it. First up was a band from New Jersey called The Characters. High energy, goodtime rock and pop. Exactly what I needed! They opened with an electrifying take of Black Is Black. Great vocals and a surging, accurate version of the classic. Next was a Ringo hit - Photograph - that'd make our Mr Starkey smile with pride. An original called Maryann had a solid Sixties vibe. Loved it! It was followed by Rocket Man and one of my fave songs ever - More Today Than Yesterday. A tease of the song One led to the Turtles hit Eleanor to the delight of all. Another strong original, Miss America, took us to the ever-energetic All My Loving that had women jumping from their seats to dance. Their set closed with a ballad-y original called Until We Meet Again and another Elton John tune - Tiny Dancer. Not a weak moment in their set. I'd see these guys headline any day of the week! Instant party!




Time for the man we've been waiting for. With a crack band behind him, Micky Dolenz was most definitely on! First up, we got a very faithful Mary, Mary. Dolenz looked happy and sounded fantastic. (I'm Not Your) Steppin' Stone followed. I've always loved the harmonies on this. A step forward to the 1st reunion days with That Was Then, This Is Now. Many years on, it carries a different context and works even stronger. The hits kept rolling with She - another fave of mine.




An energetic Words brought to a surprise - the delightful Sometime In The Morning. Dolenz nailed the vocal. I was so very happy to hear D. W. Washburn with its old fashioned vibe. This is the perfect time to mention the band. Led by musical director and guitarist Wayne Avers, we got John Billings on bass, Rich Dart on drums, Aviva Maloney on winds and keys, and David Alexander (from the Boston area Glass Onion) on keys and acoustic guitar. Not to forget Dolenz' sister Coco on vocals! The band tore through a take-no-prisoners romp of Last Train To Clarksville.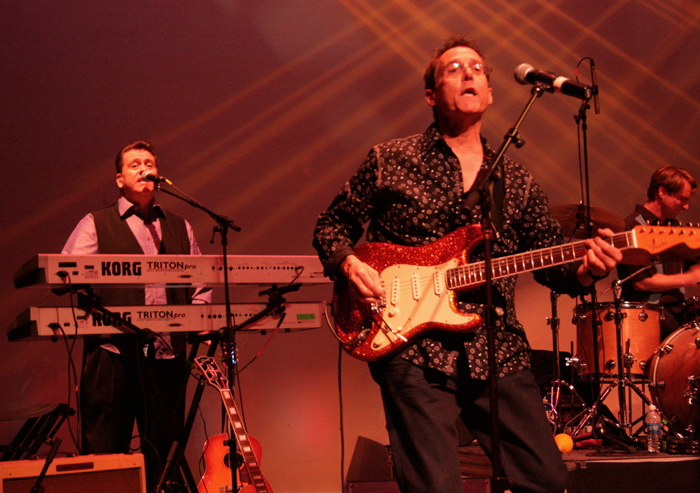 The next segment of the show spotlighted non-Monkee songs that were nonetheless Monkee related. Johnny B. Goode was Micky's audition number for the Monkees. A snippet of Purple Haze accompanied a hilarious story about when Jimi Hendrix was the Monkees' opening act. Micky & Coco sang a duet on Cryin' In The Rain - written by Carole King who wrote several Monkee hits and featured on Micky's 2010 release King For A Day. Coco Dolenz sang lead on Mike Nesmith's Different Drum - rejected by the powers that be as a potential Monkee song and the first hit for a then unknown Linda Ronstadt.




The crowd went crazy for Daydream Believer and another Wilcox fave - A Little Bit Me, A Little Bit You. Speaking of rejected Monkee numbers, the band themselves turned down Sugar Sugar around the time of the Headquarters album. Micky Dolenz gave the number new life with the slowed down, sexy spin as on his 2012 album Remember. A Beatles tale took us to a frantic take of Oh! Darling with Dolenz and the band in high gear.




The jazzy Goin' Down was a perfect follow up. Coco Dolenz got another solo vocal spot with an wonderfully trippy and crisp White Rabbit. Pleasant Valley Sunday closed the set on a huge note. Encore time! David Alexander's keys drove a fabulous cover of Gimme Some Lovin' and everyone went nuts for I'm a Believer. Micky took his bows with Coco as the band gave us an instrumental version of (Theme From) The Monkees. At the last note, they all froze like statues as the crowd roared until the lights came up. An awesome night of pop / rock history. At 69, Dolenz continues to own that stage and bring thrills and smiles to generation after generation of fans. Long may he reign!




PS: This review is dedicated to Judy, Jen & Emily for all the smiles!


Procol Harum - Ridgefield Playhouse, Ridgefield, CT 7/18/14


The evening started on a relatively mellow note. A young kid from New Canaan named Nick Depuy was the opening act. His guitar playing was pretty basic, but his originals were pretty decent, including a number he wrote about being screwed out of a gig in Old Lyme. Funny stuff. His set also included a cover of an Outkast song & the old Steam singalong Na Na Hey Hey Kiss Him Goodbye. All in all, a very respectable opener!




The last time I saw Procol Harum was back in 1993, on a double bill with Jethro Tull. Led by founder Gary Brooker, we were first offered Bringing Home The Bacon from Grand Hotel. Geoff Dunn's drumming was strong and well matched by Matt (son of Dave) Pegg's bass. An auspicious start! Next up was Pandora's Box from Procol's Ninth. A great vocal and tasty piano from Brooker. The 1967 single Homburg was given an enthusiastic intro from Brooker and the song had the crowd roaring. Shine On Brightly kept the energy level high with guitarist Geoff Whitehorn driving the song forward.




2 more recent numbers followed - both from The Well's On Fire - An Old English Dream and Wall Street Blues. It's a testament to both that they were every bit as strong as the classic numbers. The exotic waltz that was A Rum Tale brought us back to the Grand Hotel album once more. Let me pause a moment here to tip my hat to the brilliance of Josh Phillips. His organ work was nothing short of extraordinary! A dip in the vaults of obscurity gave us the politically charged As Strong As Samson from 1974's Exotic Birds And Fruit. Grand Hotel was positively majestic and featured a bit of humorous stage interplay between Whitehorn and Pegg.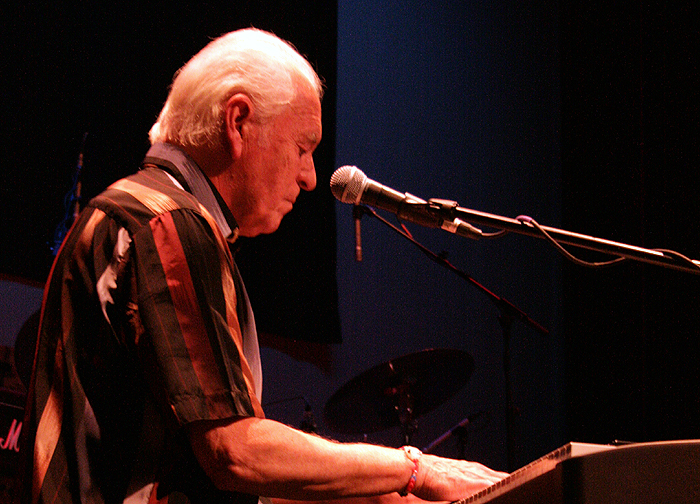 That dirty guitar riff signaled the arrival of Simple Sister off of Broken Barricades - a personal favorite. As was the next song - A Salty Dog. Moody, drifting, melancholy, it was a real show stopper. The set closed in an elegant fashion with the beautiful Conquistador and the crowd was at fever pitch. For a first encore, we got a fun rocking cover of Blueberry Hill. The second encore was, of course, A Whiter Shade Of Pale. As great as I expected this show to be, I was blown away by the final product. Procol Harum continue to perform with a deep impact. Butt whomping!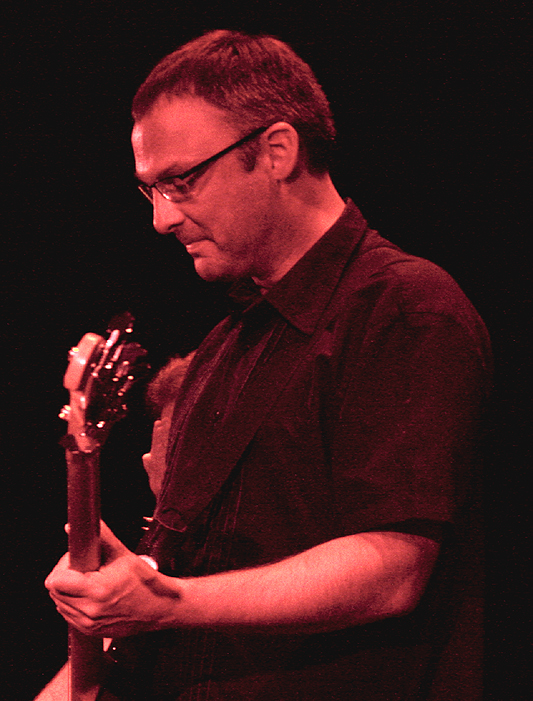 The Tubes - Ridgefield Playhouse, Ridgefield, CT 7/13/14


The evening had a theme: noir. Bogey and Bacall and Mitchum and Greenstreet. Danger, intrigue, whisky, and dimly lit street corners. Trenchcoats. The Tubes were in town taking names and wearing hats. Getoverture from Remote Control started the set. Wearing a trenchcoat and holding a drink, Fee Waybill took the stage to the strains of This Town, from the Now album. Very cool. A cover of Connecticut boy Gene Pitney's Town Without Pity followed. As a brief aside: Town Without Pity was also slated for a 2 album version of Now that was scrapped for reasons unknown!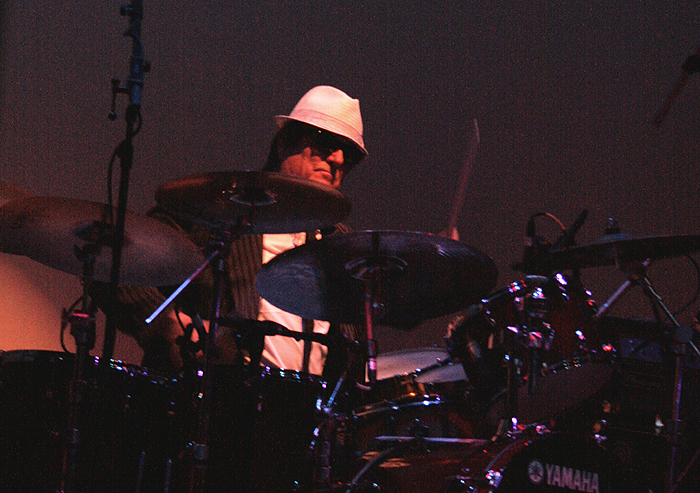 Next was a song I'd not heard in ages - Power Tools. Such a great number! As if that wasn't enough, the Tubes dusted one out of the vaults with Rat Race - a still unreleased number from The Black Album. Great drumming from Prairie Prince on a crime medley that included the themes from The Wild Bunch, Perry Mason, and The Untouchables.




Outfitted in prison stripes and a straightjacket, Waybill was the demented personification of Mr. Hate. It was flawlessly followed by Amnesia - a 1-2 punch of numbers from The Completion Backward Principle. No Way Out was a more than welcome piece - a long time fave.




Straight from monkeydungeon.com was Mondo Bondage complete with assless chaps and Waybill mooning the crowd as Roger Steen wailed away on guitar. Insane! Steen handled the vocals on Up From The Deep setting up a dazzling What Do You Want From Life. Just a breathtaking evening so far!




Wearing a Japanese sushi chef jacket & a Creature From The Black Lagoon mask, Waybill sang Sushi Girl for those who like it raw. The aching I Don't Want To Wait Anymore segued into a fierce Prairie Prince drum solo full of finesse and fury!




It was now that time. Time for the man. The man you love. The man you need. The man you'd do well to stay out of vomiting range of...Quay Lewd! Stumbling to the stage, the lewd one launched into a cover of the New York Dolls classic Trash before delivering a number from the very beginnings of the Tubes: Dinosaur Blues. My jaw was dropping! David Medd's swooping keys took us into the set closing essential White Punks On Dope. Where'd you get it? You gave it to us! The crowd shouted the chorus all but shaking the roof off the playhouse!




Rick Anderson's bass anchored the encores: She's A Beauty and Talk To Ya Later. But wait - there's more! Hendrix's Third Stone From The Sun took us all out for the evening. Off to the lobby to hang with the band. To quote the Now album notes: the shit's still burning! Can't clean up, though I know I should.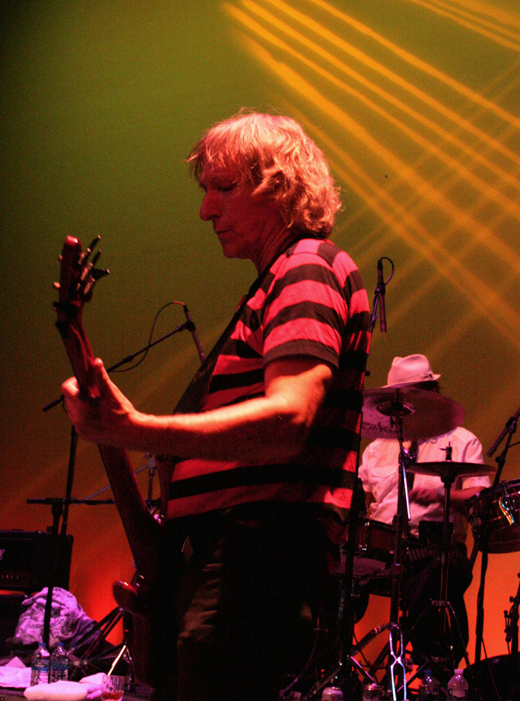 ConnectiCon - Connecticut Convention Center, Hartford, CT 7/12/14


This con was my first sign that the times are truly changing. My convention history for decades is comic-based. While there were a tiny handful of self published comic book folk, they were truly the exception rather than the rule. Cosplay, gaming, anime, & TV were the predominant themes. Fine by me!




Lots of voice actors in the building. On that front, I attended a panel featuring Diedrich Bader. He shared interesting & often hilarious stories about his work on films like Jay & Silent Bob Strike Back, Napoleon Dynamite, and The Beverly Hillbillies. Lots of insight into The Drew Carey Show and The Brave And The Bold as well as many other projects. Bader was open, funny & warm. In my 30+ years of going to cons, one of the best panels I've ever seen! My, what a lovely tea party!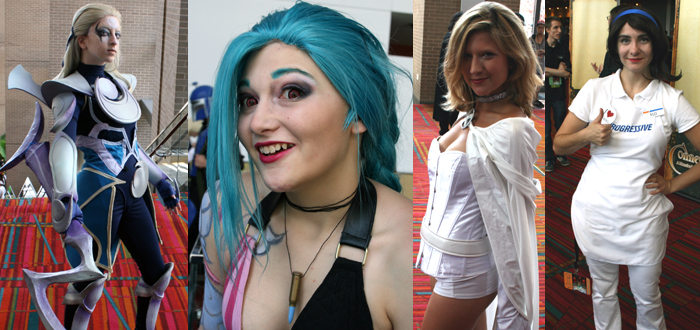 Lots of great vendors. I picked up some Doctor Who merch for one of my great nieces. The gblazewear.com / blacksheepgb.com folks had lots of awesome fetish-y goods. Steam Funk Studios impressed me with their truly cutting edge inventions. Tabbie Wolf from willdrawforyou.com impressed the hell out of me with her way cool buttons. Noah Scammon and his pals at signalcrash.com were uproarious. Fun guys! Rob Balder's Erfworld was a cool project with equally cool merch. The in-con-ceivable.com folks had a kickass booth and a fetishy woman with amazing teeth!




Cosplay was king on this day. Snow White smoking a butt. A cosplay Flo. Wolverine. Rogue. Poison Ivy. Sailor Moon. Mario. Wario. Doctor Who. Capt America. Zombies. Kittens. Vampires. Heroes. Villains. Beyond beautiful beauties and dangerous dudes. Every sort of person you can imagine and several you never would've conceived of! The vibe was friendly. Free hugs. Even a free shrug guy. Everyone with a singular mission: fun. Mission accomplished!


Midsummer Fantasy Renaissance Faire - Warsaw Park, Ansonia, CT 6/28/14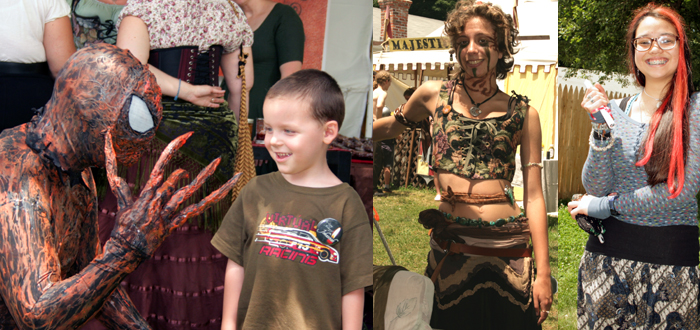 I had such a great time last week that I came back for more! Please read my main review from last week for my thoughts on this wonderful faire!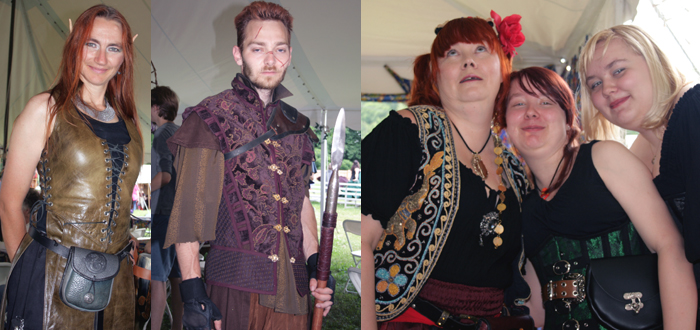 Midsummer Fantasy Renaissance Faire - Warsaw Park, Ansonia, CT 6/22/14


A fantasy ren faire. What would be different about that? The guy that was a bird was my first clue. A man was dressed as a bird of prey, carrying an animal pelt in his mouth and dropping it like a prize on a table. Not a soul found this to be unusual. I smiled and realized I was in for a fascinating, entertaining day! I was not disappointed.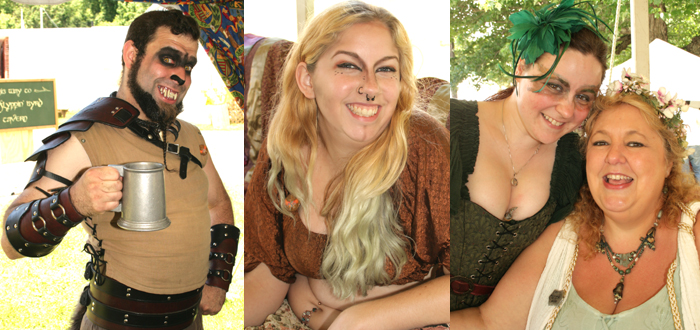 I chose Momma's Place as my hub. A comfy tent with lots of shade, chairs, and a nice breeze. It had a great view of the faire, and best of all had the beautiful Momma. Warm, friendly, charismatic, beautiful. I could see why everyone flocked to Momma's!




Lots of vendors. I bought some cone incense and a holder. A bottle of sandalwood oil. A bottle of muscadine preserves, and best of all a red & white striped first mate's stocking cap. I also bought some incredibly yummy chicken stew packed with chicken, carrots, wild rice & barley. Quite a gourmet treat. Fine craftsfolk making clothing, jewelry, and other things you never knew you needed!




I watched a fine fiddler as well as a minstrel I'd seen at a different faire in fine voice. A pretty woman doing fire stunts. Swordfights. A dramatic story on the field that escalated to a duel. Kids and adults were fascinated - caught up in the fantasies come to life before them. Lots to see, lots to experience. Sailors, pirates, kings, queens, wizards, maidens, and the occasional elf. More cleavage than some states allow!




As the day wore on I became aware of a sort of theme. Family. I found all the players converge around Momma for a rest and a chat. Always hugs for each other. Always talk of mothers, fathers, sisters, brothers, spouses, children. A ren faire family performing for patrons as well as each other. Everyone very welcoming to me as well. Thrills, spills, corsets, turkey legs, swords, gems, and funny hats. All in nearby Ansonia. 2 more weekends of fun - June 28/29 & July 5/6. Check out the website for info: www.mfrenfaire.com Grab the family and make thy way there!


Blackmore's Night - Ridgefield Playhouse, Ridgefield, CT 5/24/14


It was a warm & humid Spring day, heading into early evening when I arrived in Ridgefield. Lots of folks in renaissance garb waiting outside. Several that I knew, many I did not. All were very friendly, so the pre-show time passed quickly and pleasantly. So nice to see Dot & her husband there. Got my bearings, said my hellos, then it was show time.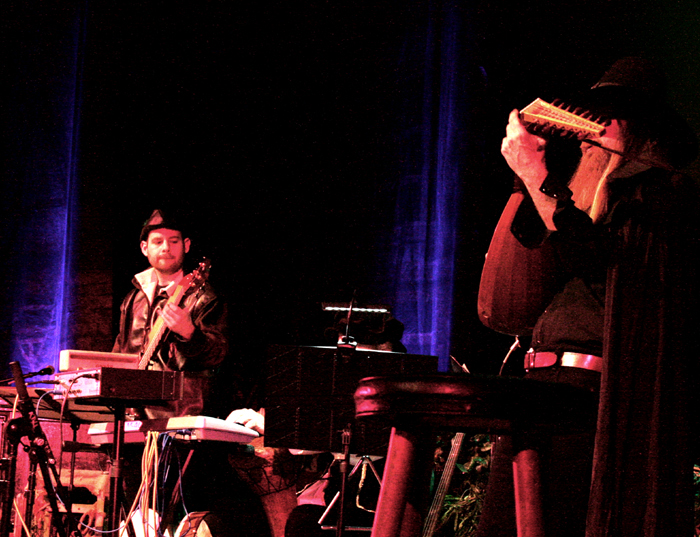 The Wizard's Consort were the openers once more - this time getting a longer slot much to my delight. This trio really bring you back to the olden days with their purist approach. Opening with The Work Song, they immediately connected with the crowd. Very attentive listening as they rolled through pieces like Pazzemezzo In Cm, Pavane, and Haup. It was fascinating to hear these songs from centuries gone by.




Variations Greensleeves surely impressed any skeptics out there, as did the fleet-fingered Danse Of Death. Minuette In Dm, Danse Royale, and Cantiga finished out a memorable set from another time, another vibe. I was all smiles. The Wizard's Consort are truly headline material!




More between-set chit chat with old & new friends and a laugh or two. After the break, it was time for Blackmore's Night. As with the Peekskill show last November, the set started with Ritchie Blackmore on hurdy gurdy leading the band into a crisp Dancer And The Moon. The band were a juggernaut of melodic motion with Candice Night's voice soaring and swooping between the notes. The moody Darkness followed, leading into thrusts of Dance Of The Darkness. The audience was locked in from the very first note. The instrumental Queen For A Day Pt 2 took us to the singalong Under A Violet Moon. I was digging the pace - a nice balance of energies. Soldier Of Fortune was the sole nod to Blackmore's Deep Purple days. An engaging vocal from Night drove it home. There is always a bit of deviltry during Durch Den Wald Zum Bach Haus. This time a naughty Bard David of Larchmont was visited by someone in a brown rabbit suit and young Autumn Blackmore bopped him with an inflatable hammer! Troubadour of Aberdeen was compelling on drums and the Scarlet Fiddler fiddled fantastically!




Blackmore vamped a bit on Louie Louie before launching into the somber World Of Stone. Such a huge sounding piece. Speaking of Blackmore, I loved his effortless mandola work on All The Fun Of The Fayre - he packed it with colorful rhythmic flourishes. On a creative roll, his aching guitar intro to Diamonds And Rust was transformative. Night's vocal here was lovely beyond description. A unified crowd sang along (on key!) to the tavern-y Toast To Tomorrow, only to be interrupted by Bard David's need to sing Let It Go from the film Frozen. A wig placed on his head brought him back to his senses and we all finished the tune together!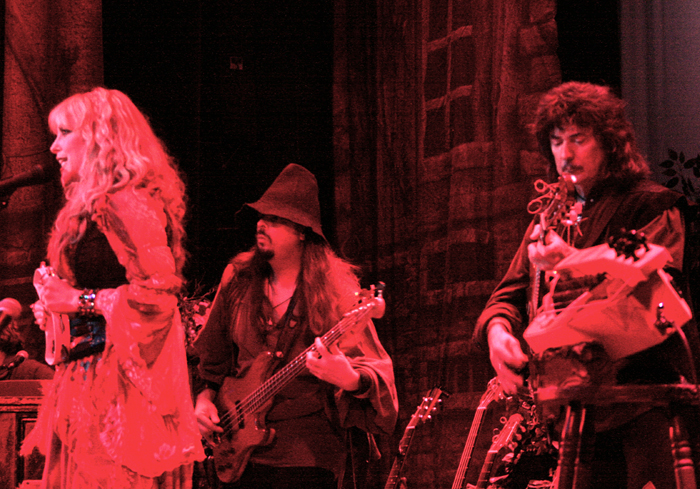 Much like the proverbial flies in the ointment, the sole distraction in the building was the few boisterous Blackmore fans who didn't seem to notice they weren't at a Deep Purple or Rainbow show. Their disruptions got a bit annoying after a time as the rest of us were here to listen to the great music the band was bringing us. Peasant's Promise being a great example. A timeless lyric set to equally timeless music. Great work from Earl Grey of Chimay. A positively jaunty Renaissance Faire saw the front rows up and dancing and all of us singing. The genuine jaw-dropper, show-stopper moment of the set would have to go to a true surprise: the haunting Ghost Of A Rose. I felt a tear on that one. Night's vocal wrung every iota of emotion from the lyric. Glorious. It was well matched with the beautiful Wind In The Willows - another favorite.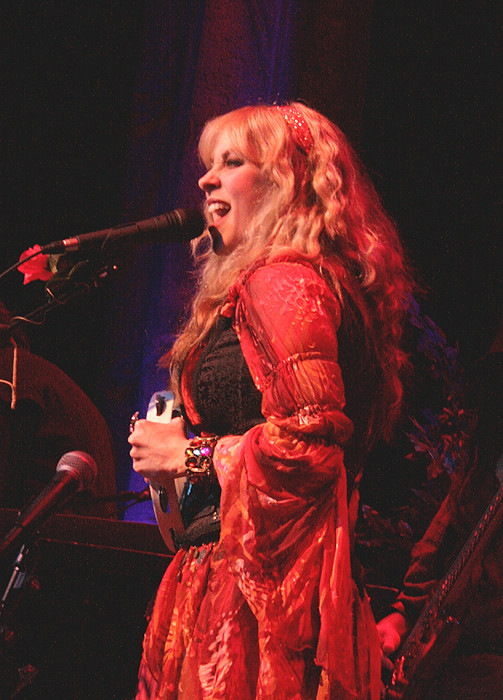 A solo spot for Bard David also included Earl Grey & Troubadour of Aberdeen joining him on Carmina Burana before giving the spotlight to the drums and 2 beers. Intense, rousing stuff! Incredible work from Blackmore on Fires At Midnight. I made 2 requests of the band & they graciously played both. The first was the soulful Barbara Allen. More props - this time to 2 new minstrels. Lord Mayor on horns and vocals was right & tight. Lady Lynn on flute, shawm, and backing vocals had a staggering operatic range. Perfect new additions. The set concluded with the pub-friendly Home Again. As always, it included lots of laughs during snatches of Hava Nagila, Drink Drink Drink, and The Happy Wanderer. A snatch of Hall Of The Mountain King took it all home!




Both Village Lanterne and Dandelion Wine seemed to fit the evening like a lace glove. Love, longing, fond memories, come back soon. Next - a surprise spontaneous take of Bach-via-Procol Harum's A Whiter Shade Of Pale with the crowd singing the main melodic keyboard line. As it that wasn't enough, I got request #2: the Bee Gees classic First Of May. You could've knocked me over with a feather! As I pondered the show, the people, the band, the vibe the following day, I came to a realization: we are all a sort of family. The band, the audience - we are something greater than our individual parts. A family. I like that. Please come join us if we are anywhere near you. All are welcome.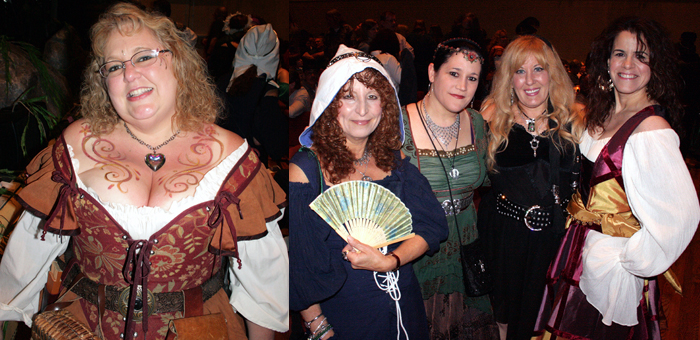 East Coast Black Age Of Comics Convention - The Enterprise Center, Philadelphia, PA 5/17/14


The night before this con, I was out late at the dubstep (see my review directly below this one!) and had to get up perilously early to head to this one! I was exhausted before I even left my house! 1 rest stop & NYC traffic made it a nearly 4 hour journey! I was there to see my friend & colleague Arie Monroe, so the travel was well worth it!




The con was in a small building called The Enterprise Center. The claim to fame being that Dick Clark's American Bandstand was filmed there for years. A small but nice hall and a friendly staff. The con was a celebration of black cartoonists of all generations.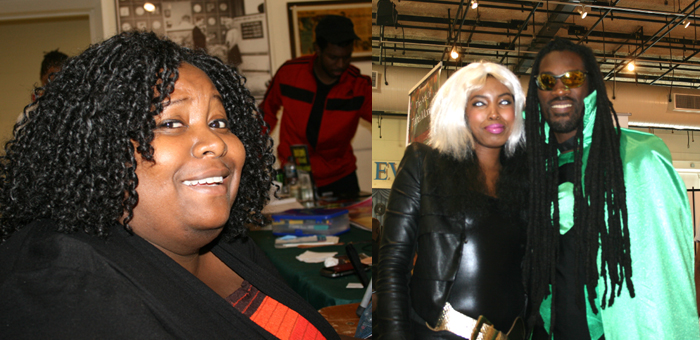 I ran into the lovely Tiana Scott, N. Steven Harris (who I chatted with 2 weeks before at the Bronx Heroes Convention), the elegant Barbara Brandon-Croft, and many others. Speaking of the Bronx con - I ran into founder, Ray Felix - a great guy!




Lots of great cosplayers including Star Sapphire and a particularly kickass Black Lightning. Several aspiring cartoonists picked my brain for my 31+ years experience in the comic book biz. I happily obliged! I met a ton of nice folks but most importantly got to hug Arie (who did an awesome sketch for me!) & chat in person. More of that, please!




Bright Night - Toad's Place, New Haven, CT 5/16/14

Once again, I'll let my camera do the talking at a fine, fun EDM / Dubstep show!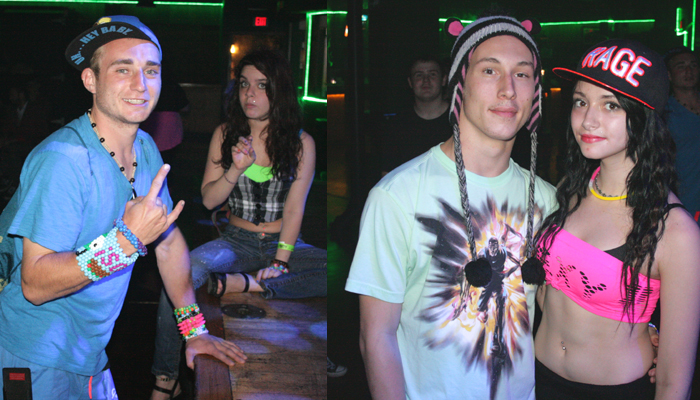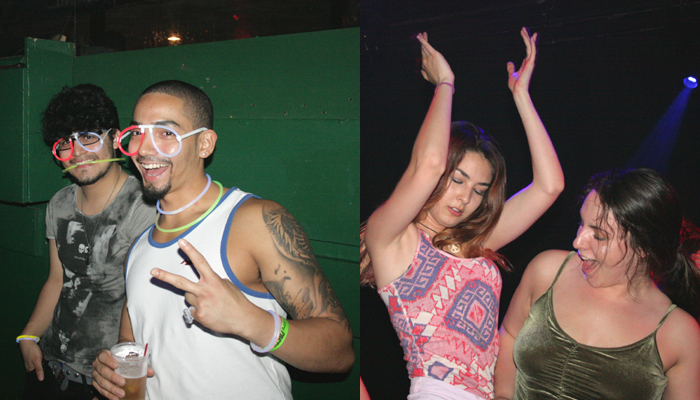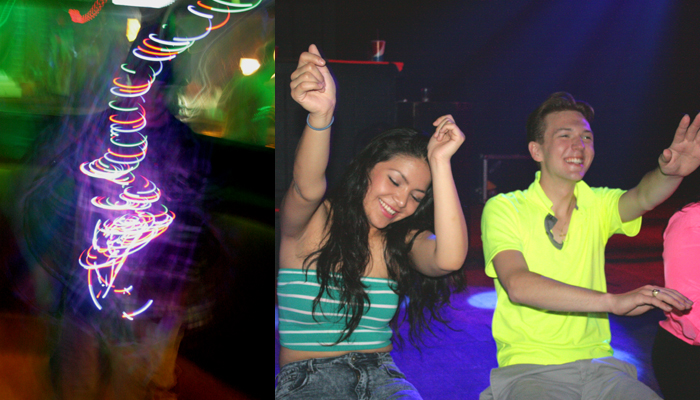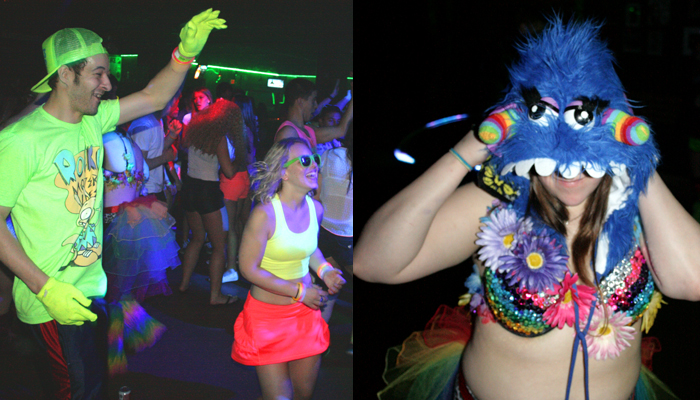 Asbury Park Comicon - Berkeley Hotel, Asbury Park, NJ 4/12/14


I truly hate getting up early! 5:30 AM kinda early. Trout fishing early. You get the picture. On the road to the Garden State for a comic book convention. Was it worth getting up so ridiculously early? You bet! I was impressed with the area. The hotel was just a few blocks from Asbury Park Beach. I would have been satisfied to spend my day at such a wonderful stretch of beach.




Let's break this down into themes, as it were. Lots of friends to catch up with & colleagues I'd colored over the years but never met until this day. Jim Salicrup, Jim Steranko, Dave Hunt, John Workman, Denis Kitchen, Stephanie Buscema, Jay Lynch, Peter Bagge, Todd Klein, Tim Truman, Mark Mazz, Rudy Nebres, Don McGregor. Quite a few great conversations. Speaking of friends, the spectacular Paigey was there & we got to catch up & swap stories. She was also so kind as to do me a kickass drawing! Too cool! Oh, must mention Brian O'Halloran of Clerks and Mallrats fame! Funny, courteous, super- friendly.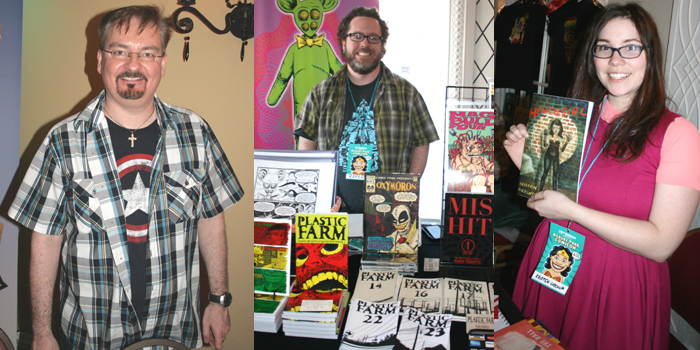 Lots of Indie folks. Outpouring Comics, Plop Culture Prints, and Plastic Farm all caught my eye as did a Kickstarter book called A Piggy's Tale by Tod Emko & Ethan Young. I bought 2 issues of Pat Dorian's hilariously perverse The Face-Skull. Kristen Gudsnuk graciously gave me 4 copies of her comic Henchgirl to review. I can't wait to read them! Lots of Indie folks there, promoting their individual visions. They are the future of comics, truly.




Mucho cosplay, of course. Lots of Harley Quinns & Poison Ivys, of course. A Joker or 3. A stunning Vampirella. A genuine surprise: a young lad dressed as Sunfire! Even a cosplay Hunter S. Thompson! I couldn't identify every character, but was once again struck by how very inventive everyone was. I'd be remiss if I didn't mention the killer good 60's Batman & Green Hornet as well. Very well done.




In the end, it's about the fans. I had so many great conversations with attendees of all ages. We talked about comics, the future, the Con itself, the area, etc. I met a young lady named CJ O'Farrell who had on an amazing pair of hand painted Converse Chucks. What a talent! Had a long discussion with a future comic book writer named Mars that was fascinating. So much to absorb over the course of the day.




The staff at the Berkeley were friendly & helpful. Food & drink prices were budget-friendly. Kudos to every aspect of the event. Afterward, a group of us dined down the street at McLoone's Asbury Grille - a lovely spot on the lip of the beach. Service was friendly. Food was fantastic! A perfect coda to a memorable day. Thank you Cliff Galbraith! Thank you, Asbury Park!


Stamford Symphony Orchestra - Palace Theatre, Stamford, CT 4/6/14


Another season of the symphony is ending all too soon! My ears are greedy for classical music and I can never hear enough. Today's set opened with Kodaly's Dances Of Galanta. Rather appropriately Hungarian in terms of feel and ambience, the dances were romantic and bold, with principal cellist Caroline Stinson ruling the stage with her locked in, muscular work. I could see ELO borrowing Kodaly's approach to cellos here. Elizabeth Mann's wistful flute along with bright percussion at times reminded me of tiny clockwork toys. A fine start.

I've grown to be rather fond of the work of Antonin Dvorak, and the feature piece: Violin Concerto, OP. 53 In A Minor was no exception. The soloist on the piece was none other than Tim Fain and his miraculous fingers. I'd heard his playing in the films Black Swan and 12 Years A Slave but was in no way prepared for what I heard on that stage. Passionate, lyrical, emotional, almost otherworldly. Like fingers possessed, Fain's hands cast a spell over the violin. As the concerto went from austere to confident to flowing and swirling, we were all taken for a wild ride through a timeless sonic landscape. Was this real? Did I truly hear such indescribable beauty? The crowd's frantic applause provided my answer.




The final piece of the season was Tchaikovsky's Symphony No. 5, OP. 64 In E Minor and it was owned in totality by Maestro Eckart Preu. Has joy of conducting the piece was obvious. So full of movement, I thought he might fly through the air suspended in the ether by his baton. Somber, aching movements full of a beautiful melancholy were contrasted by brief notes of hope. Almost mathematical subdivisions of melody and rhythm gave way to massive curtains of violins. The chop-chop-chop-chop of the strings led to an impressive march full of brass restating the main melody and taking us all home. Vast. Simply vast. Maestro Preu brought us all safely back to our seats to yearn for Autumn and the next season of the symphony.

Steve Hackett - Capitol Theatre, Port Chester, NY 3/29/14




A raw, wet evening in Port Chester. Dauntingly wet. Aggressively raining buckets. No matter - Steve Hackett was back with more Genesis tunes. I had 8th row, house right tickets. Great view. Let's get right to it! Off to a brisk start with Dance On A Volcano. Gary O'Toole was a rocket-fueled propulsion unit. Nick Beggs was a joined-at-the-beat twin on bass. Roger King was controlled perfection on keys. Rob Townsend tasty and spicy on winds, keys, and percussion. Nad Sylvan once again was the secret weapon taking Peter Gabriel and Phil Collins vocals and making them 100% his own. Steve Hackett was, of course, 287 guitarists spread over 10 fingers. Full of sound. Full of joy. Full of ideas to overflowing. The crowd were a singular united beast. Dancing With The Moonlit Knight enthralled. Timeless. Aching. A sonic rollercoaster. Inspiring. A between song tech glitch was handled in a humorous fashion before we got Squonk. One often forgets the power of this piece. The band reminded us. A musical beartrap. Holy mother of God!




Nick Beggs donned a Chapman Stick for Fly On A Windshield / Broadway Melody Of 1974 with that soaring Steve Hackett guitar solo and fine vocals by Gary O'Toole. Nad Sylvan's vocal on The Lamia had the beautiful innocence of a newborn. PERSONAL HIGHLIGHT ALERT!!! Return Of The Giant Hogweed was simply mind-blowing. Outrageous energy. Anger. Eardrum compression. Heracleum Mantegazziani!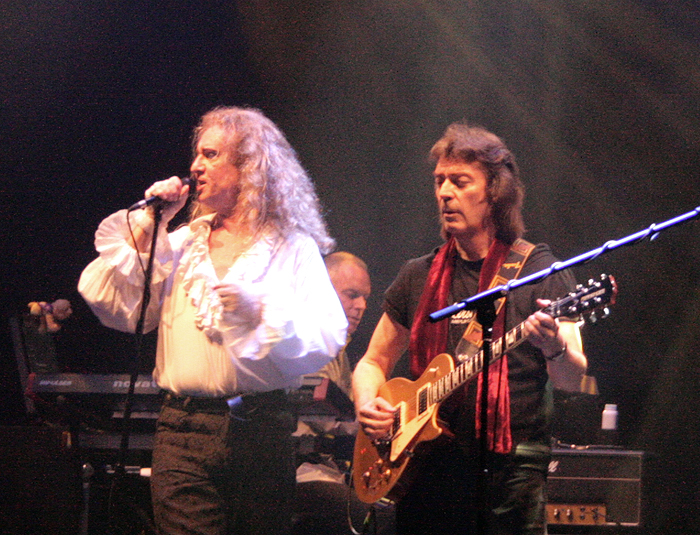 Nad Sylvan acted like a wind-up doll at the beginning of The Musical Box before delivering a delightfully sinister vocal. He had the air of a silent movie actor. The Lon Chaney of the band on this night. The mood lightened significantly courtesy of I Know What I Like (In Your Wardrobe). Closing solos had a slightly jazz flair - a nice fit! Out came the classical guitar and a few puffs of talc for the haunting Horizons followed by Firth Of Fifth - a fine piece showcasing the entire ensemble. Me? I'm just a lawnmower!




I want you to wrap your mind around the next trio of songs. Think of the impact of this sequence: Lilywhite Lilith, The Knife, The Fountain Of Salmacis. Power, power, and power. 3 visceral numbers. Roger King absolutely ruled on keys and Rob Townsend's winds were, well, breathtaking. We are only wanting freedom...




As odd as it sounds to say that one of the highlights of the set-closing Supper's Ready was Rob Townsend's spoon playing (on the Willow Farm section), it's true! Nad Sylvan owned the vocal & inhabited the song, distorting his face and body as he sang the 666 vocal section. Hackett positively wailed on the outro. The first encore was a dazzling Watcher Of The Skies with Nick Beggs and Gary O'Toole scarily locked in. The final number of the night was Los Endos, which once again included bits of Myopia, Imagining, and Slogans. The crowd was crazy. The band was ecstatic. Another emotional assault in the books. The lights are dimmed and once again the stage is set for you!


Sweet Beats - Toad's Place, New Haven, CT 3/21/14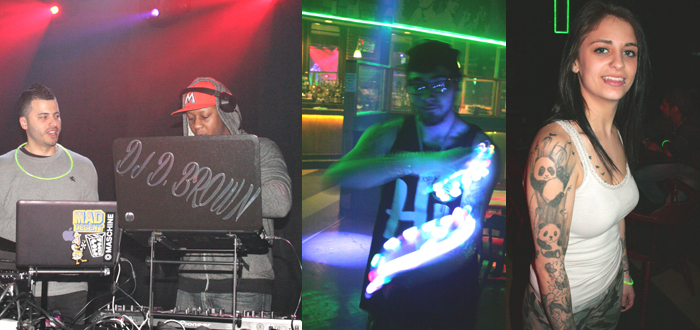 A night of sweet beats at Toad's. No ifs or ands, but lots of butts dubstepping!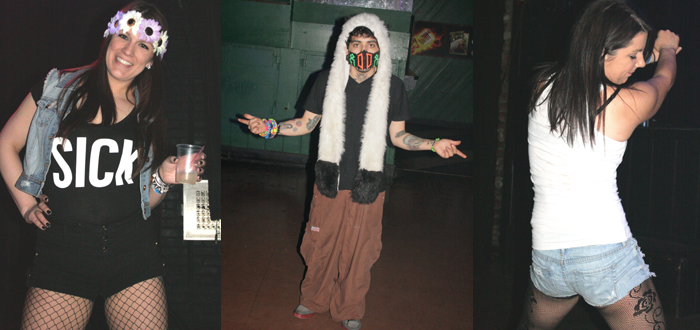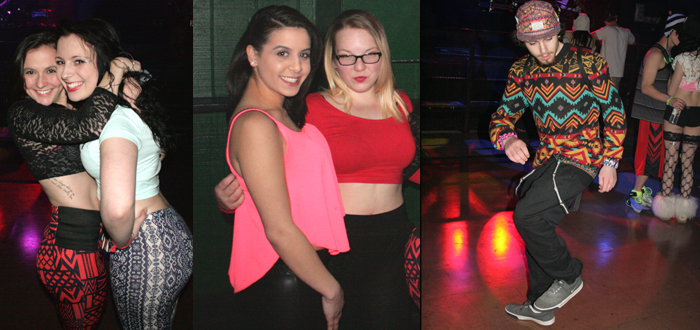 The DJs were tons of fun mixing in samples of Blondie, Nirvana, and even the Tigger song from Winnie The Pooh!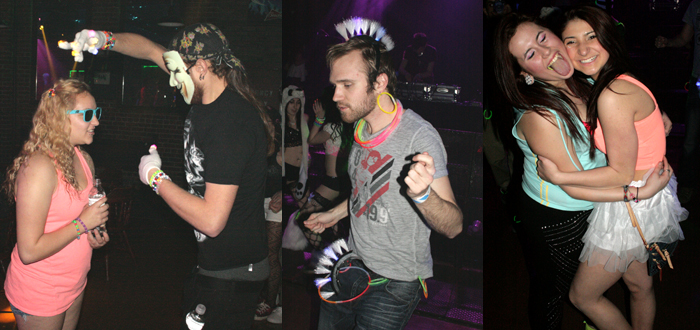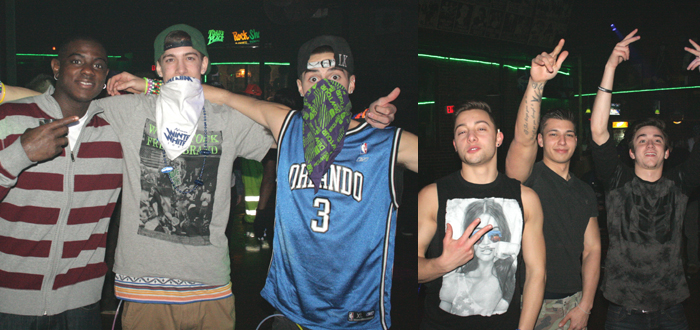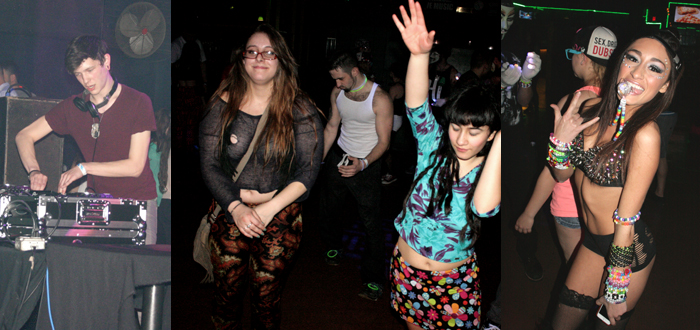 Lots of dancing, moving, grooving, and a few disastrous attempts at dancing by yours truly! Mucho fun!


Riders On The Storm - Toad's Place, New Haven, CT 3/14/14


For starters, I missed the first 2 bands. It happens. Circumstances beyond my control. The bands I did see more than made up for it. First was a trio called Disable Time. Young players doing exotic material with an interesting edge. Very tight together & not afraid to take risks with the sonic palette. Almost Bill Nelson-ish in spots. I really enjoyed the set with Orbit and As The Ocean Becomes A Whisper standing out.




Next was the power trio INK. I've seen these guys several times in the past, and they just seem to get better every time. Flawless playing with power and bite. Killer riffs on numbers like 4 Long Days and Ride. When I see them I am amazed that they are not headlining at Madison Square, to be honest. INK are on that level with the chops, the songs, and the stagecraft to match Metallica or any hard rock/metal act you can think of. Be sure to catch them if you haven't already!




The Black Forest Band was a guitar/bass/drums/keyboards quartet with a strong following. A sort of funky Phish/Dead vibe to them. A solid unit with strong vocals and a wiz of a keyboardist. In addition to their own material, they gave a pepped up cover of Sympathy For The Devil and a hot version of Edgar Winter's Frankenstein. Crowd pleasing stuff!




Headliners Riders On The Storm hit the stage a bit after midnight. Don't let the name fool you. They are the Doors. They just are. Every nuance, every iota of spirit & energy lies in these 4 men. Each show they do has a unique energy to it. This show was about movement and drama. As they say - I was in!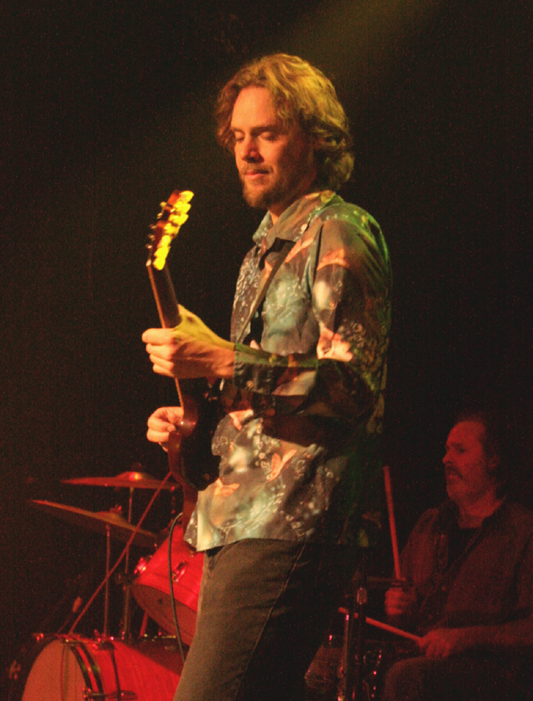 Roadhouse Blues and Soul Kitchen immediately galvanized the crowd. Weaving, dancing, singing along. Crystal Ship continued the flow as the band wove their spell. The brittle Five To One followed and paired perfectly with a confident Light My Fire. A song is a tool and the band used the music to guide the crowd - to take them on a musical and emotional journey.




Love Her Madly with obsessive love contrasted with the more casual, carnal Love Me Two Times which in turn was balanced by the more romantic Love Street. Back to the carnal with the wicked Back Door Man. Pure sexual intent. A highlight of the evening was When The Music's Over - oddly enough because of mic problems. The technical glitch was utilized to dramatic effect as the band stayed on the main riff, extending it out and out. Drawing the crowd in to the inner workings of the piece, under the control of the band. A surrendering of will to the music. Stunning and brave.




Touch Me just cooked. Muscular and strident. The mood mellowed for Riders On The Storm. A tribute to freaks, oddballs, and those of us outside society's norm came in the form of When You're Strange. How apropos that Strange Days was next. We are all outside the norm. Strange days indeed. Talk about apropos: Peace Frog live in New Haven! It had the crowd hyped up, hopped up, dancing & sweaty. Women poured onto the stage for L.A. Woman. A celebratory coda to an incredible evening. You know when it feels right.


The Security Project - Toad's Place, New Haven, CT 3/11/14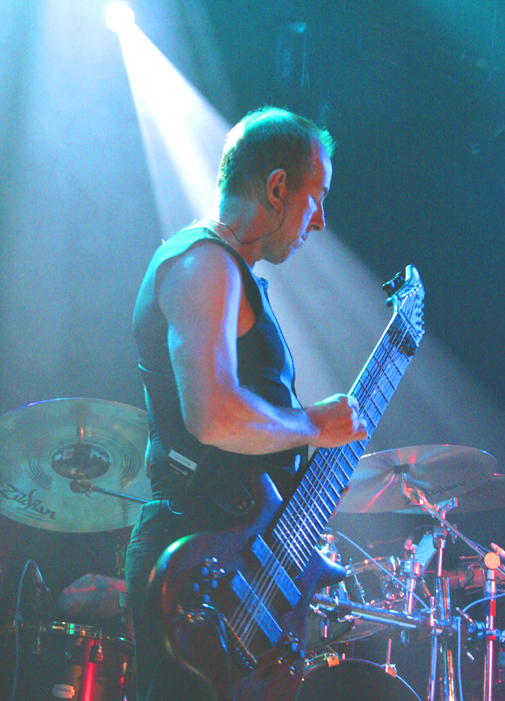 I don't know what I expected, other than I knew I'd enjoy it. The names Jerry Marotta & Trey Gunn always mean high standards. At the very least, I'd be in good hands on the rhythm end. The band is the Security Project. They are: Jerry Marotta on drums, Trey Gunn on Warr Guitar, Brian Cummins on lead vocals, Fuzzbee Morse on guitars and flute, and David Jameson on keyboards & Eigenharp. What they delivered blew me away.




The Eigenharp was a weird long stick with blinking lights on it. It made amazing sounds during the opener: San Jacinto. Cummins had every inflection, every nuance of Peter Gabriel's voice in its prime. Did I forget to mention that this was an evening of Peter Gabriel music? My bad. I had flashbacks to 1982 - the Paramount in NYC. In 2014 @ Toad's Place, the impact was just as powerful. A fabulous start to the evening! I Have The Touch was next. So tight. Marotta's drums were the stars here. A welcome trip to Gabriel's 1st solo album came in the form of the beautiful Humdrum and Moribund The Burgermeister - Gabriel's wry condemnation of disco music. I was nothing short of floored! Gabriel himself rarely performed this one in his early solo days. I could not stop smiling!




What used to be my personal anthem - No Self Control had a spiffy flute intro by Morse and dangerous sounding Warr Guitar from Gunn. I remember the phrase "I went spare," but never used it til now. White Shadow. They played White Shadow. Let that sink in. I went spare. I nearly lost it. The slippery low end of I Don't Remember brought me back to reality. Raw power. In contrast, Cummins grabbed his acoustic guitar and gave us an emotional solo acoustic Mercy Street that was achingly beautiful. Next it was anthem time with Gabriel's anti-Apartheid Biko. No less powerful 34 years later.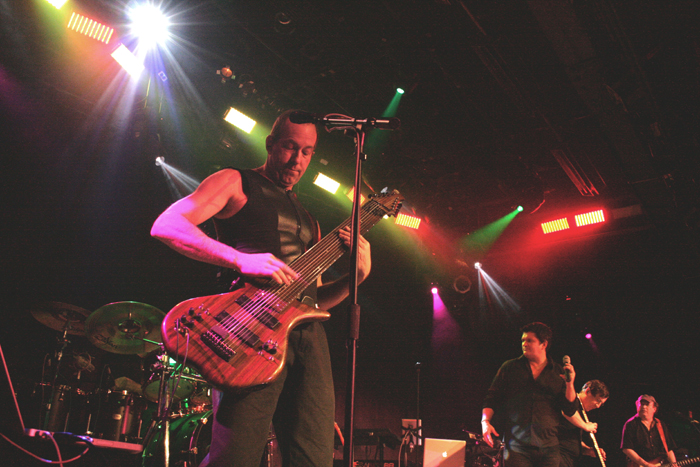 A mesmerizing solo by Gunn was packed with textures and moods and was a perfect intro to Here Comes The Flood. To the 4th album for The Family And The Fishing Net and headless chickens. Cummins was dramatic and inspiring. Marotta's huge drum pattern meant it was time to cut the phone wires courtesy of Intruder. God, I love that song! Would you believe D.I.Y. was next? This was getting to be an embarrassment of riches. Gunn was especially slippery here.




Jameson on piano and Cummins on vocal intoned Father, Son from OVO just gorgeously. It touched everyone in the building. Time for a song about a European TV show of the same name: Games Without Frontiers. Was I singing jeux sans frontieres over & over? You betcha! The set sadly had to end sometime. How better than the rousing On The Air? A beast of a version with the audience joining the call & response chorus. But wait - there's more! The encore was a nod to the Genesis days with 3 tunes from The Lamb Lies Down On Broadway: Fly On A Windshield / Broadway Melody Of 1974 / Back In NYC. Cummins walked through the crowd as he sang Broadway Melody Of 1974 and Marotta sang lead on Back In NYC. Gabriel himself has not played a gig this essential in over 30 years. Do not miss this band!


Stamford Symphony Orchestra - Palace Theatre, Stamford, CT 3/2/14


We dodged a bullet here. We were supposed to be hit with the umpteenth snow storm here in Connecticut, but it shifted toward the south, so Thunderbirds were GO! I'll call the program Russian Bookends as Ravel found himself surrounded by Borodin and Rimsky-Korsakov. For this performance, the orchestra was maxed out at a whopping 75 pieces, so the sound was absolutely huge! The program started with Borodin's Polovtsian Dances from Prince Igor. Many know the main theme here as Stranger In Paradise from the musical Kismet. Presented here in its true form, it had a grand opulence to it, with fascinating percussive detail in the 3rd movement and a truly grand finale.

Next, it was guest soloist time. Pianist Jeffrey Kahane lent his fingers to Ravel's Piano Concerto In G Major. Jazzy and edgy in spots. Delicate as a butterfly's wing in others. Violist Leslie Tomkins had a wry smile through most of this, clearly loving the piece. Kahane was sensitive in his touch. Incredibly expressive. Notes flew at mach 2 in places.He made everything look effortless, emitting confidence and love of playing. The stage was his sandbox as he built magic castles of sound.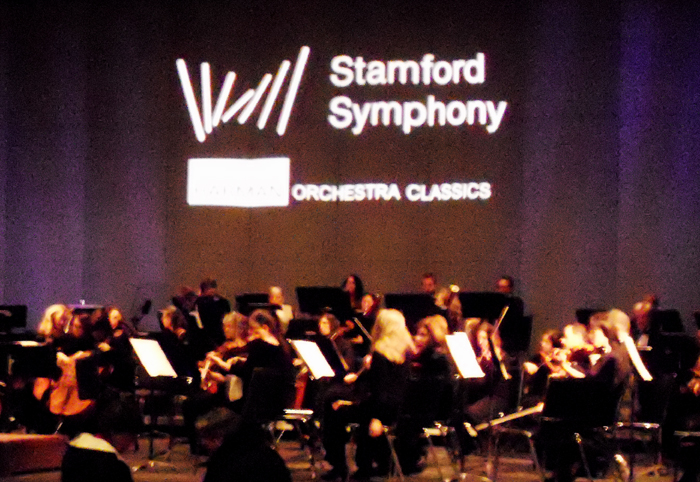 After intermission, an unexpected bonus: a guest conductor & a surprise piece. The winner of a charity auction won the prize of conducting a piece with the orchestra. The winner was Jane Freeman, and she conducted Mozart's overture to The Abduction From The Seraglio. The piece was gorgeous, and Freeman did a wonderful job behind the baton. A moment I'm sure she will never forget!

Time to roll out the big one. Maestro Eckart Preu's shoulders braced for the opening strains of Rimsky- Korsakov's masterwork: Scheherazade, Op.35. So many moods here. All of them vast paintings on canvas, all connected by 2 recurring themes - 1 representing the impatient Sultan, the other representing Scheherazade herself. Speaking of - Concertmaster Erica Kiesewetter's violin was the "voice" of Scheherazade. Her playing was free and romantic, caressing our ears; drawing us in to hear the next tale. Listeners were thrown upon the seas and taken through the desert in a grand adventure before gentle romance brought us nearer a magnificent, rousing conclusion. By the final note, I was emotionally drained, yet eager to hear the entire program again from the start! Get thee to the symphony!


Clannad - Ridgefield Playhouse, Ridgefield, CT 2/6/14


I honestly never thought I'd get to see Clannad live, yet here they were. The band took to the road to support their latest CD: Nadur. The band for this was: Moya Brennan on vocals, harp, and percussion. Pol Brennan on vocals, keyboards, flute, pennywhistles, and acoustic guitar. Ciaran Brennan on vocals, bass, keyboards, and acoustic guitar. Their twin uncles Noel Duggan on vocals and acoustic guitar and Padraig Duggan on vocals, mandolin, acoustic guitar, and harmonica. Accenting the family were Steve Turner on keyboards and our dear Ged Lynch on drums and percussion.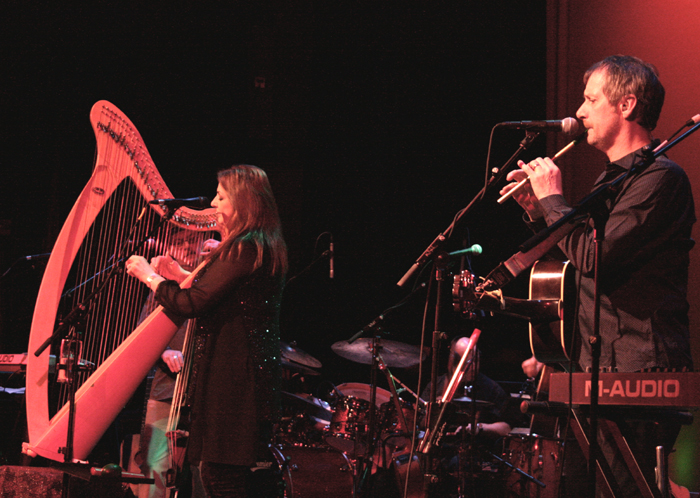 5 songs from that recent release opened the show.Vellum was almost trance-like in its tranquility, with Moya's voice softly embracing each note. Ciaran introduced Rhapsody Na gCrann - a loving celebration of nature. Mora and Pol gave Turas Dhomsa Chon Na Galldachd a beautiful sort of grace with the Duggans in fine support. TransAtlantic sounded spacious, almost huge. The 5th new number was an instrumental - Lamh Ar Lamh which was nicely paired with the slipjig Fairly Shot Of Her from the Clannad 2 album. An earnest story from Moya introduced an old favorite - A Neansai Mhile Gra. Quite a treat!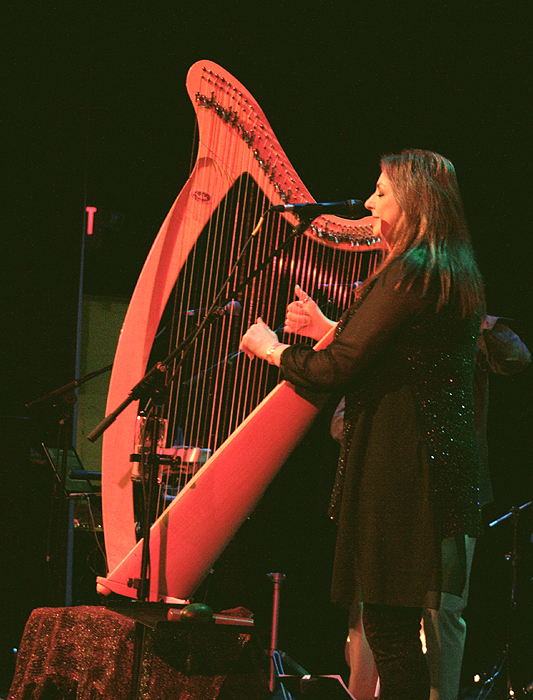 Back to the Crann Ull album for Ar A Ghabhail 'N A 'Chuain Damh leading into a visit to 1983's Magical Ring via Newgrange. After a fine D'Tigeas A Damhsa we got the last new piece - the brilliant, emotional Brave Enough. I sang along with every word! Back to the 70s for Two Sisters and the lovely Thios Fa'n Chosta from Magical Ring once again.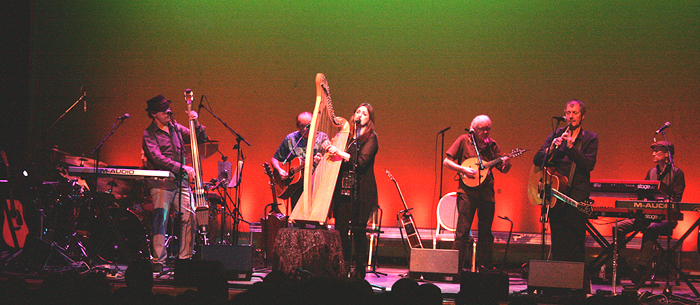 The 20 piece Chorus Angelicus And Gaudeamus joined the band for 2 numbers: I Will Find You (which many know from the film Last Of The Mohicans) and In A Lifetime. The chorus supported the band well without ever overwhelming it. A match made in heaven, or at least in Ridgefield! Before the show, I mentioned my desire to hear Robin (The Hooded Man) and was scoffed at! Well, lo and behold if it wasn't a part of a long Robin Hood Medley of numbers from Legend! Next was the song that brought the band to the attention of the world: Theme From Harry's Game. It was a mesmerizing tone poem. The big guns kept coming with Closer To Your Heart and Dulaman. Ged Lynch and Steve Turner had nice spotlights. Going back to Clannad 2 for the rousing Teidhir Abhaile Riu as the sole encore. A night I never wanted to end! The stuff of dreams...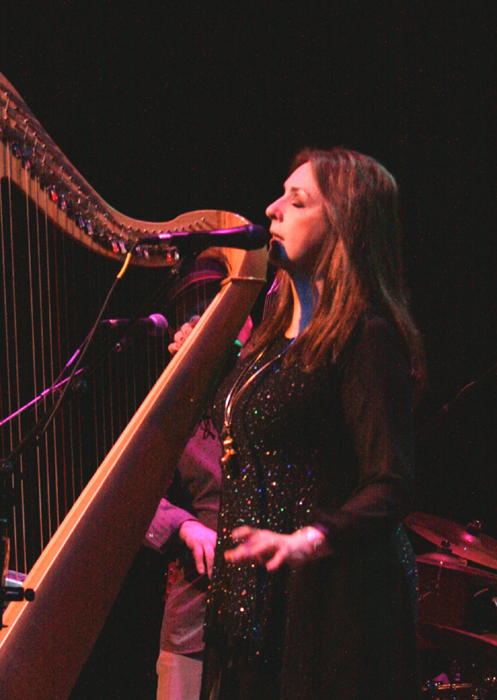 Report To Bass III - Toad's Place, New Haven, CT 1/4/14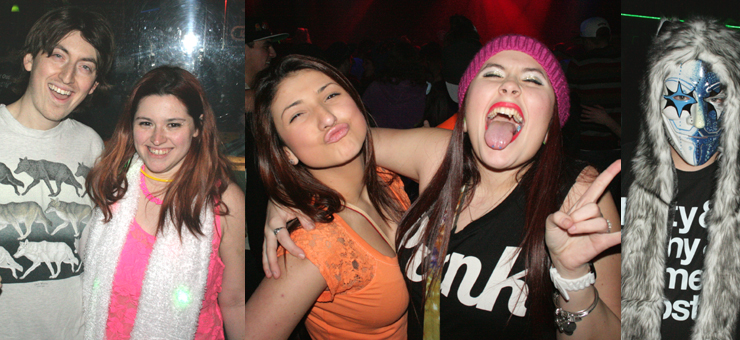 First show of the year. Bitter cold evening. Slippery roads. Snow banks everywhere. Once I got in the door, none of that mattered. Just like last week, lots of familiar faces, so hugs, handshakes, and pats on the back.




If there was a theme, it seemed to be that there were even more lovely women than usual. Not such a bad theme, really. The beats were strong and loud. I was especially taken with a group of DJs that called themselves Pillow Fight. They had a good sense of humor and did some very interesting things with their rhythms.




Equally fascinating stuff going on in the rain forest room. It seems to be the destination for the quirkier stuff. A perfect change of pace from the main room. A bit wiggier, a bit more psychedelic. Lots of amazing pants in the building. If last week was a fun farewell to 2013, this evening was an energetic burst into 2014. Both barrels blazing and bright!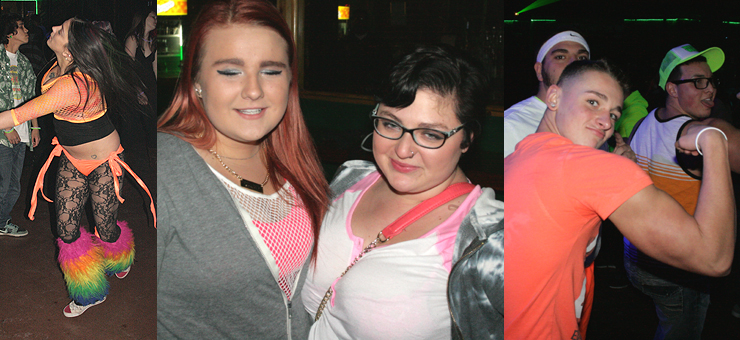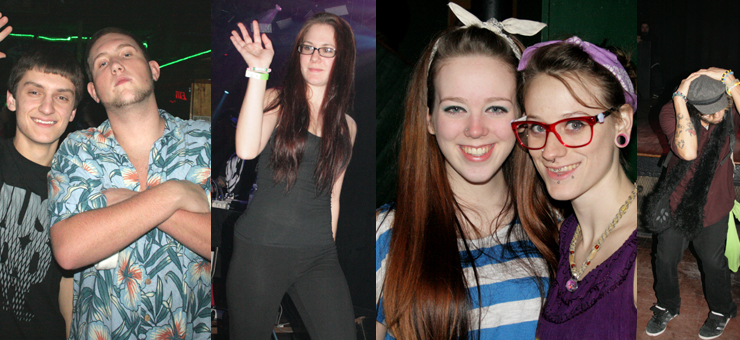 Table Of Contents
Contact