A Few Words With...Miss Connie Mitchell


Interview and photos by John A. Wilcox



One of the most hypnotic purveyors of electronic dance pop on the planet is Sneaky Sound System, a trio out of Sydney, Australia. Angus "Black Angus" McDonald, Daimon "MC Double D" Downey, and Miss Connie Mitchell are setting stages on fire all over the globe, including a growing presence in the US. Progsheet grabbed Miss Connie Mitchell for a few words about Sneaky Sound System, as well as her former bands Primary, and the outrageous Machine Gun Fellatio...




PS: Where were you born?

CM: Everywhere and nowhere on a ship at sea... Out of space... Australia, New Zealand, South Africa.

PS: Are you the first musician in your family, or do others play as well?

CM: My Mother was a singer in a South African singing troupe called Ipi Tombi. But my Grandfather and Father instilled my love of music through an extensive record collection. Big band versus 80's.

PS: When did you first realize you had a voice that went beyond singing in the shower or along with records?

CM: Ha! At the family Xmas show and at primary school, pretending to sing opera as a joke.

PS: Was there any particular event in your life that made you realize you'd like to sing professionally?

CM: Someone asked me to...

PS: How did the band Primary come together?

CM: Through the legendary Fonti Brothers Jamie and Sean. I was recruited in year 9 at school.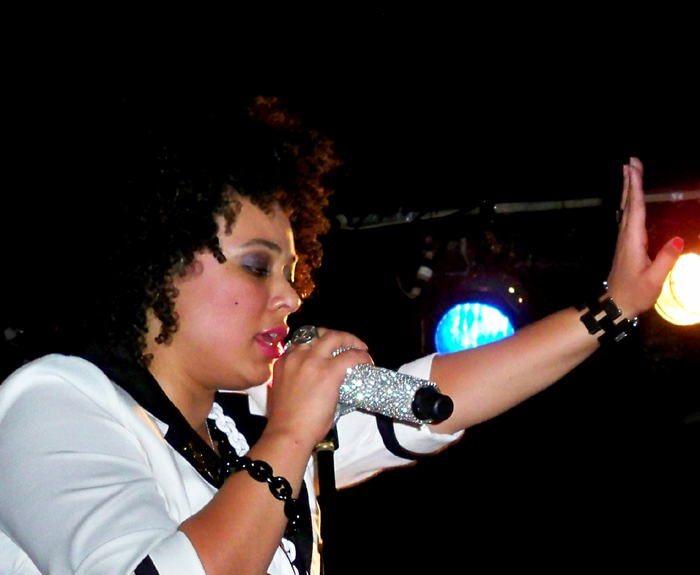 PS: Looking back, what do you feel was the greatest strength of that band?

CM: Well... A black girl singing in the style of the Cure, Nina Hagen, Siouxsie Sioux, and Depeche Mode. Which is what Bloc Party are now....

PS: Do you still play the violin?

CM: Of Course!!! Although only Jewish love themes - they soooo suit the violin.

PS: Between Primary and Sneaky Sound System you sang briefly with Machine Gun Fellatio - quite a quirky little band! How did you come to get that gig?

CM: I was recommended by an amazing string arranger called Daniel Denholm.

PS: Were they as wild offstage as they seemed to be onstage?

CM: Wilder! I was a lamb unslaughtered...

PS: What attracted you to the music Angus & Daimon were putting together that was to become the 1st Sneaky Sound System album?

CM: It was happy go lucky, but with a melancholy I knew I could bring out. Sort of a challenge, I think. Charming it was and is. Somberly uplifting charm.




PS: What do you feel the band are bringing to the table that other bands aren't?

CM: Somberly uplifting charm... With a guy called Daimon who has the most infectious crowd enticing jump! Unparalleled.

PS: I believe that Pictures was your first writing credit in the band. Tell me a bit of what the lyric's about, please?

CM: Ha! Well, the voyeuristic love of taking pictures and the old school format of viewing.

PS: Andthe story behind UFO?

CM: An Alien visit.....

PS: What was the inspiration for Kansas City?

CM: Can you believe a t-shirt I bought in a second hand store, which I've stupidly lost? That and an internet transcontinental relationship.

PS: When can we expect Sneaky Sound System to have product out here in the US?

CM: Extremely soon... Almost as we speak..




PS: With all the attention the band is getting worldwide I imagine you get pulled in many different directions. How do you maintain your balance & not get overwhelmed?

CM: Gosh... That's pretty easy for me. I have always been a recluse and never sought fame. The dilemma is actually leaving the house. I also watch Dune and Blade Runner at least 5 times a week. I also do a self-ego analysis once a fortnight.

PS: Is the writing underway yet for the 3rd album?

CM: Affirmative.

PS: How will it differ from the first two?

CM: Who knows? The genre we are in, it promotes constant change. That's the beauty of it. So, something on the pulse with happiness, longing..and a hotel room party taken in your car on a road trip...

PS: Please tell me 6 CDs you never get tired of listening to.

CM:
Simple Minds - Empires And Dance
Don Henley - Building The Perfect Beast
Jackson Browne - Lives In The Balance
Pretty In Pink - Soundtrack
Killing Joke - Night Time
Glenn Gould - Goldberg Variations for Keyboard
The Doobie Bros



###





Table Of Contents

Contact