Elizabeth Spraggins - A Journey From Jenson To Joy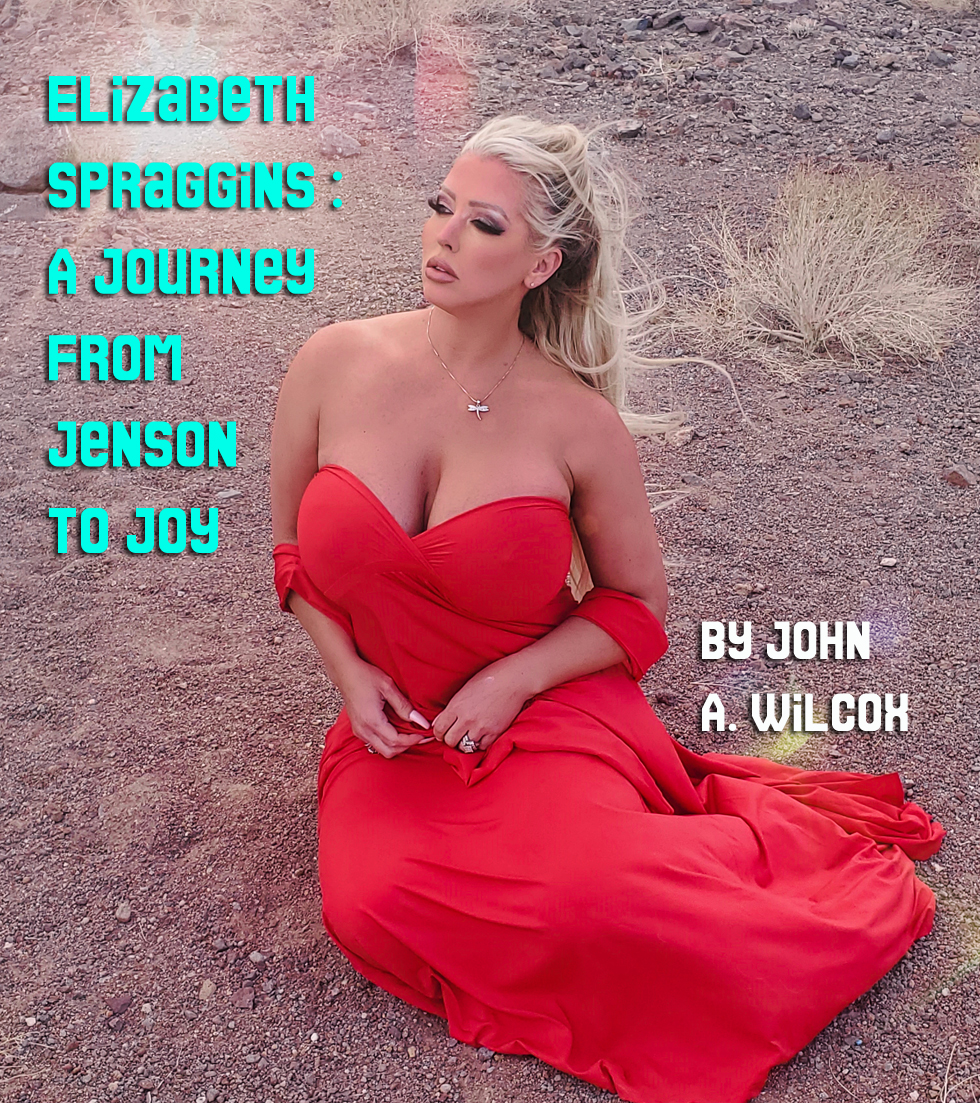 by John A. Wilcox


The name "Elizabeth Spraggins" may not ring a bell with you, but it's one well worth remembering. Spraggins burst upon the world as "Alura Jenson" in the adult industry and immediately made a name for herself with her beauty and drive. As the industry changed, she found herself needing to move on. Join us as we discuss that journey...


PS: Where were you born?

ES: I was born in a delightfully lit hospital room, in Philadelphia, Pennsylvania. Ironically, my mother went into labor with me on Memorial Day and I wasn't born until 26 hours later, on May 31st. Kind of a cool story to hear as a child, being told I was the vessel for a reborn spirit. I'm what's called an Irish twin to my older sister, born 11 months after she was.

PS: How did where you lived affect your life growing up?

ES: My father was a military man, all of the men in my family served at one point or another. My home included several different locations in South New Jersey and Philadelphia. Where I grew up taught me to become independent of crowds and the mob mentality, because I got to witness and experience so many varieties of personalities and customs. I learned to think for myself and not become influenced by my surroundings, because they changed frequently.

PS: Does creativity run in your family?

ES: From a very young age, I became aware of how creative my family members are. My father [may he rest in peace, passed away in 2017], was a master carpenter. When his time as a soldier came to a close, he worked in construction. He loved building houses, in particular. He raised me to see music, from the age of 2 I was taught to see music as a language, which I still do to this day. I can hear a sound and "see" the notes in colors or imagine how they're written on paper. My father was also a composer and instrumental genius, would often bring home instruments for me to learn, which I did with unusual ease. When I wasn't fiddling with musical instruments, I was writing music on sheet paper. I actually composed a symphony once, as a 9 year old. In between instrumental and music theory practice as a child, my father also taught me voice training. He had a powerful, booming voice that once trained troops, which he harnessed to sing. He then taught me the magic of opera. I then trained to sing soprano opera until I was 17. I still sing to this day, but enjoy doing karaoke.

When we weren't immersed in music or building things, my father taught me to draw. Using mostly charcoal, I learned the mechanics of art, seeing shapes in different images and recreating them. I still draw to this day and have a unique love for the artistic talent of others.

PS: When we're kids, our imagination tends to loom large. How did your imagination first manifest itself?

ES: Coming from such a creative family, combined with moving around often, I frequently had to amuse myself with imagination. I have memories going back to the age of 2, playing with the family dog, a German Shepherd. I would pretend to be taking him on patrols of the yard, after watching my dad in uniform. The dog was a good sport and played along. As I got older and was given more siblings, I would pretend to be their teacher or caretaker. Then, we'd gotten into theater and writing plays and operas. It was a hilarious sight to see. When we weren't consumed with music or singing, my sisters and I would be building things in the backyard. We built mini houses with leftover materials, often to the horror of our mother. We'd come in covered in paint and spackle from attempting drywall and faux insulation installs. We even dabbled in plumbing of these little club houses. My parents drew the line at electrical work and we had to settle for battery powered lights. On my own, as I was drawing and singing and building, I learned how to make my own clothes. I began doing this when I was about 10 years old and continued to learn how to customize and alter preowned pieces. I still do that to this day.

PS: What was the 1st thing you recall seeing / reading / or hearing that made you think "I would like to do that!"?

ES: As I was growing up, my mother attended nursing school. She would sometimes practice her clinicals at home. The first time I watched her stitch something, I was hooked. Academically, I dove straight into science. Chemistry, anatomy and physiology, microbiology. You name it, I was the most obscene book-nerd alive. All through middle school and high school, I was determined, driven to become a surgeon. The thought of doing surgery was an obsession. I quickly became first aid certified and would pay undivided attention to any medical training books I could find at my local library. I even had a copy of the Physicians Desk Reference, which I would actually read for fun. Super nerd stuff. At the age of 16, life told me my path would take a few turns and my future of becoming a surgeon would happen in my next lifetime. I became pregnant with my daughter, who I chose to keep and raise myself, against the horror of my parents. They knew how much I wanted to go to medical school and urged me to reconsider the pregnancy. I, however, heard a different voice in my heart. My faith told me that my child was a gift, and would be born for a reason. No, the path was not easy, but I have every confidence I made the right decision. She's now 28, married for seven years and has two children with her husband. Every day that I think about her and my grandchildren, I'm grateful I didn't choose to listen to my parents.




PS: What led you to get into the adult industry?

ES: My path into the adult industry is a soft and subtle story, but one I'm sure most can relate to. I was viciously bullied for being a goofy looking young person. Until the age of 15, I am not ashamed to report that I was pretty weird looking. My parts were just odd, had bad skin, really curly hair. I was just awkward. Because I grew up with a strange appearance, kids made fun of me and my social skills were hyper-independent and academically focused.

Yeah. I was the textbook definition of a nerd. Funny how that worked out. Hmm? One day, after a particularly awful month, I said f-it. I'm gonna do me. I'm going to be happy with myself, what I want, who I am. I got myself together and went to school and it was like a switch had flipped. After all my life of being treated like a pariah, I was instantly receiving unexpected attention and romantic interest, because I changed my appearance. Normally, that might make a woman a bitch, but it only made me dominant. I resented those mf-ers for being so brutally cruel to me, only to change their minds because I put on some makeup and fixed my hair? F-em, I decided. However, actually being an attractive woman bit me in the ass for the next 15 years. No matter how hard I worked, how smart I was, what I contributed, I was judged because I was beautiful. Some d-bag decided that beautiful meant stupid, even though I consistently proved otherwise. The only engagement I would get in my workplace was of sexual interests. It was genuinely demoralizing. I had gone from totally outcast (nerd) to distractingly attractive (femme fatale). Damned if you do and damned if you don't, I told myself. At least my sexual prowess was encouraging people to act a certain way.

Shortly before my 30th birthday, I was invited by a couple of dancers to audition for a gentleman's club. At this point, all attempts to establish a serious career elsewhere had fallen flat and married men couldn't keep their jocks to themselves. So, I said "Why not?" I was hired on the spot and continued to become prolific at that establishment, so much that they put my image on the ATM machine. (I still laugh about that to this day. My husband, when his groomsmen took him there for his bachelor party, saw my photo still on the ATM there, years after I left to do movies full-time.) A couple of years into my experience as a dancer, I was discovered by a legit adult modeling agency, OC Modeling. I immediately signed with them and the rest is history.

PS: Was it what you expected, or were there any surprises?

ES: The adult industry is all-encompassing, an umbrella that includes dancing, escorting, camming, acting (movies) and photo-modeling. I did every one of those. Surprises? Not immediately, no. For the first few years, I loved every second of what I was doing. The work itself was an absolute delight, the fans, the money, the freedom of it all. Loved every second of it. Then, society began shifting its interest of traditional XXX to more taboo (I hate that word) genres. At first, there were only one or two of those scripts coming across my desk a year, the softer insinuated faux-inc3st roles. Then, there were more of them. I complained each time. Each time, I was told I wasn't hurting anyone, not to take it seriously. Finally, the scripts I was receiving were directfamily relationships, some of clearly-indicated p3dop - you know the rest of that word. Yes, those kinds of scripts. From big companies. It was disgusting and it rotted my soul. What surprised me was the demand for pe 6o r8pe stuff. That broke my heart, that people were demanding it be made and happily paying for it. I began to look for a way out at that point.

PS: What do you feel you added to that world that is unique to you?

ES: I brought to the table a genuine love for sex, sexuality, and experiencing what it had to offer. Many women, when they get into adult industry work, do it for the money. You can always tell who they are. They are boring on camera and usually have addiction issues. That wasn't the case for me. I brought my inner powerhouse to the set, every single time I was on camera or on location for a function. It was mesmerizing to me, until the p3do shit ruined it all.

PS: What did you learn about yourself because of it?

ES: I learned that I'm not willing to sell my soul to make a living and that I was worthy of being saved. So many have reached out to me since I left to express their support and to tell me they're afraid of leaving the money, that they hate it, too. I coach some of them, confidentially. You'll be seeing more make their tactical departure in the future. Seriously, that's what I learned about myself - I am outrageously intelligent, compassionate, and capable of success no matter what I do. I learned that sex work is, indeed, easy money and it's big money, but it now comes at the cost of hurting the next generation. I refuse to be a part of that when I meet my maker.

PS: What is the story behind choosing your adult name?

ES: The story behind the name, Alura Jenson, is a hoot. I was on my way to my very first XXX shoot and I realized I forgot to pick out a name. I was about three miles from the studio when the car passed a high rise condo building, the Allure. Boom. There you go. A star was born.




PS: As you transition forward, you still have an Alura site & Onlyfans. I assume that content is 100% under your control.

ES: Yes, I do have both. My website and my OnlyFans are still operating and will stay open for several more months. When I walked away from performing, it was for a few reasons -

*Serious safety concerns about the testing procedures.

*Lack of confidence in the testing authorities.

*Disgust with the family-oriented and pseudo-underage trend.

*Rediscovery of my faith.

I stopped performing with all other people and continue to do solo work. For the hardcore entertainment, I've been redistributing legacy content to keep fans content. If you look at most of the new posts, the photos have all been shared before. Most don't care, just enjoy the pictures. With this semi-acceptable compromise, my corporate overhead is paid and people can keep their jobs, until my new venture generates my previous level of high revenue. I've still got people working for me. It's not fair to them to uproot their lives because I decided to retire.

PS: Tell me where All Joy Inspired came from initially.

ES: When I took the leap to quit performing, it was because I had a spiritual calling. I had faith that everything was going to be okay, that I could do the right thing and leave what made me sick to my soul. The fake underage scenes and the family scenes have gotten so out of control that I was becoming physically affected by the stress of it. I know for a fact that I'm not the only one who feels this way about it, but many do not know what their options are. They think they're stuck in the business, doing these vile scenes, because their lives are ruined by doing porn.

I created a new business, a life coaching business, that specializes in teaching sex workers how to create and nurture businesses outside of the adult industry. I know that many feel ashamed of what they're doing on camera. I know many self-medicate to numb themselves. With enough time, I strive to inspire these people to see they don't have to do these scenes, these productions. They have the skills and the audience to create a new life. One they can be proud of, one that inspires them.

PS: What is it you are trying to accomplish with AJI.

ES: AJI is on a mission to change the world, one heart at a time. By mentoring and coaching adult industry workers, my mission is to enrich the lives of those who feel stuck in the work. The adult industry has gone over the edge and is directly contributing to the normalization of sexualizing children, and to provide a platform for normalizing pedophilia. I absolutely refuse to be a part of it and AJI provides others a way out. The transition takes time and patience, I highly encourage others to begin preparing their new life 6 months to 2 years before actually leaving the work.




PS: What are you gaining from this new direction in your life?

ES: This is perhaps the most beautiful part of this experience. What I've gained so far is a sense of pride and decency. I am actually helping people change their lives, instead of contributing to the decay of society. I have a sense of purpose and feel as if I'm on the right side of the battle going on at the moment. I believe, wholeheartedly, that society is pushing to make pedophilia an acceptable norm. I plan on rescuing as many adult industry members as possible from the Hell that awaits them in the afterlife. They still have time to choose a different path. They do have options. I honestly feel as if I'm committing a greater good with my work.

PS: Is AJI sex worker specific, or is it for all walks of life?

ES: All Joy Inspired is not sex worker specific, although it specializes in transformation coaching for sex workers. We're unique from other coaching services because we have this ability. Most of our clients are not sex workers, they're the average man and woman looking to make some changes or looking to work through a problem they're having. AJI was created to provide very understanding service to those who wouldn't feel comfortable talking to other professionals. This includes newly released from incarceration, sex workers, the unemployed, newly sober, spiritual relationship seekers, new parents, caretakers...basically everyone.

Coaching is a service that helps people untangle a problem they're having by creating an effective action plan to reach goals. Throughout the process, benchmarks are monitored and adjusted, the client receives information and resources (if appropriate) to get to the end of their journey. Part of hiring a coach involves expressing one's deepest concerns and challenges, in order to conquer roadblocks preventing success. We honor every one of our clients with complete confidentiality.

PS: Do you still keep in touch with your musical side?

ES: Life has a way of transforming the unexpected. I love music, feel the connection to it most don't. In fact, to this day, I still ::see:: sound. Throughout my lifetime, I've learned to harness the physical reactions music offers and listen to it as a form of therapy. If I'm feeling unmotivated or particularly challenged, I'll choose a playlist which resolves those feelings. On the other side of that, I love to sing karaoke. My husband and I go every Saturday night. We have so much fun!

PS: Do you have any other creative aspirations?

ES: I pour almost all of my energy into my businesses, utilize my creativity for their stability and growth. This can be via content creation for advertising or teaching. I spent three years learning how to do sound engineering, video and image editing, and production skills. These originally were learned for a very different purpose and I've found that these skills have beautifully transitioned into my new profession. At the moment, I'm writing a professional course for students to take, if active life coaching isn't for them. They can simply take the course and complete transformation on their own!

PS: Please tell me 6 albums you never tire of listening to.

ES: Ha! This is a trap. I love music...lol. I can't, for the life of me, name six, but I'll try.

Jon Bon Jovi - Slippery When Wet, Blaze of Glory.

Metallica - every single album they've ever made.

Whitney Houston - everything she ever released.

Disturbed, Korn, Live, Boyz II Men...there are too many to single out six!

Check out Elizabeth Spraggins' sites here :

elizabethspraggins.com

alljoyinspired.com


###
All photos are copyright their respective owners.
Table Of Contents
Contact