A Few Words With...Fluff


Interview by John A. Wilcox



The Incredible String Band, Waking The Witch, and Nick Harper all love Fluff! Fluff is a fiddler / multi instrumentalist extraordinaire who's lent her bow to those artists and many others. A spectacular, expressive player, the lovely Fluff put down her violin long enough to spend some quality time with Progsheet. Sit back and enjoy the read...




PS: Where were you born & raised as a child?

F: I'm a Northampton girl born and bred. Northampton, Northamptonshire, England that is.

PS: Did that area have any influence on you becoming a musician?

F: Definitely - firstly my three older siblings all played and we all ended up becoming products of the Northampton Music School. We were all very lucky to have had a great music education system in Northamptonshire. We all played for the County Youth Orchestra or Concert Band for several years and had a great time going on tour etc. I spent all day Saturday between age 9 and 18 at the Music School making music and quite a few evenings in the week having lessons or playing in ensembles. At that time our county had one of the best youth orchestras in the country and I got to play at the Royal Albert Hall and other great places. Secondly I was lucky in knowing some folk musicians and in being taken to folk festivals by them and also playing Ceilidhs with them.

PS: Who was the first performer or band you saw live?

F: I'm not sure if it was the Prince of Wales Rattlers or the Doonan Family Band, that's apart from Classical Orchestral stuff.

PS: What was the first album you recall buying?

F: Tricky, but I think it was The Cure's Boys Don't Cry on vinyl which I still have!

PS: Although you play many instruments, you are primarily known as a violinist. What first attracted you to the violin?

F: My eldest brother played it, and then when I was 7 a family friend gave me a small violin which I seemed to take to and that was it really. I'd actually wanted to play the oboe or the French horn originally but I'm glad now I didn't as they are two of the hardest orchestral instruments to play, and the fiddle is such a versatile thing - you can be playing Latin American music on it one moment and a Bach partitia the next. There's not many instruments as widely used across the globe as a fiddle, or that each culture has used in it's own unique way. Traditional Indian fiddle and Hardinger fiddle musics are about as far apart as you can get in sonic and harmonic terms and all originally from the same basic instrument.

PS: What training, if any, have you had?

F: I already mentioned the Music School - I got a scholarship there and got my Grade VIII violin and Grade VI piano. The best education there was playing for the county's Youth Chamber Orchestra - learning those ensemble skills has helped with everyone I've ever played with. I went to Keele Uni to study music and English but decided that joining Tower Struck Down was a better option, which I've never regretted, so I never completed my degree course. I do have a Certificate of Teaching from the Associated Board of the Royal Schools of Music (CT ABRSM).

PS: What instrument do you find most difficult to play?

F: The piano I think, mostly because I don't practise much and I still hate reading two lines at once! It doesn't come naturally to me at all. I'm not too hot on the guitar (six strings:four fingers. Who thought that was a good idea?) But I do have a Gibson 1964 tenor guitar which I enjoy playing as it's tuned in fifths and that just makes loads more sense to me.

PS: How old were you when you played your first paying gig & where was it?

F: My first payed gigs were Ceilidh band gigs so it was probably at someone's wedding or function. I was 14. The band was called Katscratch and I was usually second choice fiddler and got to play if Guy Fletcher (Little Johnny England) wasn't available!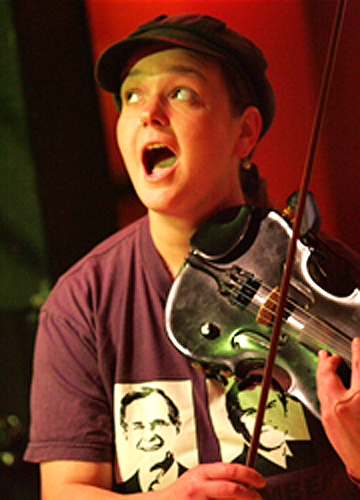 PS: How did you acquire the nickname "Fluff"?

F: I guess this question had to happen. OK here goes.... when I was around 16/17 I was very nearly a goth. I never bothered with the white out make up or went to any major extremes but I did do the whole back combed hair thing and could be easily mistaken for Robert Smith. I was working collecting glasses in The Racehorse pub in Northampton at the time and my friends there started to call me Tufty. This was apparently a bit tricky for them to cope with after several (ok then, quite a few) drinks and so the name evolved into Fluffy or Fluff as this seemingly tripped off the tongue more easily. For some reason it just stuck, and I actually prefer it to the rather bland name I was given. And no, you don't get to know what that was. I have to retain a sense of mystery somehow ;)

PS: How did you first become involved with Tower Struck Down?

F: Again it was while I was working at The Racehorse. They played there one night and I remember dancing and thinking it was great. We ended up having late drinks with them and had a good laugh. A year or so later, while I was at Keele Uni, my friend Chris rang me to say they'd been back to play again but that they were after a new fiddle player and they'd remembered I played so they'd asked him. We got in contact, I had an audition of sorts, and that was that.

PS: Cal seems to be quite a character onstage. Is he equally...colorful offstage?

F: That would have to be a yes.

PS: Any chance of a 2nd Tower Struck Down CD?

F: Who knows... stranger things have happenned at sea?!

PS: Here in the States we hear stories of how incredible Fairport's Cropredy Festival is. What was your experience there like?

F: Tower Struck Down opened Cropredy in 1994. It was loads of fun and we really went for it. Playing to 20,000 people is always a blast but we just decided to put on a fast and furious fun show. I won't ever forget that one. So it was great to be invited by Nick Harper to play a couple of numbers with him there in 2004. The festival itself is fantastic. The atmosphere is absolutely unique and is probably the friendliest festival of them all. I go every year anyway if I'm playing or not. This year was great (we even had great weather!) Richard Thompson, the early line up doing Liege and Lief and 25,000 people in a field singing Meet on the Ledge - that was a moment! Don't get me started on the chairs though....

PS: How did you get the gig playing with the Incredible String Band?

F: It was really through knowing Tony Pugh who was the band's sound engineer. He suggested me, when Robin Williamson decided he didn't want to continue, as someone who could play a few things and sing. So I got a phone call asking if I'd like to join the Incredible String Band. I thought about it for about a millisecond before saying yes.




PS: Were you familiar with any of the material beforehand?

F: Some of it yes. In fact I'd tried to book them for a festival I was running a few years before but at that time they were beyond our budget.

PS: What did you enjoy most about playing with them?

F: Exploring the material and then being allowed to interpret it my way and/or improvise around it. I really enjoyed doing Water Song as this bears very little resemblance to the original and yet the ISB fans seemed to love it. Singing Cosmic Boy was also fun although I'll never have a voice like Licky's. Cellular was always fun to do - a top moment was when we came off stage at the Festival Hall and Acid Mothers Temple/Gong members were all jumping up and down and singing the 'May The Long Time Sun...' mantra section back to us with silly grins on their faces! Obviously working with bona fide musicians from when it all happened was an honour - especially with me being more than 30 years their junior.

PS: Jigs & reels have been around for centuries. What about them appeals to you?

F: They're part of who I am, my culture, my country, these islands and traditions. Just because something is old doesn't make it bad or not worthy of maintainance. We have a responsibility to keep our folk traditions in place as much as we do being creative and experimental. The two are not mutually exclusive. In fact fantastic results often occur when the two are combined. But I only consider them one small part of what I do. I probably enjoy a good slow air more.

PS: You are part of a new trio. Who's in it with you, and what sort of music is the trio playing?

F: The trio consists of myself, Darren Poyzer and Kevin Farrell. It's kind of embryonic right now but we'll be using two acoustic guitars, some fiddle, probably some cello, maybe mandolin and some nice effects and e-bows and things. Songs with a bit of social comment.

PS: You've guested with interesting players like Waking The Witch & Nick Harper, among others. Anyone currently out there that you'd fancy playing with but haven't yet?

F: Yeah - I managed to book John Butler for my festival a few years ago for a ridiculously small fee. He was solo then and hardly anyone had heard of him. I think he's brilliant and would love to play with him sometime. Robert Plant would be another one but I don't know that he'd have a girl in the band, some people are funny like that ;)

PS: Any desire to play here in the US?

F: Yeah - I love to travel and I've never been across the pond. I was disappointed not to have been able to play in the US with ISB in 2004. But the management of the time decided in it's wisdon that leaving half the band at home and taking along non-essential personnel (like itself) was the way to run a tour. I also wanted to play the Iron Horse, Northampton, Massachusetts mostly as some sort of twinning excercise or cultural exchange. Hey maybe it'll happen....?

PS: Please tell me 6 CDs you never tire of listening to.

F:
Nick Harper - Blood Songs
Magnetic Fields - 69 love songs
New Model Army - The Ghost of Cain
Rufus Wainwright - Want One
The Cure - Kiss Me Kiss Me Kiss Me
Edward II - Zest.



###







Table Of Contents

Contact