Robert Fripp And David Singleton Visit Ridgefield!


by John A. Wilcox




If you mostly listen to mainstream popular music, the names Robert Fripp and David Singleton may not immediately ring any bells. If I say David Bowie, Peter Gabriel, and the Talking Heads I can already see you nodding in recognition. Robert Fripp has played with all of those artists and many more. Since the late 1960s he has also been the driving force behind King Crimson. David Singleton wears many hats as well, including managing King Crimson.

Fripp and Singleton are bringing decades of experience and knowledge with them to the stage on the Ridgefield Playhouse to...talk. I asked David Singleton how this came to be. I began giving talks before the King Crimson concerts. We used to sell special access tickets to the King Crimson concerts. One of the things people got before the show is I would come out and I would give them insider information of what was going on. Show them how we did the archives, talk to them about the production process. I began to do that and to begin with Robert didn't do it at all because he found it very difficult to talk before the show. He found it distracted him for his build-up for the concert that was coming that evening. Gradually as we did a few more of these Robert did start coming out. not for a long time - maybe for 10 minutes at the beginning. Originally just to say "Hello. Welcome. Here's David." Gradually his "Hello. Welcome" became longer and longer and more interesting. Both of us found it frustrating that those conversations with the audience within that framework we didn't have time to take them where they logically wanted to go.

Because King Crimson is not touring this year we thought well why don't we take that more seriously and the 2 of us will go out and do just the talking so the talking can go exactly wherever it wants to go. That seed grew into a series of special events.




Once you walk through the doors, do Fripp and Singleton have a pre-planned set of talking points? The basic one is that Robert and I know that for a couple of hours we have things that will interest people and people can ask questions and we're both very comfortable talking about the archives. Robert is probably one of the best speakers about music and where music comes from and why music matters and how it happens that I've ever listened to. There's the professional bottom line that we know that we can deliver an informative exciting evening even if nothing else happens.

On the other hand the more exciting thing is : We don't know what's going to happen. It's a creative leap and actually I'm hoping that this event will be completely transformative both for me and for Robert and hopefully for many of the people who attend. I'm excited to talk to creative people who I suspect will be the people who come to this - about bridging the gap. How we all do it. I think the fact that we all have to learn that it is something you have to live with and you have to do, otherwise you'll never produce anything. Singleton is talking about bridging the gap between the initial idea and the actual finished work. At least I believe that is his intent!




In addition to Fripp and Singleton on stage, the audience can expect additional treats! Before we come out I'm gonna show 25 minutes of exclusive backstage footage on King Crimson. When we finish, the band did a special live to camera recording in 2019 that no one's ever seen and I have interesting snapshots of the archives that people tend to ask about. How do we actually come about producing the songs from the archives. So there are bits I've got that I suspect will get used but I think it's most exciting when you allow them to go where they want to go. The evening promises to be a treasure trove for King Crimson fans, but it is much more than that. It is your opportunity to ask 2 industry pros anything you want to know about any and every aspect of the music business. If you are a musician this is truly invaluable. If you're not, you'll be no less entertained by compelling tales of the music world! Bring your burning questions and an open mind!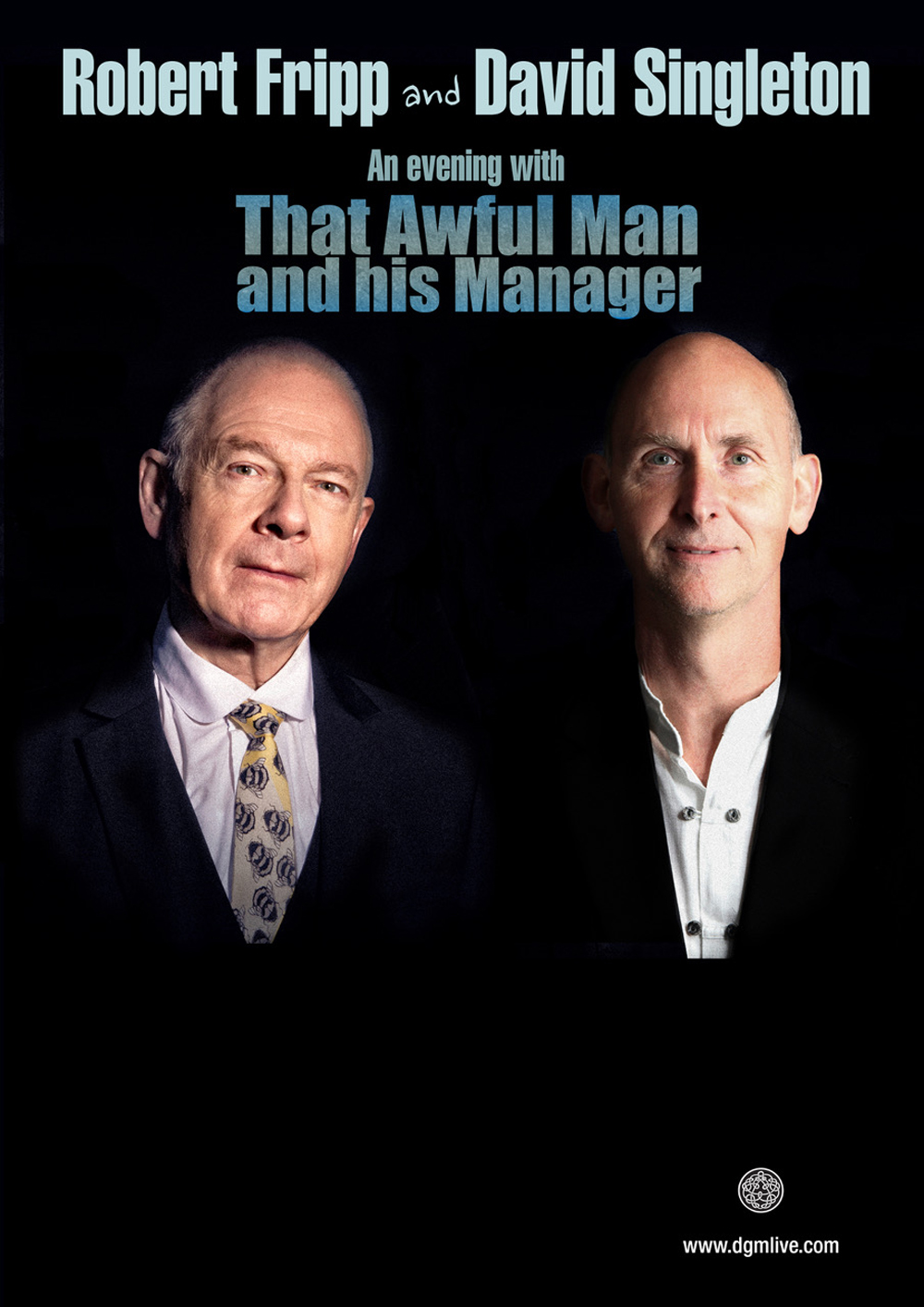 Robert Fripp & David Singleton - An Evening With That Awful Man And His Manager
Wednesday, September 21, 7:30 PM
The Ridgefield Playhouse
80 East Ridge
Ridgefield, CT 06877
203-438-5795
www.ridgefieldplayhouse.org
###
All photos are copyright their respective owners.


Table Of Contents
Contact