A Few Words With...John Lodge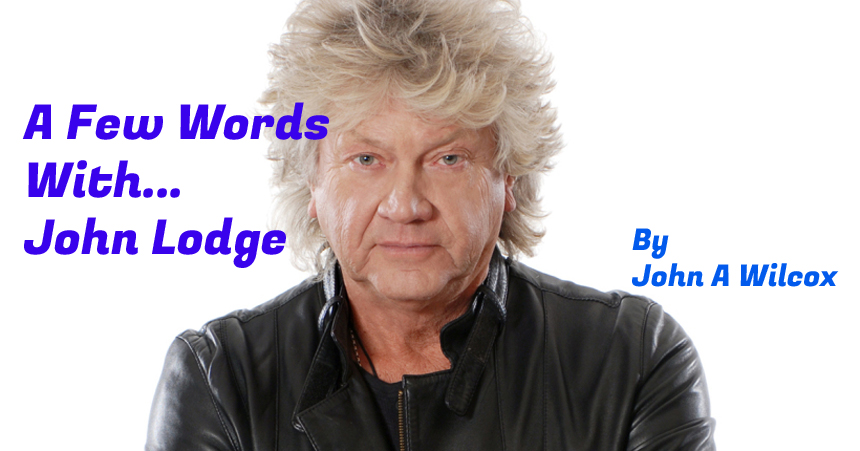 by John A. Wilcox

If there is a band that most every human loves, it's the Moody Blues. Epic melodic songs. Timeless. I recently had a lovely chat with Moodies bassist/composer John Lodge who has hit the road to keep the legacy alive...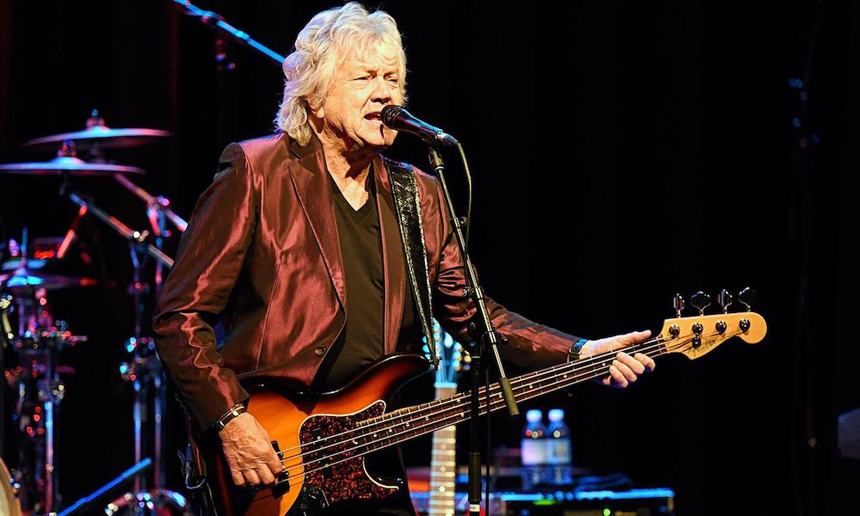 PS: What will this upcoming tour focus on?

JL: It's going to focus on keeping the Moody Blues' music alive. I'm a Moody Blue. Always have been a Moody Blue. I spent my whole life writing and recording with the Moody Blues. The Moody Blues are not touring now. It's just been such a part of me. I'm just trying to keep it going. To keep playing. All those hours of working at it, working out those parts on my bass, on my guitar, or vocally, or whatever. I just want to keep sharing that with everyone. I think it's important for the fans of the Moody Blues and it's important to me because that's who I am.

PS: What do you feel keeps bringing in new generations of listeners to the live shows?

JL: I would hope that when they come to see us it's the instrumentation of the band onstage. It's really important, I think, that you play your songs on stage and sing live to people so they can get the integrity of what you were doing in the studio maybe 50 years ago. So many people, from my point of view, fall into the trap of being a cover band of their own material sometimes. They just play it without any integrity. When I go on stage every night I want to perform those songs the best I've ever performed them. That's my goal every night. I'm not saying I do; I'm not saying I don't, but that's the goal. That's what I'm trying to do every night. I think that an audience realize that. Because if you're a budding musician, you've got to have peers. When I was growing up, a person that turned me on completely was Buddy Holly. When I listened to all the integrity of Buddy Holly music - it's such a wide spectrum of music - from rock 'n' roll to the greatest ballads of all. If you understand that and try and understand what that person was doing, I think that if you're a budding musician you've got to understand that it's not just about 1 thing, it's about the whole horizon of music. I think that's what the Moody Blues are. We don't particularly capture ballads. We don't particularly capture rock 'n' roll. We don't particularly capture the spoken word. We don't particularly capture instrumentals. I hope we capture all of that. It's what I hope.




PS: The Moody Blues have always been an experimental band.

JL: I think every album we tried something new. Every time. When we recorded Days Of Future Passed, which was our first album, the was done on a 4 track machine. We had 2 4 track machines, but basically it was done on a 4 track machine. So we were experimenting as well. How we could add instrumentation. How we could add vocals. On 4 tracks. It was really interesting. We would from 4 tracks, and we'd mix those 4 to 2, transfer those from the 4 track machine. Mix the 2 tracks over. Then we'd record on those 2 tracks and mix those 4 tracks back to 2. We experimented all the while. Then when we came to record the next album - In Search Of The Lost Chord - we said Let's not use any orchestra at all, we'll play everything ourselves. And if we don't know how to play, we'll go buy a book and learn. I think that's the way it went with all of our albums. I remember with To Our Children's Children's Children we were very into space. It was the same time as the moon landing and we wanted a rocketship sound. We got in touch with NASA who sent us their rocket sounds and they were all like a damp squid. So we set about making our own rocket sound. We actually dropped a piano off a roof. When it hit the ground we recorded that. That was the basis of the sound of a rocket going off. We added other things to it. I remember we sent back to NASA and said We think that's what a rocket sounds like!

We were doing that all the while, you know. I remember there's a poem I Think I Am, Therefore I Am (from In The Beginning). And if you listen to it you can hear all these sounds going on. We used this huge ashtray and we got everybody's watch and put them all in there so it was all ticking away and echo-y and we recorded that. We experimented all the while with different things. It was always Why not? Let's try this. I'm sure this will work! I remember on the first 2 albums I played cello on a few of the songs. I didn't realize that you don't tune the cello like a bass, you tune it in fifths. It was only after 3 albums that I learned I'd been tuning it the wrong way. It worked for me. Why not? We experimented all the while with everything.

PS: What bass or basses were you using on all of those recordings?

JL: I bought my Precision bass in 1960. My first Precision bass. I recorded nearly every Moody Blues song with that. The only album I didn't record with it was Long Distance Voyager. I used an American bass on that. But during the album I went back to my Precision bass. The reason was that electronics turned up in the early 80s. Electronics on bass so you could get the signal direct from the pickups electronically as against just a regular passive pickup. Just after that I had a Jazz bass made - a 1960s replica made for recording because it had active pickups on it. I'm not saying it's a better sound because I love the sound of an original Precision bass. But with the Precision bass you need room to let that bass breathe on the recording.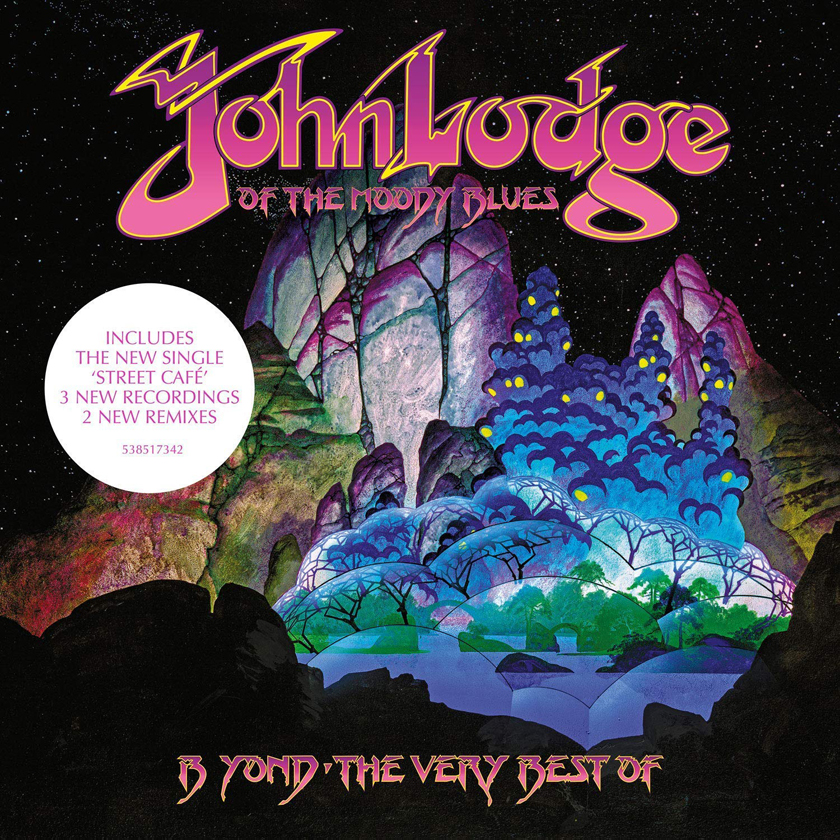 PS: In the Autumn of 2019, you put out a new collection: B Yond. What was the thought behind it?

JL: On the road I had recorded an album called 10,000 Light Years. It was all new songs. I actually realized that the Moody Blues were not going to be touring anymore and I thought If I'm going to go out on the road, I really want to let people know who I am. Try to bring a new generation up to speed on John Lodge and the Moody Blues. I thought the way to do this is to go back in the studio and record everything in 180 gram for vinyl housed in what I believe is a beautiful sleeve and release it as 180 gram vinyl. So I decided on some deep cuts that people may not have heard from the Moody Blues - not singles. Songs that had been buried on the albums over the years. One of them was (Evening) Time To Get Away from Days Of Future Passed. On the original album I didn't get a writing credit there. It wasn't even mentioned. (Evening) Time To Get Away is the song title. It was just called The Afternoon. So I looked at all of that and thought How can I bring people up to speed? There was a song of mine released in a movie last year called Private Life and the movie was quite successful. It was a song of mine called Say You Love Me from my album Natural Avenue. I think that's what got me excited. It'd be great to go back to the original 24 track and remix all that for 2020, basically. That's what I did. I went and found the original track and remixed it. It's just a case of bringing people up to speed. It all just seemed to come together for me.

PS: It has a gorgeous cover by Roger Dean. How did you two first meet?

JL: I knew Roger, of course, from his work with Yes in the Seventies. Then I met Roger in about '73 / '74. Then when I made my album Natural Avenue he was the person I wanted to do the artwork. So I asked Roger to do that. Over the years he's done a lot of artwork for me. When I recorded B Yond he was the first person I thought of. I went to his art gallery in the south of England. I wrote the name on a napkin and I said Roger, this is the name of my new album. Read what it's called. Read how I spelled it. I'd love it if you'd do the artwork for me. He agreed. I was so proud of the artwork. When you get the vinyl and you open it up it's just the artwork with no writing. If you wanted to, you could frame the gatefold yourself.

PS: Tell me a bit about Ray Thomas.

JL: Ray always had a huge smile. He always made you feel good; always cheered you up. He was just a gentle person. A really really nice guy. I met Ray when I was 14 or 15. We became great friends. I met him on a bus and I said to him Aren't you the guy that sings in the youth club? He said Yes, I'm Ray Thomas. I said Well, I'm Johnny Lodge. Shall we form a band? And we did.We formed a band called El Riot and the Rebels, and Ray was El Riot. We were a couple of kids going around and having a great time. I taught Ray how to drive. I was with him when he selected his first car. I actually drove him back from the car showroom because he didn't have a license. We spent many hours driving down the road. I don't know whether I taught him very well. I think he eventually went to a driving school!

Ray had a fantastic voice. Really melodic. When he wrote a song, he would sing the tune. He didn't know chord structures. He wasn't interested really in chord structures, but he would sing the tune and you could always work out what the chords were. He also played great flute.




PS: Who came up with the drum opening build up on I'm Just A Singer (In A Rock And Roll Band)?

JL: We were in the studio and it just happened. We were trying to build up the excitement of being on stage. Seventh Sojourn was an album that nearly every song on that album we could do on stage. The couple of albums before - they were just studio albums. The songs were more difficult to do on stage. But when we came to do Seventh Sojourn, we were on the road in America on-and-off for like 4 years non-stop. We'd become really exciting, from my point of view, a really exciting rock and roll band as well as the Nights In White Satin band. Even Nights In White Satin is rock and roll. It may be a ballad but it's got energy. Huge energy. I think that's what we tried to capture in the studio. It could have been Tony Clarke, our producer, or it could have been Graeme (does opening drum beat to I'm Just A Singer (In A Rock And Roll Band)). I don't know. It was exactly right.

PS: How was Graeme Edge to work with in the studio?

JL: He was great. I used to watch Graeme. Graeme was older than me. Graham still is. He's a good friend. He'll be coming out to a couple of my concerts when I'm on the road. I used to watch Graeme and his bass drum. He was really good. When I was 15 he used to play in another band and he was 17 or 18 and I used to look at his bass drum. I always wanted to make sure that Graeme's bass drum and snare were right behind me when I was on stage. Really important. Over the years I seemed to know where he was going to go drumming-wise. It seemed to work for my bass. If I knew where he was going on a particular song I could follow him on the bass. A bass man and drummer have got to be totally in sync. Especially for me as I sing as well, you know. I can't miss a beat because either the bass will go wrong or the vocal will go wrong so the drums and the bass have got to be rock solid.



John Lodge Live

Fri, Feb 28: Savannah Center - The Villages, FL

Sat, Feb 29: City Winery - Atlanta, GA

Sun, Mar 1: City Winery - Atlanta, GA

Tue, Mar 3: Rams Head On Stage - Annapolis, MD

Wed, Mar 4: Infinity Hall - Hartford, CT

Fri, Mar 6: The Warehouse at FTC - Fairfield, CT

Sat, Mar 7: Suffolk Theater - Riverhead, NY

Sun, Mar 8: Isaac Harris Cary Memorial Building - Lexington, MA


###
All photos are copyright their respective owners.
Table Of Contents
Contact