Miss Connecticut USA 2015


Words and photos by John A. Wilcox






I was rooting around online when I came across the Miss Connecticut USA & Miss Connecticut Teen USA pageants. In downtown Stamford no less. Hey! That's less than 30 minutes from me! I decided to contact the pageant folks and they generously passed me in to the show. It was to be a 2 day event. I couldn't wait!




DAY 1: I arrived early at the spacious Marriott hotel and spa in Stamford on Tresser Blvd. Quite an impressive hotel with huge comfy chairs in the lobby and a very polite staff. I grabbed my badge, checked out the venue sight lines, then went to relax in the lobby. It was there that I ran into the beautiful Charnelle Devai Beasley, a 25 year old contestant from New London. I snapped a few photos and chatted with her briefly. I was impressed by how courteous she was. As I sat back down, I watched her play with 2 very young members of her family. You could see the love. I was impressed. It was no surprise the next day that she was voted Miss Congeniality. Well deserved! I went back to the venue about 20 minutes before the 8 PM start.




Saturday was swimsuit competition for all Miss Connecticut Teen USA contestants, then Miss Connecticut USA contestants. After that was evening gown competition for both. The proceedings were hosted by the very genial master of ceremonies Randy Sanders. He had a great rapport with the girls and kept things moving along at a breezy pace. The judges were Mekayla Diehl, Louis A. Guarino, jr, Eddie Henry, Beth Parent, and Georgios Zervos. Everything clocked in just shy of 2 hours, so we were all out the door by 10 PM.




DAY 2: Sunday was an earlier affair. 2 PM start. Once more relaxing in the lobby, I had an insightful conversation with Jeff Cohen of MMG - 1 of the sponsors of the event. Cohen represents many pageant winners and models. With his savvy and easy manner, I could see why! Talks with young Mary Malloy - Miss Rhode Island Teen USA and her charming Mom, Dazzle Boutique's Laurye Natale and her gorgeous daughter Leanna (Miss Petite America of 2013), beautiful Miss Teen contestant Jada Horn, and other contestants and their families made the time fly.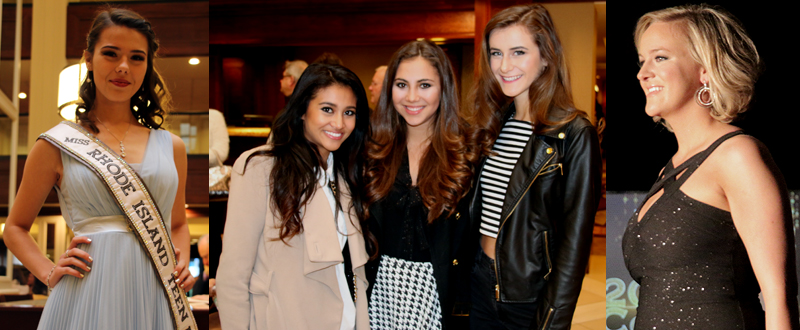 It was elimination time, bringing the girls down to 2 sets of 10. Many lovely women like Tanya Rose Lane, Jada Horn, and Charnelle Devai Beasley were eliminated, yet surely no less gorgeous than those selected. Next were swimsuits once more, then evening gowns of those selected.




After the break, each group of 10 was pared down to 5. This led to interviews, where we learned a bit about each contestant. Shortly thereafter it was that moment. Miss Connecticut Teen USA 2014 Sydney West relinquished her crown to Middletown's own Savannah Giammarco. Next up Miss Connecticut USA 2014 Desiree Perez crowned Ashley Golebiewski of Berlin as Miss Connecticut USA 2015. After crying and flowers, the show drew to a close. I met many wonderful people. I saw no losers, only young women stepping into their dreams and creating fond memories. A fine event!


###
Table Of Contents
Contact