A Few Words With...Derek Sherinian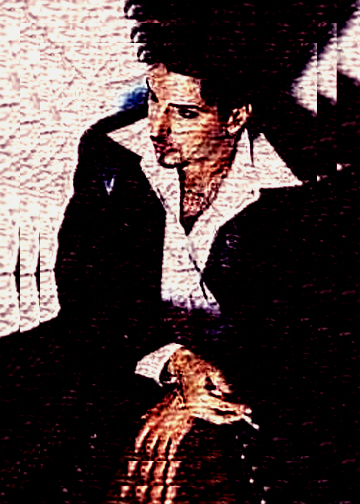 Derek Sherinian is not just your everyday incredibly gifted keyboard genius. He's better than that! With his credits ranging from Alice Cooper to Kiss to Dream Theater, Sherinian's nimble playing & over-the-top manner make him impossible to ignore. After leaving Dream Theater in 1999, Sherinian has recorded 2 discs with the mini-supergroup Platypus, as well as a solo project : Planet X (on Magna Carta). Planet X has since become a band in its own right, releasing Universe on the InsideOut Music America label. Planet X music is filled with billion mile an hour riffs & oodles of memorable melodies. Definitely not for the faint of heart! This interview was conducted in Spring of 2000 & updated in July.
PS: As a musician, what attracted you to the keyboards as your instrument of choice?
DS: There was a piano in the house growing up. A couple of times I switched over to guitar, but I always end up on my original instrument.
PS: What sort of formal training have you had as a player?
DS: I started taking lessons when I was 5, I have studied at Berklee College of Music, and privately with Russell Ferrante, T Lavitz, and currently take lessons with Mitchel Forman.
PS: Growing up, what keyboard players floated your boat & why?
DS: Jan Hammer, T Lavitz, Emerson, Wakeman, Elton John. I could feel each of those players' personality come through their playing. I borrow from all of them and put it in to my own style.
PS: Why did you join Dream Theater?
DS: I was out of work and needed a job!
PS: What do you consider to be the high point of your work with Dream Theater?
DS: My favorite memory with Dream Theater is playing this ancient Amphitheater in Athens in 1998. That was a fun gig.
PS: What prompted you to leave Dream Theater?
DS: Dream Theater fired me in Jan. 1999. I was shocked at the time, but in retrospect, they have done me a huge favor. It was a good run.
PS: Planet X is a wonderfully complex & melodic album. What were your deciding factors in choosing who would play on your solo debut?
DS: Virgil Donati was recommended to me by Mike Varney. We had a jam session and I left totally in awe of him. His command of his instrument just blew me away. It is as if he is mocking time when he plays. He will be a huge drum star very shortly.
PS: What sort of input did Virgil Donati have in the writing?
DS: Virgil wrote half of the record. It was such a good writing chemistry, we decided to start a band around the Planet X concept. We are mixing the debut Planet X CD Universe with Tony MacAlpine on guitar, Virgil Donati on drums. (which has since been released on the InsideOut Music America label) Planet X is now a band, not a side project. We are committed to taking this worldwide. The response so far has been incredible.
PS: If anything, Universe is even more insane than the first Planet X! Can this unit stretch boundaries even farther?
DS: I place great importance in showing musical growth in each CD That you put out. there will always be a missing element in your current works that you feel that you could make stronger the next release.
PS: Will Planet X be playing any live gigs?
DS: We have toured in Holland, Belgium, England, and Southern California. We will be doing a 6 Week US and Canada tour in November, stay tuned at xplanetx.com.
PS: Who'll be in the bass slot?
DS: We are not sure yet, but you can bet that he will be able to wail!
PS: Do you consider the music you do to be "Progressive" or is that tag irrelevant?
DS: I call it instrumental prog- fusion.
PS: Please tell us a few artists you can't stop listening to!
DS: Ozzy, Van Halen, Allan Holdsworth, UK, Bruford.
Table Of Contents
Contact