by John A. Wilcox



Wintercon - Resorts World Casino, Jamaica, NY 12/01/18

A young boy's tale as told to John A Wilcox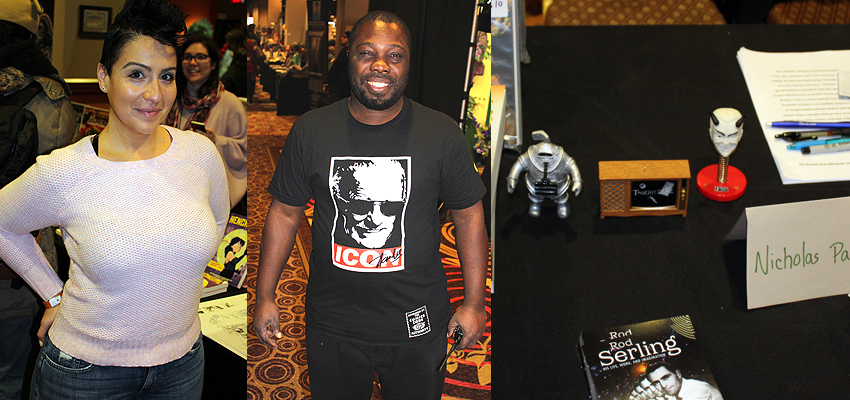 I was caught totally off-guard the night before the convention. I did not even know it was this weekend, nor did I know I'd be attending! I was asked very last minute & made the trek to the show. I'm sure glad that I did! Michael Carbonaro always puts on great, friendly shows and this one was no exception. There was a nice vibe to it & it was very well set up. Carbs doesn't like to over pack his space. He understands that we all need room! As a disabled guy I was also most appreciative that there were lots of chairs so I could just take a break & sit every now and then. :)




I chatted with several fellow pros. Paris Cullins - always warm & funny. Great, super-talented guy. Ray Felix - my Bronx connection. Always good natured & sunshiny. Larry Stroman - we swapped lots of stories about everyone from Curt Swan to Andrew Wyeth. Stroman is a very mellow gentleman who exudes love of art. I had him do me a drawing. I said "draw someone pretty." The results were an amazing, sultry portrait of Phoenix. Outstanding! Had the pleasure of seeing my buddy Ken Pierce there. One of my very favorite humans! I caught a peek of Michael Golden & my pal Rodney Ramos but got caught up in so many situations & conversations that my clock ran out before I could go catch up! My apologies, gentlemen!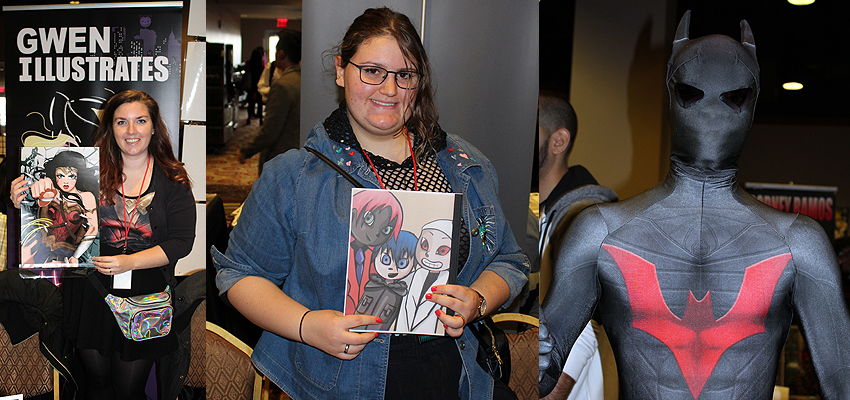 I had some lovely conversations with several creator's I'd never met before. Fantasy writer Ken Altabef was a great guy & his books looked fascinating! Austin Pejovich and Matthew Novitsky of the Brainsick Collective were serving up some gonzo off-the-wall comic work! I even bought a drawing from them! Ayesha & Sonise - the DeRaville Sisters - were charming & wildly creative. I was taken by their positive attitudes & wonderful work. I'm sure they're going to make a massive impression in years to come. Gwen Blackman grabbed my eye with her exceptional illustrations. Crazy talented! Alexandra Stefanik had work that was bursting with ideas. I want to see more of both! Google them because you're going to love what they do! Also - Macrospasm Studios gifted me 1 of their ultra-cool Nev-R-Drop guitar picks. Musicians will love these!




I talked briefly through an interpreter to 2 legends to my life: Bin Furuya who was Ultraman and Tsugutoshi Komada who was Jet Jaguar. Incredibly classy gentlemen. It was an honor to meet both! I had a lovely conversation with actor Michael McManus who you know as Kai from the show Lexx. Such a great guy! We talked about work, fans, the joy of what we do, and life in general. An incredibly positive guy! Said a quick hello to WWE wrestler Bray Wyatt who was very busy being mobbed! He definitely has that magic aura about him!




Let's talk cosplay. Starting with the pros. Carol Rose was there. Stunningly beautiful & beyond gracious. The Rogue Alliance represented themselves well. NerdHawg Cosplay knocked me out robotically! Tank looked like he just stepped off the set of Sin City. Casterly Fox was mesmerizing as Hela. Beautiful Dizazter was a knockout as Domino. Sexily elegant. I want a drawing from her! Diz is also a kickass artist - as if she wasn't talented enough already!! The unforgettable Wendy Ortiz a/k/a Swordsha Black Knives was an instant highlight reel.




On the fan side, the cosplay was no less intense, no less professional & creative. A group of folks combined the worlds of Super Mario & Green Lantern flawlessly. The Riverdale gang was there thanks to great Jughead & Archie cosplays & an unforgettable Betty that just grabbed my heart. As many of you know, I used to write for the Archie folks, so I can assure you that this girl was Betty! ::: swoon ::: I had such a nice talk with a girl rocking a Jiji cosplay. We talked anime, cosplay and philosophical stuff. Wondrous! Wolverine, Luke Cage, The Riddler, Mr Freeze, Wonder Woman (a wintry version!), Ghost Rider, a robot K-9. Personal individual creations. The Krampus! A man dressed as Danny Fingeroth! (OK, it was, in fact, Danny Fingeroth, but he really looked exactly like himself!)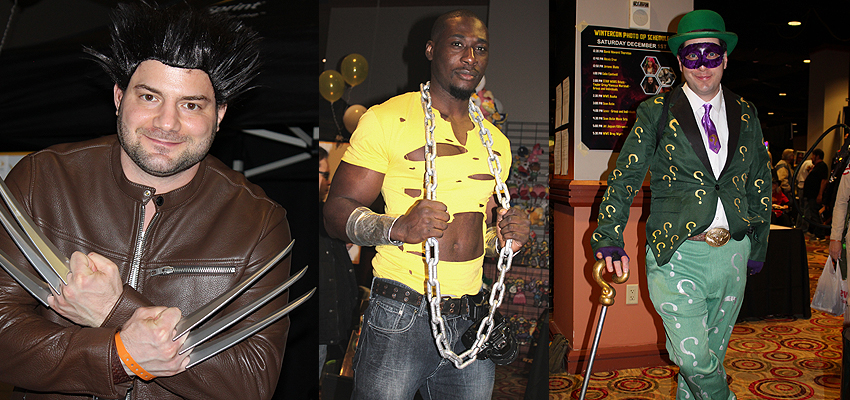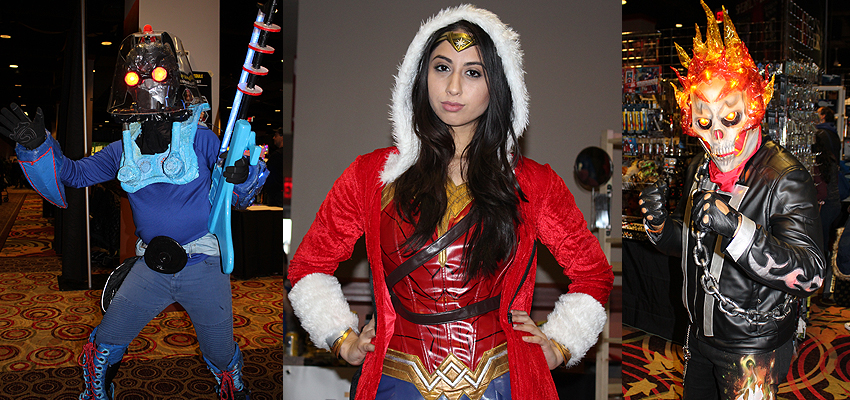 Vendors, panels, celeb guests on top of those I mentioned. Friendly, great attendees who really were the best part of the entire experience. I spoke with so very many folks who made my day great. Wintercon was a wonderful experience full of smiles. This is how I wish every convention felt!


###
Table Of Contents
Contact